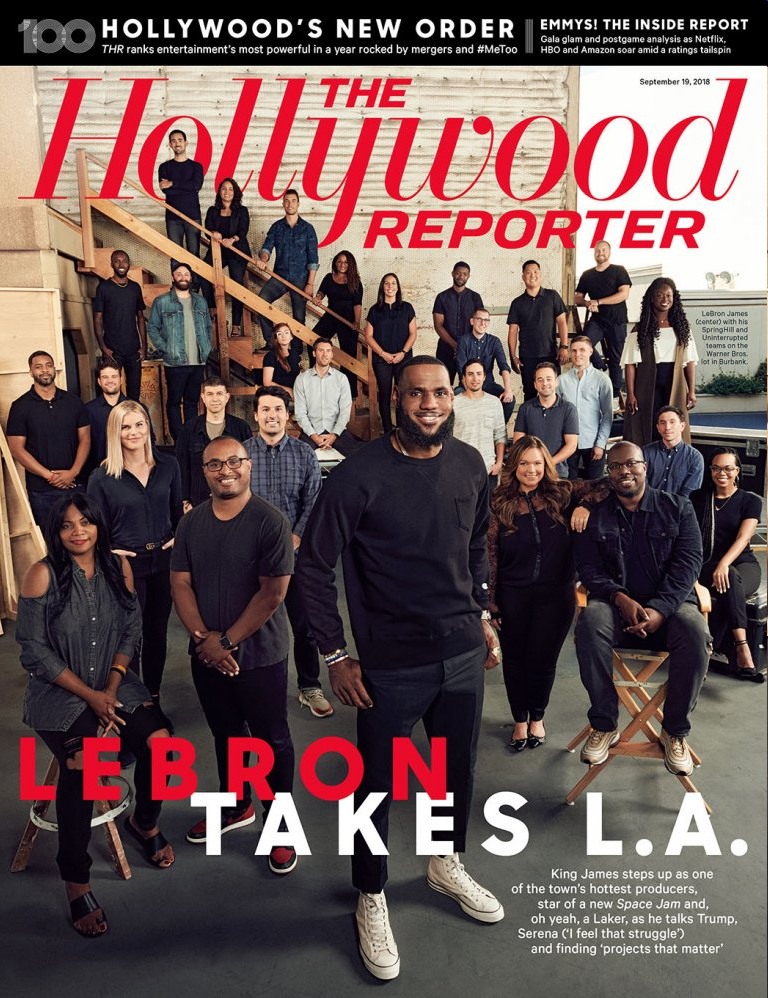 LeBron James will play for the LA Lakers this season. Quite honestly, LeBron will probably end his career with the Lakers. What's interesting is that LeBron has so many other interests and businesses and goals to his life – it's not just about basketball, although he's arguably the best basketball player since Michael Jordan. Unlike MJ, LeBron gives a sh-t about stuff other than money and sports. LeBron is unapologetically political and unapologetically Hollywood too. The Hollywood Reporter profiled "Hollywood Bron" and all of the stuff he's going to do in the coming years. He's had a production company for several years now, and he'll be producing a wide variety of films and TV shows and documentaries and docu-series. He's also going to star in a new version of Space Jam! You can read the full THR piece here. Some highlights:
He never wishes for anonymity: "Anonymous? No. That's weird. I'm not an anonymous guy. You gotta understand, I'm an only child. I like people."
His upcoming projects: On Sept. 13, NBC and The CW both announced scripted series with him. HBO already has several on tap, including Student Athlete, about college players going unpaid while their universities make millions, and a Muhammad Ali documentary directed by Antoine Fuqua. Meanwhile, Netflix is in production on a reboot of the British crime drama Top Boy (with Drake) and the limited series Madam C.J. Walker, starring Octavia Spencer as the real-life daughter of slaves who became the first black female millionaire.
Space Jam: THR can reveal that Ryan Coogler will produce Warner Bros.' new Space Jam, the long-gestating follow-up to the beloved 1996 Michael Jordan-Bugs Bunny hit. James will play his first starring role in it. "[Coogler] gave this generation's kids something I didn't have when I was a kid," says James, "and that's a superhero movie with an African-American cast."
Whether it bothers him that Trump called him dumb: James just laughs. "No, because I'm not. That's like somebody saying I can't play ball. That doesn't bother me at all. What bothers me is that he has time to even do that. He has the most powerful job in the world. Like, you really got this much time that you can comment on me?"
On Serena Williams: Having a daughter, explains James, is one reason he can relate to Serena Williams' Sept. 8 agitation during the U.S. Open women's final. "What we all have to understand is what she is fighting for is bigger than just that match. She is fighting for equality — always having to win more, more, more, just to feel equal. Being an African-American woman playing in a predominantly white sport, she's dealing with so much more. I have no idea what was going on in her head, but I feel that struggle."
On Space Jam being a childhood dream: "I always wanted to be a superhero. Batman was my favorite. But I knew I could never be Bruce Wayne. You've got to understand, for me that was in no way possible; I never felt like I could be the president of a multibillion-dollar company."
His goal in Hollywood: "The goal is to continue to do what we've been doing, and if we make a billion-dollar company at the end of it, we will pat each other on the back, hug each other, pop some great wine … but that is not the goal. It's never been the goal. I'm going to continue to play basketball at a high level, continue to give back to my community and make great content for people to fall in love with."
[From THR]
There's a big section in the piece about LeBron being the father of daughters and how he's trying to become even more aware of how the world treats African-American women. At first my immediate reaction was "oh no, not another 'as the father of daughters' comment," but then I stopped myself. We've become warped by male douchebags using their wives and daughters as human shields when they're justifiably criticized for doing something predatory or misogynistic. But LeBron isn't doing that – he hasn't done anything bad, and he's not using his daughters as shields for criticism. He's actually talking about how his empathy and understanding of women's issues was influenced by fatherhood, and it's beautiful.
Anyway, I love Hollywood Bron and I hope he becomes a movie star.
Photos courtesy of The Hollywood Reporter.
Source: Read Full Article