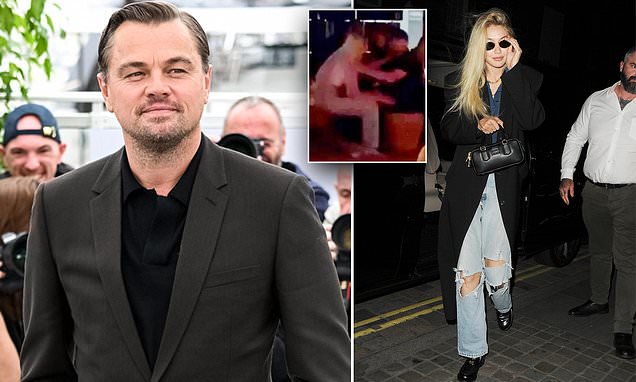 EXCLUSIVE: Leonardo DiCaprio and Gigi Hadid DID 'try to date' but sparks 'were just not there' – as insiders SLAM rumors they're in an open relationship, insisting the actor 'doesn't do no-strings-attached' romances
Leonardo, 48, has been romantically linked to Gigi, 28, since the two were seen getting cozy at a NYC nightclub in September 2022 
The Titanic star and supermodel were then spotted having back-to-back dinners with his parents earlier this month 
READ HERE: Leonardo DiCaprio wants to 'ditch' his reputation of only dating women under the age of 25
Leonardo DiCaprio and Gigi Hadid 'did try dating some time ago' but decided they were better off as friends after realizing that there were no romantic feelings between them, DailyMail.com can reveal. 
Earlier this month, rumors began circulating that Gigi, 28, and Leo, 48, were in a 'no-strings-attached relationship', with Us Weekly reporting that the duo were having a 'fluid romance', however insiders have insisted that – while they did try dating briefly – this is absolutely not the case, adding that the actor does not believe in casual flings. 
'They tried dating some time ago to see if there could be anything there, but there just wasn't. They are friends and have been for so long, but they are not in an open relationship with no-strings-attached,' the insider insists.
'People just need to let this go. That is not how Leonardo handles relationships. This makes him sound cheap and that he is not. When he is with someone, he is with them. He enjoys his friendship with Gigi and that is that.' 
Leonardo DiCaprio, 48 (pictured at Cannes in May) tried dating Gigi Hadid, 28, 'some time ago to see if there could be anything there, but there just wasn't,' a source tells DailyMail.com 
The Titanic star Gigi (photographed arriving at the same hotel as Leo after dining with his parents in London earlier this month) are 'just friends' 
The pair sparked romance rumors in September 2022 when they were seen getting cozy at a VIP party being held at Casa Cipriani in New York City (as seen here)
Leo and Gigi have fueled romance rumors recently when they were spotted dining with his parents in London two nights in a row. 
However, when asked about the recent outings with his folks, the source hit back at the suggestion that dining out together means that anything more than friendship exists between the two. 
'It is just ridiculous that a man and a woman cannot be friends without everyone insisting there is more to it,' they said. 
On June 6, Leo – along with his father George and stepmom Peggy Farrarto – arrived at China Tang restaurant in London. Gigi arrived to the same restaurant, separately. The party dined together but did not sit next to each other. 
The following night, they were spotted together again. After arriving at staggered times to the infamous Chiltern Firehouse in London, Leo and Gigi had dinner with his folks and a few other guests. 
The actor – who is privy to dating only women under 25 – took a liking to Gigi, who is also a mom to three-year-old daughter Khai with Zayn Malik, in the summer of 2022. 
In September, they were photographed together for the first time in photos exclusively obtained by DailyMail.com. 
In the photos, which were taken at a VIP event thrown at Casa Cipriani n Manhattan's Soho neighborhood by Leo's friends Richie Akiva and Darren Dzienciol, Leo and Gigi were seen being touchy-feely with each other. 
At one point, Leo leaned and put his hands on her shoulders. She was seen returning the gesture by putting her hands on his knees.  
After the photos went viral, a source told Page Six that they are dating, but are 'taking it slow.' 
The source went on to say that the couple have been out together just the two of them they were not calling themselves 'exclusive' yet. 
On June 7, Leo and Gigi dined at China Tang with Leo's father George and stepmom Peggy Farrarto (pictured here). According to the source, 'They are just friends and that is all' 
Prior to dinner with Leo's folks, they were last seen slipping out of NYC hotspot Cipriani in May, where Leo (pictured here) was seen incognito 
Minutes after Leo exited, Gigi (seen here) also exited the restaurant.  The source tells DailyMail.com 'It is ridiculous that a man and woman can't just be friends
The person added: '[DiCaprio] is not someone who is in-and-out of relationships. He doesn't jump around hooking up. They are taking it slow.' 
However, since then the duo – who are pros at dodging unwanted photographers -have not been spotted together at all since their recent dinners in London. They have, however, been photographed arriving and/or leaving the same locations at different times. 
In November, they were both seen leaving Casa Cipriani in the Big Apple – where they were first pictured together – at different times. Things seemed to cool off the following month when Leo was photographed partying with a gaggle of gorgeous models in Miami, Florida.
In February, a source told DailyMail.com that Leo was 'single' and that he was looking to ditch his image of only dating models under the age of 25. Gigi, coincidentally, fit the bill perfectly.
'Leo is very single right now and he is not keen on the hype suggesting that he is seeking out these very young women,' the insider DailyMail.com. 'He is looking for something more mature in the relationship department.'
'It is just ridiculous because he cannot go anywhere without being linked to the youngest beautiful woman there,' the source added. 'He wants to ditch this image once and for all and he is really bothered that this continues to follow him.' 
Leo was not seen with the stunning Victoria's Secret model Gigi for another month – until they both attended the same pre-party and after-party for the Oscars in Los Angeles.  Eyewitnesses claim that they looked very much like a couple, yet no photos exist of the two of them together. 
Dating history: This graph displays Leonardo DiCaprio's age and the corresponding ages of his former girlfriends and flings 
In May, the A-listers were photographed walking into a party at Zero Bond in NYC. At the time, Entertainment Tonight reported that they hang out when 'their busy schedules permit.' 
'They both enjoy each other's company and have fun together when their busy schedules permit. Yolanda and Bella know Gigi is capable of making her own healthy decisions and they're supportive of her, Gigi's main priority is her baby girl,' a source told the outlet. 
Things seemed over for the two, as Leo has been spotted with a string of gorgeous models over the past several weeks. 
Earlier this week, Leo was seen out with another stunning 28-year-old model, Neelam Gill. The two had a late-night dinner together in Paris, accompanied by Leo's lifelong best friend Tobey Maguire, 47, as well as Tobey's kids – daughter Ruby, 16, and his son, Otis, 14. Leo's niece, Normandie, 16, was also present. 
Neelam was seated apart from the Wolf of Wall Street star, with another man seated in between them. After a source told DailyMail.com that the two are only friends, Neelam at at the Chiltern Firehouse in London with Leo and his mother prior to the mother-son duo's meal with Gigi.  
Despite his numerous outings with various women, Us Weekly reported that he and Gigi were still in a 'friendly, no-strings' relationship, adding 'they travel so often so it's best for them to keep their relationship open and fluid.'
A separate source close to Leo blasted the report and said that it is 'absolutely false.
Leo's short-lived romance with Gigi began on the heels of his breakup with girlfriend of five years, Camila Morrone, 26. 
Leonardo DiCaprio's Dating History
The Django Unchained star has famously made a habit of never dating any woman over the age of 25.
GISELE BUNDCHEN (1999-2004)
Gisele and Leonardo at the 2005 Academy Awards
 Leo's first high-profile relationship was with the Brazilian model, who was 20 when the pair hooked up. She broke off the relationship five years later at the age of 25.
BAR REFAELI (2005-2010) 
Bar Refaeli
The actor's relationship with Bar Refaeli ended after 5 years of dating – coincidentally the same time the Israeli model turned 25.
BLAKE LIVELY (2011)
Blake Lively and Ryan Reynolds
The current wife of Ryan Reynolds dated Leo for just one year – when she was 23. 
ERIN HEATHERTON (2012)
Erin Heatherton
The Victoria's Secret Angel alum was just 22 when she dated DiCaprio in 2012.
TONI GARRN (2013-2014)
Toni Garrn
German-born model Garrn was just 21 when she and Leo broke up after two years of dating.
KELLY ROHRBACH (2015)
Kelly Rohrbach on the set of Baywatch
The Baywatch reboot star was 25 when she and DiCaprio dated from June until around December of 2015, with the break alleged to be a mutual decision
NINA AGDAL (2016-2017)
Nina Agdal and her ex Jack Brinkley Cook
Things ended between Leo and the Danish swimsuit model after she hit 25 in 2017.
CAMILA MORRONE (2017–2022) 
Leo and Camila out and about in New York City in May 2018
Leo and the model-turned-actress began dating just months after his split from Nina Agdal. The were reported to be more serious than ever at the start of the coronavirus pandemic, but the two reportedly split over the summer of 2022.
GIGI HADID (SEPTEMBER 2022 – DECEMBER 2022) 
Gigi Hadid walks the runway in Paris in October 2022
Following his August split from Morrone, it was reported that Leo had his eyes on model Gigi Hadid. The pair were seen hanging at NYC hotspots but the romance seemingly fizzled out in December.
VICTORIA LAMAS (DECEMBER 2022)
Victoria Lamas pictured 
Leo was previously romantically linked to model/actress Victoria Lamas, who happens to be the daughter of actor Lorenzo Lamas. The pair were spotted hanging in Hollywood in late December and reportedly rang in the New Year together.
Source: Read Full Article