If you need further proof that summer 2018 is the season of young love, Bughead shippers are getting a major sign via Instagram. Fans think that Riverdale actress Lili Reinhart might have all but confirmed her rumored relationship with co-star Cole Sprouse because of one big detail. That's right, Lili Reinhart's birthday message to Cole Sprouse called him "my love," and fans are understandably shook.
On Aug. 4, Leinhart appeared to finally open up about her feelings about her co-star in honor of his 26th birthday, and if her Instagram birthday message is anything to go by, things are getting really serious between the pair. Elite Daily reached out to Reinhart on her comments and the pair's relationship status, but didn't hear back by the time of publication. Even so, the caption seems to speak for itself, and fans seem to think it finally lays those "are they or aren't they?" questions to rest.
While a handful of paparazzi photos and sightings have hinted that there's definitely something going on between the two, Jughead diehards haven't had any concrete proof that they could be in love. Until now, that is.
"It seems as if the world would still be a stranger to me, if not for you," she wrote alongside a photo of Sprouse balancing on the ledge of a rooftop and pointing towards the camera. "I'm so thankful that our paths intertwined to form this beautiful adventure."
"Happy birthday, my love," she concluded. UM, hold up. My love?
This declaration of love is coming from an actress who has been notoriously tight-lipped about their romance in the past. Just one month ago, she disappointed fans during a Harper's Bazaar interview by saying, "I'm not OK talking about my relationship. I'm not going to tell you my love story. That's just not appropriate right now." Okurrr.
Just a few days ago, I thought I was resigned to watch the pair's Instagram Stories and compare details to see if they were hanging out together, and now, this heart-melting caption is taking things to Instagram-official levels. The admission seemingly came out of nowhere, but I guess your beau's birthday is a good time as any to finally announce your feelings to the world.
The rumored couple has kept everyone guessing for months now. They have literally refused to confirm or even comment on their relationship, which has just added fuel to the fire, IMO. And while the pair sizzle on-screen as Betty and Jughead in Riverdale, it's their rumored off-screen romance that's caught (and held) the attention of fans.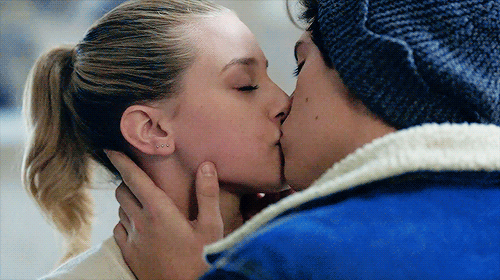 Reinhart's Instagram post came shortly after a silly Tweet, shared one hour earlier, where she showed off her trademark sense of humor by referring to bae as "the princess." In a post that showed Meghan Markle and Sprouse, she wrote, "Happy birthday to the princess, and also to Meghan Markle." It certainly made me and the rest of the Twitterverse LOL, but it was understandably completely overshadowed by that "my love" comment.
As you can imagine, fans are ecstatic, and I'm living for the comments section. It's not the first time that she's shared a photo of Sprouse on her account (their first black-and-white Met Gala photo is still one of my favorites), but that heartfelt love note? It's straight-up relationship goals.
Sprouse has yet to comment on the birthday 'Gram (be still, my beating heart), but several Riverdale cast members have. Madelaine Petsch wrote in response to Reinhart's post, "F**K this is cute," while Sprouse's on-screen dad, Skeet Ulrich, shared his approval with two heart emojis. Ah, young love.
Source: Read Full Article