The 60-year-old Queen of Pop accidentally revealed a little too much when she wore white lace panties in the image.
AceShowbiz –
Madonna posted on her Instagram account on August 29 a steamy picture of herself. However, she accidentally revealed a little too much to her followers as they paid attention to her exposed "bush" underneath her white lace underwear.
Madonna could be seen wearing a white lace push-up bra and matching underwear in the sultry photo, which was already deleted by the "Like a Prayer" songstress. She stood in front of a stained mirror as she flaunted her cleavage and toned stomach. The white lace underwear gave fans a little glimpse of her private area. "#Smokedglass," Madonna wrote on the now-deleted post.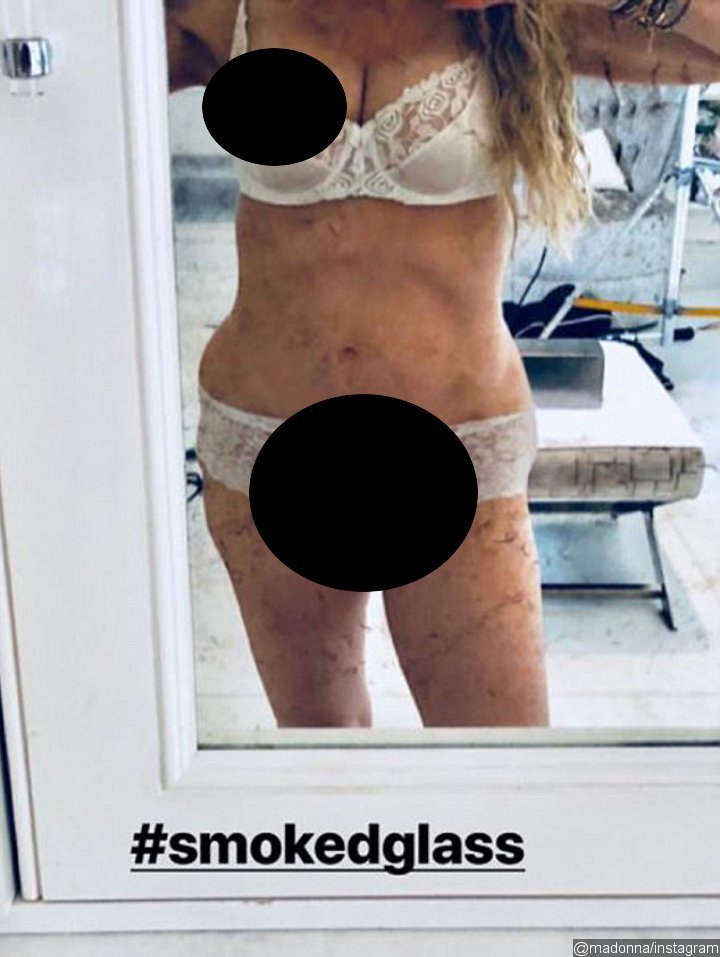 The photo was then reposted on a fanpage account on Twitter. Some fans on the micro-blogging site praised the 60-year-old Queen of Pop for still having a sexy body despite her age. "Bush or no bush. That's the type of banging body everyone should strive to achieve at any age!" a fan commented. "I love her body all the way from the beginning to now," another one added, while one person praised, "She looks great! and I love her caption '#smokedglass.' "
Meanwhile, some others flooded the reply section with negative comments. "Looking like a grandma in teen underwear," one commented. "I do NOT wanna see a 60 year old like that! She needs to grow old gracefully! I mean she's old enough to be someone's granny!! Eewwwww!!!" an individual shared his opinion. "She's a grandmother who thinks she's 20 still. She doesn't have to live in assisted living but accept your age and be glad you've made it this far," another one suggested.
Madonna recently received backlash after she paid tribute to late singer Aretha Franklin at the 2018 MTV Video Music Awards. Many people accused her of talking about her own career and legacy instead of honoring the late Queen of Soul during her speech at the event.
Afterward, the pop legend responded to the criticism on her Instagram account. "Just to clarify: I was asked to present video of the year by MTV! And then they asked me to share any anecdotes I had in my career connected to Aretha Franklin! I shared a part of my journey and thanked Aretha for inspiring me along the way," she explained.
"I did not intend to do a tribute to her! That would be impossible in 2 minutes with all the noise and tinsel of an award show," the mother of six continued. "I could never do her justice in this context or environment. Unfortunately most people have short attention spans, and are so quick to judge. I love Aretha! R.E.S.P.E.C.T."
Source: Read Full Article