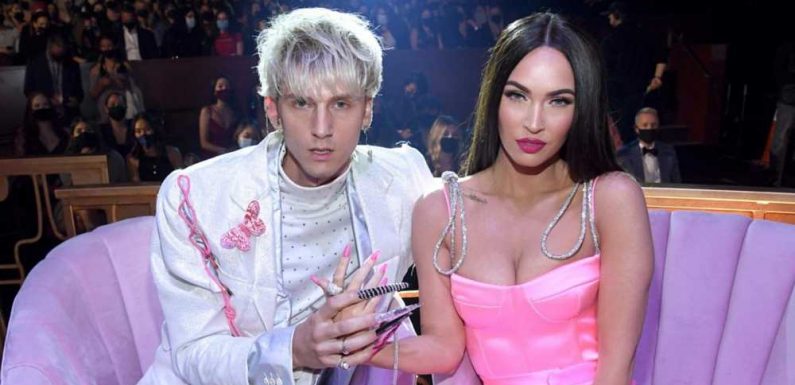 Megan Fox and Machine Gun Kelly are unsurprisingly spending the holidays together — in coordinating holiday pjs and matching Santa hats, no less. And just like a kid on Christmas morning, MGK (born Colson Baker) played with his new yet nostalgic toy: Bop It.
The singer took to TikTok to document the game, with his girlfriend Megan standing behind him. He wore green silk pajamas with a pink fuzzy Santa hat, while Fox wore low-cut, red silk pjs and the same hat over her long dark tresses. Behind them, a Christmas tree is decked out in purple lights.
The classic toy shouted out commands as weed (aka MGK) followed along, twisting and pulling when instructed. In typical MGK-fashion (silly and sexual), he obliged the "bop it" demand by smacking his butt with the toy.
RELATED: Megan Fox and Machine Gun Kelly Went on a Family Vacation With Their Kids in Greece
On the second "bop it," MGK bumped his behind, causing the "twist" lever to fall to the ground as Megan shook her head in disapproval. One of her sons can be heard in the background exclaiming, "You broke it," followed by Megan asking her boyfriend, "Why?" MGK chuckled before dropping the "F" word and turning off the recording.
Kelly appropriately captioned the video with nearly 12 million views, "Break it, I mean, bop it 🤪🎄." Well let's hope MGK was able to fix or replace the throwback toy.
Source: Read Full Article