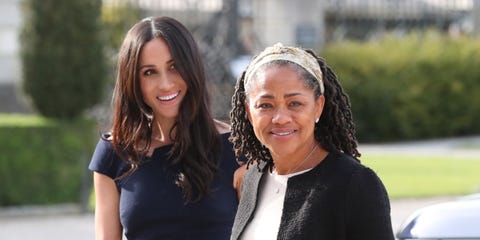 Meghan Markle didn't have many family members present at her wedding to Prince Harry on May 19, 2018. But one person who continually supported the Duchess of Sussex as she married into the British royal family was her mother, Doria Ragland. And now, according to a new report, Ragland is preparing to move to London to be close to her daughter.
At the royal wedding, Ragland arrived at St. George's Chapel in the car with Meghan, and she proudly watched her daughter marry Prince Harry from the front of the venue. Ragland even spent time with the prince ahead of his engagement to Meghan at the Invictus Games in Toronto, way back in September 2017. So it shouldn't come as a huge surprise that Meghan's mom is now considering a move to London.
According to the Express, Meghan's mom is apparently "beside herself with excitement" about the move. The publication claims that Ragland could be moved before her 62nd birthday, which is next month. It's also rumored that Prince Harry's mother-in-law has already left her job in Los Angeles, with an alleged friend telling the Express that "She is getting ready to move to London… I know that she was eager to live closer to her daughter."
The Duke and Duchess of Sussex have released three official photographs from their Wedding day. This photograph was taken by photographer @alexilubomirski in The Green Drawing Room of Windsor Castle, following the carriage procession #RoyalWedding
A post shared by Kensington Palace (@kensingtonroyal) on
Following rumors that Meghan and Harry will start a family of their own in the near future, it makes sense that Ragland would want to be much nearer her daughter.
Meanwhile, Meghan's dad, Thomas Markle, has given yet another tell-all interview to the Daily Mail, in which he alleges that he hung up on Prince Harry and lied to the royals about staging those infamous paparazzi photos.
Source: Read Full Article