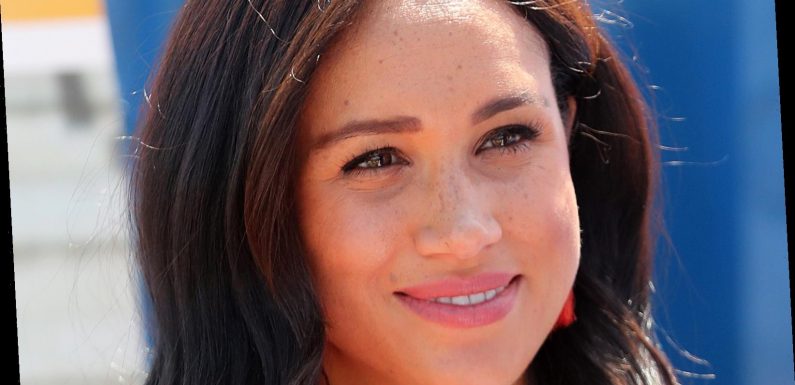 Ever since Meghan Markle and Prince Harry sat down with Oprah Winfrey to set the record straight about their decision to step down as senior royals, they've been making headlines. From Meghan's revelation about the state of her mental health while she was a senior royal to their explosive bombshell about the concern surrounding what color Archie's skin would be when he was born, there's been no lack of news surrounding the couple.
That being said, not all the news has involved their lives as part of the royal family. During the interview, the pair also touched on new endeavors that have also turned heads."The Netflixes and Spotifys of it all was never part of the plan," Harry insisted in the tell-all interview with Oprah. In September 2020, the pair signed a multi-year deal with Netflix to produce documentaries, docu-series, films, scripted series, and children's programming. Mere months later in December 2020, they inked out a deal with Spotify to produce original content through their company Archewell Audio.
Even with all of that going on, Meghan reportedly still has her sights set on something even bigger: the White House. According to the Daily Mail, the former Suits star has been trying to gain support from senior Democrats for a potential run in 2024. Read on to find out more about her alleged presidential plans.
Biographer claims Meghan Markle's run for U.S. presidency is 'likely'
Biographer Tom Bower, who is writing an authorized biography of Meghan Markle, told Closer magazine (via the Daily Mail), "The prospect of Meghan running for president is possible and I'd even say likely. I really believe it's where she sees herself going." He also went on to say that Meghan has "all the qualities" needed for a presidential candidate.
Bower, who has written biographies of Boris Johnson, Prince Charles and Robert Maxwell, offered some advice the former actor, saying she'd need to be a "team player" and put together a trustworthy, devoted staff in order to have a successful run. "They're probably the public figures who face the most backlash," Bower told Closer of politicians (via the Daily Mail). "I really think she would struggle. She'd need to learn to take the heat." Despite concerns, Bower told Closer we shouldn't count Meghan out of the running. "Nonetheless I think she has a good chance of getting into the White House — and perhaps visit the U.K. to have tea with the queen one day as president of the United States!"
A source told The Sun of Bower's unauthorized biography, "This is the book Meghan will be dreading. Tom doesn't pull his punches, and is terrifyingly thorough in his research. No stone will be left unturned."
Source: Read Full Article