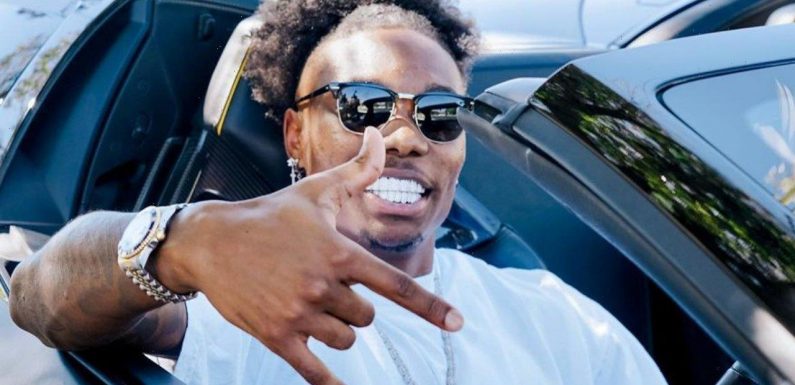 The former Las Vegas Raiders receiver, who is facing 20 years in jail after causing the accident that killed a 23-year-old woman, has been released after posting $150,000 bond.
AceShowbiz -New detail has emerged in Henry Ruggs III's fatal car crash, adding supportive evidence of his wrongdoing. The footballer is revealed to have traveled over 150 MPH during the accident that killed a woman.
The 22-year-old athlete was driving at 156 MPH under the influence seconds before the Tuesday, November 2 accident, officials say. His blood alcohol level was .161, more than twice Nevada's legal limit. He was only able to slow to 127 MPH at the time of impact, according to new documents obtained by TMZ.
The authorities obtained the data after examining the computer in Henry's car. He was traveling at "a high rate of speed" before he veered into the right lane of a three-lane road and slammed into the back the Toyota.
Both cars rolled over 500 feet after the initial impact and the Rav4 caught on fire. The driver of the Toyota, who has been identified as a 23-year-old woman named Tina O. Tintor, was trapped in her seat and was not able to escape the vehicle before it was engulfed in flames. Several bystanders tried to put out the blaze with a fire extinguisher, but it was too much to handle. She was pronounced dead at the scene.
In addition to the 23-year-old woman, she had a dog in the car that also died. Records show she lived several blocks from where the crash occurred.
Henry, who appeared to be impaired at the scene, refused to take field sobriety tests. He was transported to a local hospital for treatment on non-life-threatening injuries. Shortly after he was released from the hospital, he was booked into a Las Vegas jail.
Henry's injuries were not disclosed, but he remained seated in a wheelchair with a foam brace on his neck during his initial court appearance on Wednesday. Clark County District Attorney Steve Wolfson said outside court that he believed the former first-round NFL draft pick suffered a leg injury.
The former Las Vegas Raiders receiver has been charged with DUI resulting in substantial bodily harm and reckless driving. He was released on Wednesday after posting $150,000 bond. The judge also banned him from consuming alcohol and he was told to abstain from driving. He also must wear an electronic monitoring device as part of his bail.
Henry's girlfriend, Kiara Je'nai Kilgo-Washington, 22, of Las Vegas, was with him in the car and was also injured in the crash. She underwent a surgery for a severe arm injury on Tuesday, authorities said.
Shortly after the accident, Henry was released by the Raiders. Interim coach Rich Bisaccia said in a statement, "First of all, we want to express our since condolences to the victim's family. A person lost their life yesterday morning and we think it's important to keep focused on that as we talk about this tragic event. We're deeply saddened for everyone affected, especially the victim's family."
"That being said, we love Henry Ruggs and we want him to know that," the coach added. "His terrible lapse in judgment of the most horrific kind, it's something that he'll have to live with the rest of his life. The gravity of the situation is not lost on anyone here and we understand and respect the loss of life."
Source: Read Full Article