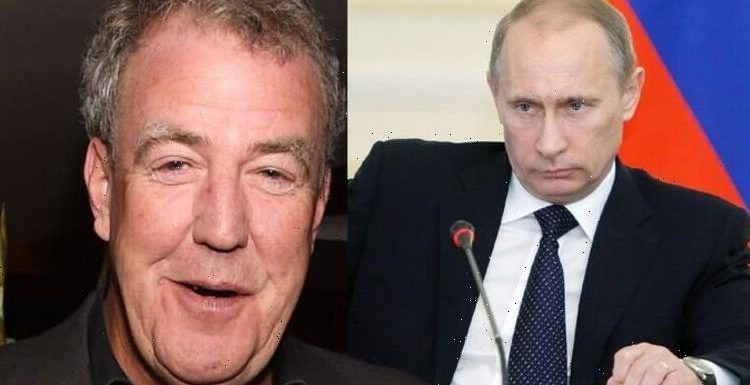 Ukraine: Putin agrees to meet President Zelensky for talks
We use your sign-up to provide content in ways you've consented to and to improve our understanding of you. This may include adverts from us and 3rd parties based on our understanding. You can unsubscribe at any time. More info
Jeremy Clarkson, 61, is known for his opinionated but humorous tongue in cheek style, and today's tirade on Putin was no different. In the former Top Gear star's latest column he wittingly blames Vladimir Putin's height for Russia's invasion on Ukraine.
He's not very tall.

Jeremy Clarkson
Jeremy's actions, both privately and as a Top Gear presenter, have sometimes resulted in criticism from the media, politicians, pressure groups and the public.
However, with such a significant public following Jeremy was credited as a major factor in the resurgence of Top Gear as one of the most popular shows on the BBC.
Jeremy, acting no different, used his Times column to humorously blame Putin's height for why he's gone "mad".
He penned: "The real reason for the madness is more simple. He's not very tall.
"Being not very tall seems to affect people. Napoleon wasn't very tall. Hitler wasn't very tall.
Jeremy continued: "Their shortness eats into their very being and they become mad.
"Interestingly, the average height of Russian men is also 5ft 10in, which is presumably why Putin is so angry all the time.
"Because everyone he meets, all day and every day, is three inches taller than him.
"Which means, of course, that they're better and cleverer than he is, and more likely to have a good looking wife.
"Those who feel small are more likely to invade Ukraine."
Jeremy commented on the Ukraine invasion the day after Russia began on February 24.
He penned on Twitter in view of his 7.6 million followers: "What p****s me off is that I know some great Russians and some great Ukrainians.
"And I've had some f*****g great nights in both countries. Putin: you are such a c**t."
Many social media users took to the post's comments to share their view on Putin's bold statement.
_Gallifrey said: "As a Russian I wanna be heard now – we do not support him and his actions.
"We're scared and devastated."
Pkumaragouda added: "Why is it easy and right to blame Putin and Russia, why does it seem that Ukraine is left on its own by the US, NATO and the West?
"Shouldn't that be of concern?"
IvanDlvane commented: "Ask your Russian friends what they think about the war and you'll find out if they are decent people or not."
Source: Read Full Article