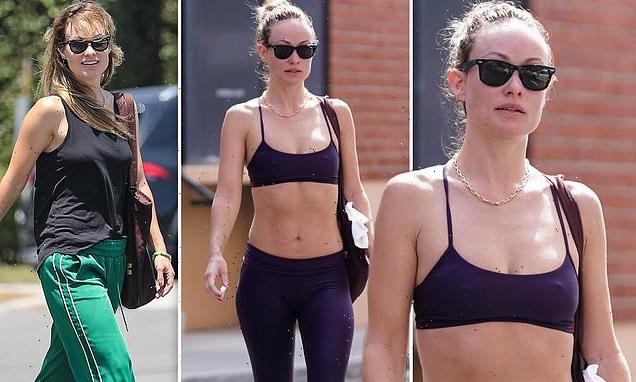 Olivia Wilde showcases her fab figure in black leggings and sports bra at gym before making her way to hair salon in Beverly Hills
Olivia Wilde enjoyed a little pampering with a stop for touch up on her long locks at a salon in Beverly Hills.
Her busy day of self care also included a rigorous workout at a gym in the Studio City neighborhood of Los Angeles on Thursday.
The Booksmart director appeared to have brought one of her gal pals to the hair salon.
She was by her side when the New York City native headed back out to the streets for the short walk back to her parked vehicle.
Wilde (born Olivia Jane Cockburn), 39, kept it casual in the fashion department for her salon visit dressed in green sweatpants with a black tank top and black sneakers.
Hitting it hard: Olivia Wilde began her busy day of self care with a a rigorous workout at the gym, where she showed off her amazingly toned figure in skin-tight leggings and a matching sports bra
Self care day: She then headed off to a salon for a touch up on her hair in Beverly Hills on Thursday, after getting in a rigorous workout at a gym in Studio City
The Meadowland actress lightened brown locks flowing down past her shoulders with a slight part for her afternoon excursion.
To help deal with the glaring Southern California sun, the mother of two also donned dark sunglasses, as the temperature topped 70 degrees Fahrenheit.
Her lady friend looked stylish in a black jumpsuit ,that hugged her lean physique, black-and-white checkered sneakers, a baseball cap over her blonde tresses and sunglasses.
Eventually, the two ladies returned to their car, got in and drove off to their next destination.
Wilde would flaunt her fabulous figure when she paid a visit to the gym, dressed in black skin-tight leggings and a matching sports bra.
The People Like Us star was spotted making her way out of the gym walking confidently back to her vehicle once again.
The sporty ensemble helped showcase her toned midriff and rock-solid legs and derriere.
For her outing at the gym, Wilde opted to go it alone, and ut in the hard work without any distractions.
Support: The actress and director brought along a gal pal to her salon appointment
Sporty: The Booksmart director kept it csual in the fashion department n green sweats and a black tank op and matching sneakers
Bangin': The mother of two flaunted her toned midriff and rock-sold derriere in her outfit
The actress and director has been playing the field when it comes to her dating life following her split from pop star Harry Styles last year.
She dated the Watermelon Sugar singer-songwriter for a couple pf years in the wake of her split from ex-fiancée Jason Sudeikis, whom she dated for nine years, seven of which were a when they were engaged.
The former couple are the proud parents of son Otis, nine, and daughter Daisy, six.
In recent years Sudeikis, 47, is best known for creating and starring in the Apple TV+ sports comedy series Ted Lasso, which has aired three critically acclaimed seasons since its debut in August 2020.
Source: Read Full Article