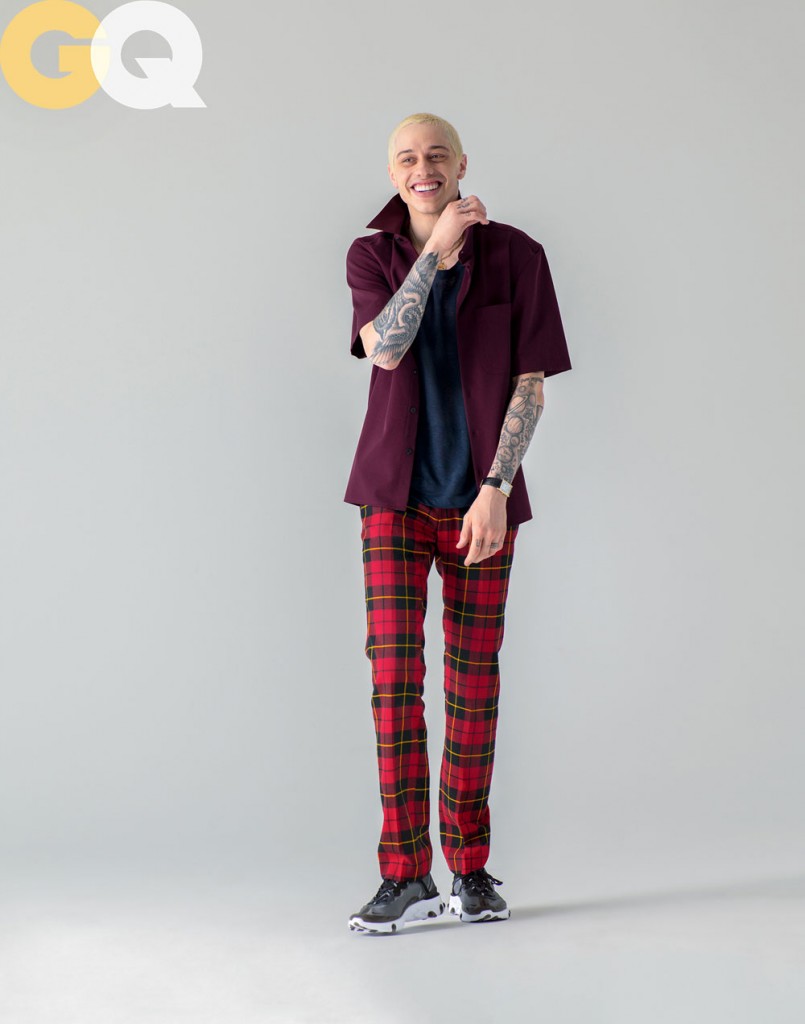 There was speculation last month that Pete Davidson and Ariana Grande would marry on August 4, 2018. Pete's father was a firefighter who died during the World Trade Center tragedy in 2001. His badge number was 8418, the medallion of which Ariana wears as a necklace. (Pete also gave his father's medallion badge to his last girlfriend, Cassie David, but he claims that was a replica and Ariana has the original.) Given how fast Pete and Ariana got engaged, and how many tattoos they've already gotten for each other, it wasn't out of the question that they would have a quickie wedding. The good news is that these two have not made it official yet or, if they have, they're not telling us about it. Pete has a new interview with GQ's Allie Jones in which he describes how he told Ariana that he would marry her on the day they met, sending her engagement ring photos. She played along, they moved in together shortly afterwards and the rest you know as these two have been incessantly instagramming about it. At least they were until Pete quit Instagram due to the negative comments.
He sent Ariana engagement ring photos on the day he met her
"The day I met her, I was like, 'Hey, I'll marry you tomorrow,' " he says, grinning. "She was calling my bluff. I sent her a picture [of engagement rings]. I was like, 'Do you like any of these?' She was like, 'Those are my favorite ones,' and I was like, 'Sick.' "
Ariana bought their apartment and he still feels like a guest
Davidson and Grande recently moved into a Manhattan apartment that reportedly cost $16 million. She bought the place, Davidson says, and he stocks the fridge. "She's really sweet. She's like, 'This is our house,' and I'm like, 'You're very nice for saying that. Thank you for letting me stay here,' " he deadpans. "She's like, 'We're getting married!' And I'm like, 'I know, thank you for letting me stay here.' " They're still working on decorating it. "It's like, we have six beanbags, but we have no forks—you know what I mean?" he says, taking a massive bite of pasta salad. "We're learning how to be adults. We're having a really fun time."
He's getting used to being famous
"I gotta tell you, up until about two months ago, if someone wrote about me, I saw it," he says. "Nobody gave a shit two months ago, so anytime there was an article, I would obviously see it, because my mom would send it to me and be like, 'Yaaay!' "
He loves taking drives in his car at night
He's started driving aimlessly around the city late at night, just to get some privacy. He drives a Mercedes, but he "could give less of a sh-t about cars," he says. "As long as I can't die in it, I'm pretty for it."
I like those cars that'll guide you back onto the road," he says. "My car hugs me. The seats give me the hugs that I never got when I was little! When I make turns, the seat's like, 'I got you.' And I'm like, 'Finally, someone got me!' Thank you, Mercedes. That should be their commercial: 'Did you not have a father growing up? Drive around in circles with our new Mercedes-Benz, the car that hugs.' "
[From GQ]
After that Jones writes that Ariana shows up to pick up Pete and then he wears some purple workout pants he picked for his photoshoot out of the studio. Jones posted the photo on Twitter for proof. I guess the good news is that Pete and Ariana aren't married yet and that he didn't rejoin Instagram. Doesn't this seem like Pete's go-to move for women he likes? Profess his love, get tattoos for her right away, hope that they love him half as much but assume they don't. He's even like that about his car, although he claims not to care about cars. Pete wants everyone to like him so he adores them first. Instead of dealing with some rejection on Instagram he just deleted his account.
Embed from Getty Images
Embed from Getty Images
GQ Photo sent by promotional email by Katie McCurdy exclusively for GQ. Other photos credit Getty/BuzzFoto and via Twitter
Source: Read Full Article