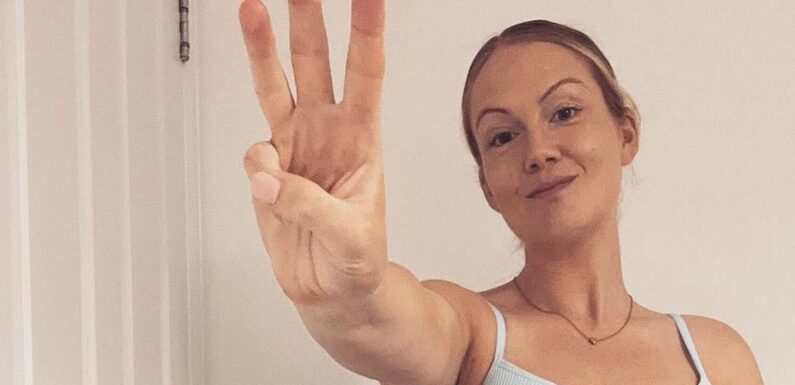 Tracy Beaker fans have been left blown away after discovering that former child star Chelsie Padley is not only expecting her first child, but is expecting to give birth any day now, as she approaches nine months.
The CBBC star – who played Louise Govern in The Story of Tracy Beaker – 32, announced only recently that she's expecting a baby girl with her partner, and has since been keeping her fans in the loop with her pregnancy.
And Chelsie has today shown off her glowing bump in an underwear snap posted to Instagram, expressing her excitement at the prospect of soon becoming a mum.
Holding up a double peace sign in some comfortable-looking Calvin Klein underwear and a mismatching pale blue bralette, Chelsie captioned the snap: "THIRD TRIMESTER HOW YOU DOINNNNNNN!?
"Oh lordy, second trimester…..you were just as cliche as everyone told me you were gonna be. Apart from the standard (and very glamourous) symptoms pregnancy brings, you were b****y glorious.
"I fell in love with the journey, became a full on no apologies bump w****r and have so enjoyed carrying my baby girl around."
The star broke her exciting baby news in March with an emotional Instagram video, in which Chelsie looked delighted, covering her mouth with her hands and attempting to suppress her huge smile.
It is then that she pans the camera onto a positive pregnancy test before telling partner Iain the happy news, jumping into his arms as he brings her into a sweet embrace.
"Baby George, you are SO loved already," she captioned the snap.
The heartfelt clip then saw Chelsie break the news to her parents, giving her mum the box containing the positive test, as well as giving various selection of cards, bags and baby-grows to the rest of her family.
Chelsie's former fellow Tracy Beaker star Dani Harmer commented on the sweet video: "Oh I'm so so so happy for you both."
The news comes after another Tracy Beaker star Mia McKenna-Bruce revealed in April she too is pregnant, as she announced the news with a sweet bump snap, saying "we can't wait to meet you baby".
The 25 year old, who played Tee Taylor, the younger sister of Johnny Taylor on the CBBC show, posted a photo to Instagram with her fiancé Tom Leach at the Filmfest Bremen.
She looked stunning in a tight-fitting brown dress that showed off her blossoming baby bump, on which she placed a tender hand.
She captioned the post: "Don't think we can hide this much longer. We can't wait to meet you baby," as she tagged Tom.
And Tracy star Dani – who is now a mother of two – commented: "Congratulations," with a party and purple love heart emoji.
Another of Mia's former co-stars, Jess Revell, who played Elektra exclaimed: "I WON'T BE A 3rd WHEEL ANYMOREE!!! Love you both!"
Source: Read Full Article