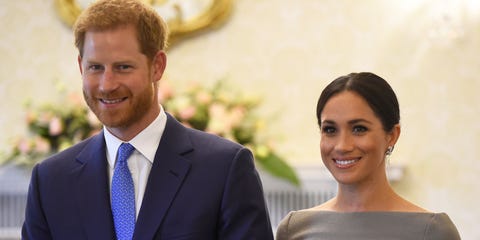 It seems as though Prince Harry and Meghan Markle's love story truly is the fairytale it appears to be.
According to People, Prince Harry pulled out all the stops early in his courtship with Meghan, and this included buying her a romantic piece of art, which features an adorable message. The diptych—a canvas featuring artwork on both sides—includes the words "Everybody Needs Somebody To Love" on one side, with a couple holding hands depicted on the other side.
If Prince Harry did, in fact, give this to Meghan when they started dating, he was definitely making his feelings for the former Suits actress very clear:
So excited to have my print set 'Everybody Needs Somebody To Love' up for show in St. John's Wood @goodlifeeatery cafe! Thanks for choosing my artwork ? #art #artistsoninstagram #instaart #streetart #print #love #goodlife #lovelife #color #happiness #artwork #arte #lovestory
A post shared by Van Donna (@vandonna_official) on
British artist Van Donna created the piece, which is called Everybody Needs Somebody To Love, which Prince Harry apparently purchased in October 2016. An art collector revealed to People that Prince "Harry is one of the regulars in the area," and that the royal "was in the gallery for a little while and liked a few things." Eventually, he chose Van Donna's romantic artwork, and allegedly revealed that he "was looking for something for 'an important person.'"
Van Donna even tweeted about the fact that Prince Harry had bought one of her pieces way back in July 2017, further adding weight to the idea that the royal might've purchased the picture for Meghan.
Prince Harry apparently shopped for the gift in the VIP Section of Walton Fine Arts in Kensington in London. While the exact price of the piece is unknown, it's being reported that other work by Van Donna fetched $5,000 at Christie's back in 2016, meaning that Prince Harry might've dropped thousands of dollars on one of his earliest presents for his now-wife.
Source: Read Full Article