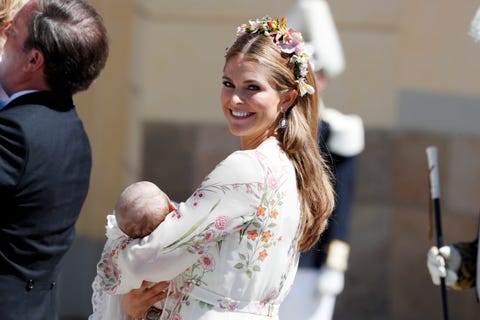 America is about to get its very own royal family. Princess Madeleine of Sweden recently announced she and her family were moving to Florida this fall. The family reportedly has a summer home there, but the reason why they were making the move was not immediately clear."
Before she heads to her new U.S. home, here's what you need to know about Princess Madeleine.
She's seventh in line to the Swedish throne.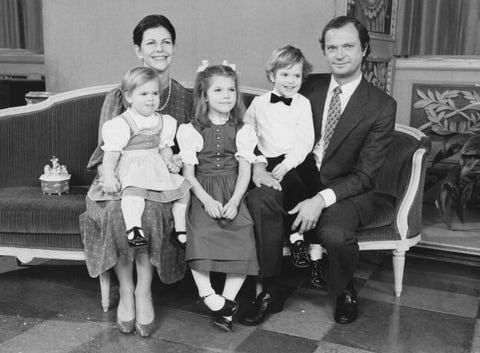 Princess Madeleine Thérèse Amelie Josephine, Duchess of Hälsingland and Gästrikland, is the daughter of King Carl XVI Gustaf and Queen Silvia. She was born on June 10, 1982, and is the king and queen's youngest child. She is seventh in line for the Swedish throne, following Crown Princess Victoria, Princess Estelle, Prince Oscar, Prince Carl Philip, Prince Alexander, and Prince Gabriel.
She is focused on philanthropy.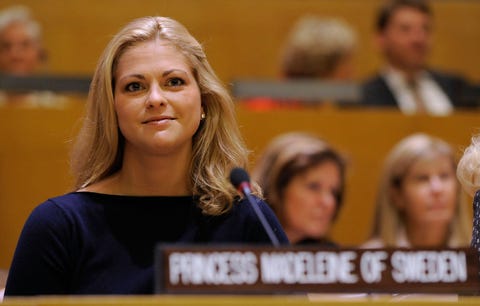 A cause close to Madeleine's heart is supporting children in need around the world. Madeleine's main work is with the World Childhood Foundation, which was founded by her mother, where she works on efforts to prevent human trafficking and sexual exploitation of young girls.
In 2015, she started the #EyesWideOpen campaign to raise awareness about sexual abuse of children, and she also is a patron of the My Special Day foundation, similar to the Make-a-Wish Foundation in the U.S. She also takes part in royal events like Sweden's National Day, Nobel Prize celebrations, and other functions.
"Princess Madeleine has a great commitment to children's rights and will continue working with the World Childhood Foundation and, through the move, be able to focus more on the activities in the United States," the Swedish Royal Court announced when confirming their move.
She previously called off an engagement.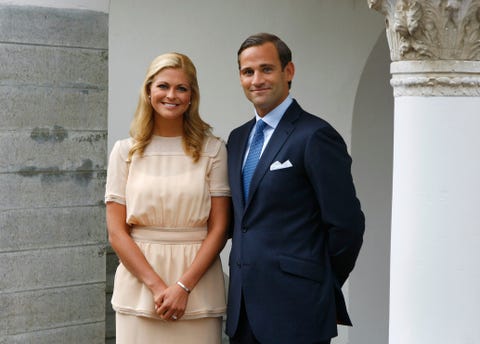 Princess Madeleine infamously called off a previous engagement after her then-fiancé, Jonas Bergstrom, was caught in a cheating scandal. Press reports alleged Bergstrom had been "intimate" with a Norwegian college student, and the tabloids had buzzed for years about Bergstrom's apparent partying. Before announcing the end of their relationship, Queen Silvia had told the press the wedding would be delayed.
"After having thought it through thoroughly, the Princess Madeleine and Mr. Jonas Bergstrom have made the decision to go their separate ways," the Swedish Royal Court said in a statement. She moved to New York shortly after that, where she met her future husband.
She married Christopher O'Neill in 2013.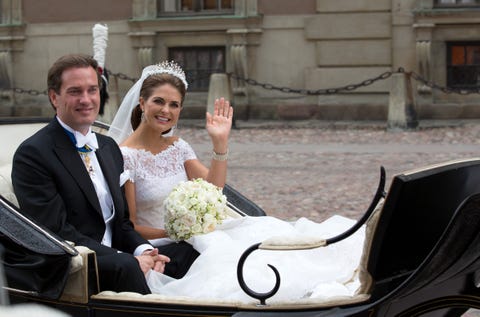 Princess Madeleine's husband, financial advisor Christopher O'Neill, was born in London and has dual U.K. and American citizenship. Reports started surfacing in 2011 that Madeleine and O'Neill were dating, after the two were seen spending time together in New York; an onlooker posted a video of the two of them at the Central Park Boathouse and the video went viral in Sweden.
They were engaged in 2012 and married the next year in the Royal Chapel at the Royal Palace of Stockholm. O'Neill opted to remain without a royal title because he would have to become a Swedish citizen, and doing so would mean he would have to renounce his U.S. passport.
O'Neill has been criticized for not attending certain royal engagements, but he has defended himself, saying his job is too demanding to attend every royal event. "I have to look after my family and put food on the table," he told Swedish publication Expressen. "I have my business and I work hard for it, and sometimes a client meeting conflicts with a royal engagement. These clients don't know who I am, they don't always plan in advance." O'Neill had previously worked in the U.S. and will continue his business in Europe as well.
She has lived in America before.
Leonore in London. Photo from last year. ? #PrincessLeonore #London #UK
A post shared by Princess Madeleine of Sweden (@princessmadeleineofsweden) on
This won't be the first time Princess Madeleine has put down roots in the States. She was living in New York at the time she met O'Neill, and the two gave birth to their first child in a private hospital in the U.S., People reports. In recent years, the family had been living in London, but moved back to Sweden for the birth of their third child. With their next move, they will give up their home in London but keep their residence in Stockholm.
She has three children.
At Solliden earlier this summer. ☀️ Photo: Anna-Lena Ahlström
A post shared by Princess Madeleine of Sweden (@princess_madeleine_of_sweden) on
Madeleine and O'Neill have three children: Princess Leonore, born in 2014, Prince Nicolas, born in 2015, and Princess Adrienne, born this March. During Adrienne's christening, Leonore was caught on camera laying in the middle of the aisle at the Royal Chapel of Drottningholm Palace, rolling on the floor, and kicking her feet.
Princess Madeleine insists that despite her royal status, she's a "normal mom." "They wake me up and we fix breakfast together and the breakfast flies all over the place!" she told People. "And then we go out to the park and we swing, we try to do a lot of activities because my little Leonore, she has lots of energy, so we have to keep her stimulated and busy. My husband Chris really likes the evenings, when it's bath time and that whole routine of putting them to bed."
Source: Read Full Article