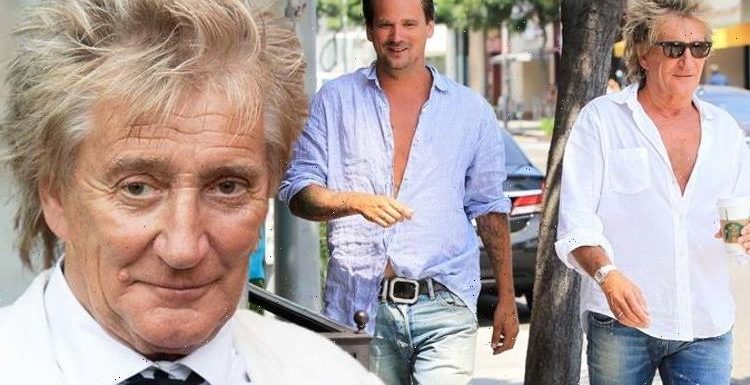 Rod Stewart and Penny Lancaster dance around Christmas tree
We use your sign-up to provide content in ways you've consented to and to improve our understanding of you. This may include adverts from us and 3rd parties based on our understanding. You can unsubscribe at any time. More info
Sir Rod Stewart, 76, and his son, Sean, 41, have pleaded guilty to battery in a plea agreement. The altercation took place in 2019 during a New Year's Eve party at a Florida hotel.
The pair will not serve a prison sentence or be handed a fine, Sir Rod's lawyer Guy Fronstin said.
The attorney also confirmed that Rod and Sean will not be placed on probation.
He said in a statement: "Sir Rod Stewart was charged with simple battery.
"No one was injured in the incident and a jury did not find Sir Rod Stewart guilty of the accusation.
"Instead, Sir Rod Stewart decided to enter a plea to avoid the inconvenience and unnecessary burden on the court and the public that a high profile proceeding would cause.
"In resolving the case, Sir Rod Stewart was not convicted, nor sentenced to jail, or placed on probation."
Rod and Sean were charged in January 2020.
The rockstar recently gave fans a glimpse into his family life as he shared a picture with Sean and another one of his sons, Alistair, 16.
Rod took to Instagram to proudly show the heartwarming snap with two of his sons.
He cut a stylish figure in a suit and fur-collared coat.
The musician was flanked by his two sons, who could also be seen sporting elegant clothes.
In view of his 651,000 Instagram followers, Rod wrote: "Wishing you all a lovely weekend from me and two of my sons Liam and Alastair."
The snap immediately sparked a fan frenzy, with more than 93,000 people liking the post.
Some fans even commented on the picture, praising the three men's sense of style.
mary.good.336 added: "Great picture.
"You have two very nice looking sons.
"I know you are very proud."
donatellamazzurana added: "Thanks Rod. Beautiful boys."
Source: Read Full Article