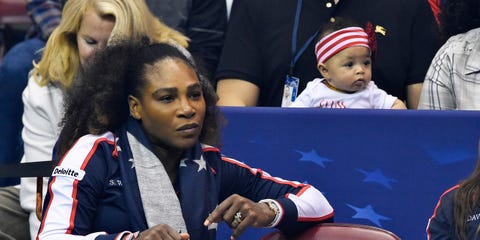 There's nothing celebrities love more than throwing extravagant parties for their children, but Serena Williams is opting out when it comes to her daughter Olympia Ohanian's upcoming first birthday.
The tennis champion is a Jehovah's Witness, and recently explained that members of the religion don't do the whole presents and cake thing. "Olympia doesn't celebrate birthdays," Serena said at a press conference. "We're Jehovah's Witnesses so we don't do that."
Kids humble us. The other day on a flight home Olympia had so much energy and insisted on running up and down the aisle. When I finally got her to calm down and sit still, she threw up all over me and in the aisle. #ThisMama wants to remind all mothers the importance of supporting one another through the highs, lows, laughs and tears. _ Share your own stories of motherhood with hashtag #ThisMama. I'd love to hear them!
A post shared by Serena Williams (@serenawilliams) on
According to the religion's official website JW.org, Jehovah's Witnesses don't celebrate birthdays "because we believe that such celebrations displease God." The site also explains that "Although the Bible does not explicitly forbid celebrating birthdays, it does help us to reason on key features of these events and understand God's view of them." One of the reasons mentioned is the belief that birthdays have pagan roots.
The countdown is on for New York! I'm so excited for my first pop-up shop in NYC from Friday – Sunday @Tictail, a female-run business like mine. If you can't make it in person, you can still shop our exclusive NYC tee that launches this Friday.
A post shared by Serena Williams (@serenawilliams) on
Serena also talked about how baby Olympia is doing, saying she's "not very good in the car" and that she and her husband Alexis (who isn't a Jehovah's Witness, FYI!) are working on it. "That's one of the toughest things we work on," Serena explained. "She's not good if we're [going on] more than a five-minute ride."
Honestly, same.
Family day yesterday. @olympiaohanian was not having it though. @serena collection top.
A post shared by Serena Williams (@serenawilliams) on
From: Cosmopolitan US
Source: Read Full Article