Shannen Doherty is spilling some major 90Tea10!
The 48-year-old is getting REAL and addressing recent headlines after several writers have reportedly already left the writer's room for the six-episode Beverly Hills: 90210 revival series, BH90210.
On early Friday morning, the actress wrote a lengthy caption on Instagram:
"Being a part of tv history is an honor but it also comes with some massive backlash. There has been many stories floating around about this show and me. One of the reasons I hesitated to say yes was for this crap. The only thing I'm a control freak over is my health. Trying to stay healthy and positive. I realized this morning, that I have a fear of doing what I love because of headlines like this. Not only because there is zero truth to it but because it lessens me and my journey, battle, experience with cancer. Why should I be scared to work? And why aren't people held accountable for their fabricated stories?"
Her words came as a caption to a screenshot of an online headline that reads: Writers Quit 'Beverly Hills 90210' Amid Rumors Lead Actresses Are 'Running The Show,' published this morning.
The Charmed star continued her thoughts:
"I refuse to be cast in the same villain role because "journalists" lack imagination and I certainly refuse to be cheapened as a survivor and as a woman by them. Yes, i am a strong woman. I have been thru hell and back. I am compassionate and caring. I'm multi faceted and not someone to be pigeon holed. I am a woman with my own story. Please stop trying to tell your wildly inaccurate, exaggerated story of me. I promise… you don't know me."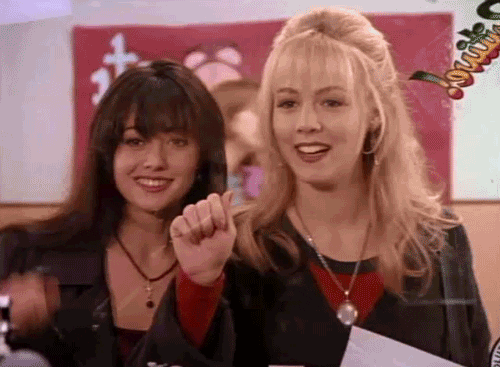 We appreciate you taking a stand against the fake stories!!
Miz Doherty is set to be joined by her original West Beverly High classmates, Jason Priestley, Jennie Garth, Ian Ziering, Gabrielle Carteris, Brian Austin Green, and Tori Spelling, who are all set to produce and star in the anticipated series.
However, it has been revealed that the OG actors aren't reprising their classic roles… they're playing heightened versions of themselves. The mini-series will catch up with each "actor" after they went their separate ways after the original series ended 19 years ago. When one of crew suggests it's time to get a Beverly Hills, 90210 reboot up and running, Shannen, Jason, Jennie, Ian, Gabrielle, Brian and Tori reunite and try to make that happen.
We're still looking forward to seeing how the revival plays out! What about you, Perezcious readers? Share your thoughts on the news (below) in the comments!
Source: Read Full Article