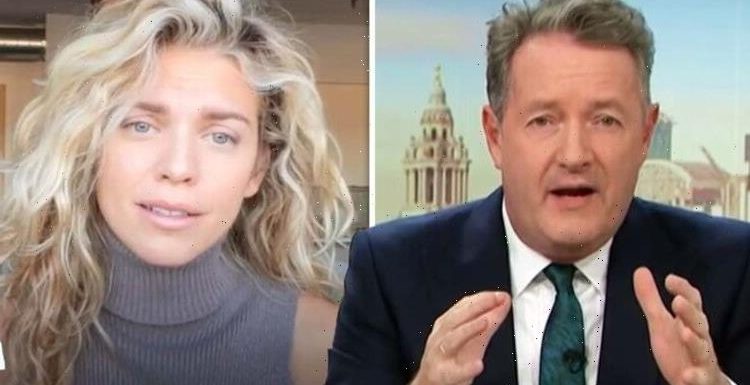 AnnaLynne McCord sends a twitter message to Putin
We use your sign-up to provide content in ways you've consented to and to improve our understanding of you. This may include adverts from us and 3rd parties based on our understanding. You can unsubscribe at any time. More info
Piers Morgan, 56, skewered American actress AnnaLynne McCord, 34, after a video went viral of her telling Vladimir Putin she is "sorry" she is "not his mother". The 90210 star, who is 35 years Putin's junior, shared the bizarre poem to her Twitter page on Thursday.
In a lengthy clip addressed to Putin, 90210 star AnnaLynne said in view of her 198,000 followers: "Dear President Vladimir Putin, I'm so sorry I was not your mother.
"If I was your mother, you would have been so loved. Held in the arms of joyous light.
"If I was your mother, the world would have been warm, so much laughter and joy… If I was your mother, if the world was cold, I would have died to make you warm.
"I cannot believe I was born too late and in a different place when I would have loved you."
Despite AnnaLynne's emotional delivery, the message failed to strike a chord with many users, including Piers Morgan.
He retweeted the actress' clip and quipped: "This so cringe I can feel my eyeballs curling up."
Other critics included Fox News host, Meghan McCain.
She said: "I'm not sure if this is meant to be a parody or truly everyone in Hollywood is just out of their minds.
"But thank you to this actress lady for making me smile for the first time in 24 hours.
"Nailed it girl, war's over."
YouTuber Seth Everman then joked: "Dear AnnaLynne, I'm so sorry that I was not your mother.
"Never would I have named you AnnaLynne. Well, maybe out of spite.
DON'T MISS
Elton John's private jet forced to make emergency landing[LATEST]
Biggins on 'awful' encounter with Janice Dickinson on I'm A Celebrity[INSIGHT]
Joanna Lumley health: Star laid bare 'complete nervous breakdown'[NEWS]
"So much laughter, never bitter, and nothing would make you post this to Twitter."
Author Jonathan T. Gilliam said: "They should seriously play this on a loop on loudspeakers all over the Ukraine.
"The Russians would run back home and most likely Putin would kill himself."
It comes after Piers branded Putin a "ruthless dictator" following Russia's invasion of Ukraine.
Taking to Twitter, the presenter penned: "Putin's doing this because he got away with it last time in Crimea.
"And if he gets away with it again in Ukraine, he'll keep invading other countries until he restores the Soviet Union.
"The world must unite to stop this ruthless dictator – before it's too late."
Source: Read Full Article