The debt collectors finally caught up with Sydney pornographer Damien Costas in the Federal Court on Wednesday, as the publisher of Penthouse magazine was personally bankrupted by his former printer.
"I would rather have him pay the money he owes us and other people but there is some vindication from the court today," said Anthony Karam, chairman of Sydney printers TMA Australia, following the court decision.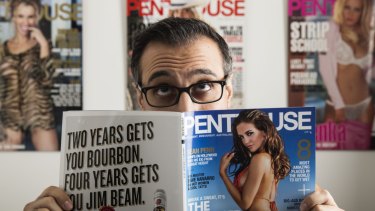 Damien Costas, publisher of Australian Penthouse, who underwrote both the Nigel Farage and Milo Yiannopoulos tours of Australia.Credit:Nic Walker
"This personal bankruptcy should put an end to Damien Costas and his business endeavours and years of him ripping off the general public as well as business in this country," a jubilant Markson said.
"Now he should go out and get a real job instead of winding up companies, leaving people and the ATO millions of dollars out of pocket."
The pair worked together on the 2017 Australian tour for right-wing provocateur Milo Yiannopoulos, but the friendship soured.
In recent months Markson and Costas have traded insults in the media, each accusing the other of fraud, with Markson labelling Costas a "conman".
In the Supreme Court of Victoria, Markson claimed Costas owed him almost $63,000 – from the Yiannopoulos tour and UK Brexiteer Nigel Farage's speaking circuit.
Costas was unsuccessful in his attempts at having the case thrown out, with a long line of alleged creditors seeking unpaid debts.
Markson said he would contine seeking to have Costas' company Global Media & Entertainment Pty Ltd liquidated.
Costas did not return calls on Wednesday, having previously relished the media attention he attracted over the controversies stemming from the Yiannopoulos and Farage tours.
At high-profile public appearances during the speaking tours, Costas welcomed media coverage as he sidled up with the likes of Mark Latham, Ross Cameron and Andrew Bolt.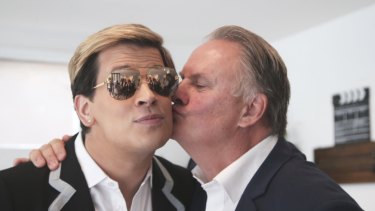 Milo Yiannopoulos getting cosy with Mark Latham.Credit:Nathan Richter
But trouble started brewing last June when his former business partner, Adelaide "businessman" Sean Dolman, pleaded guilty to importing a commercial quantity of methamphetamine at Geraldton, Western Australia, on December 21.
Dolman, 37, was one of nine men charged over Australia's biggest-ever meth bust, with a record 1.2 tonnes of the drug found off WA's mid-west coast.
Max Markson was jubilant following his former business associate Damien Costas' bankruptcy on Wednesday.Credit:Ellis Parinder
At the time Costas said: "I was as shocked as everyone else to hear Sean had been involved … I have always been open and honest about my friendship with Sean. We were introduced by mutual friends in Adelaide. He was very keen to do some pretty big things with me in business, in particular producing a film, but by the time we were ready to do it he was behind bars."
Costas denied Dolman helped bankroll Yiannopoulos' tour of Australia. Nor, he said, had Dolman contributed in any way to the payouts made to Latham, Cameron or Bolt, who were hired to introduce Yiannopoulos at his various speaking engagements.
According to ASIC records, Dolman's former company HMD Capital was a 50 per cent stakeholder in Filthy Gorgeous Productions Pty Ltd, with Costas holding the remainder.
In the prelude to Yiannopoulos' visit to Australia, Filthy Gorgeous Productions Pty Ltd was reported as the company behind the tour. Costas has since renamed Filthy Gorgeous Productions Pty Ltd to Global Media & Entertainment Pty Ltd.
Source: Read Full Article