Tyler Baltierra has no time for Internet trolls!
Earlier this week, the Teen Mom OG star shared a beautiful photo of his 1-month-old daughter, Vaeda.
Related: Catelynn Lowell Shades Farrah Abraham's Boxing Match Dropout!
Catelynn Lowell's husband added the caption:
"Vaeda is a month old this week & idk how it's possible, but she keeps getting cuter!"
As seen on Instagram: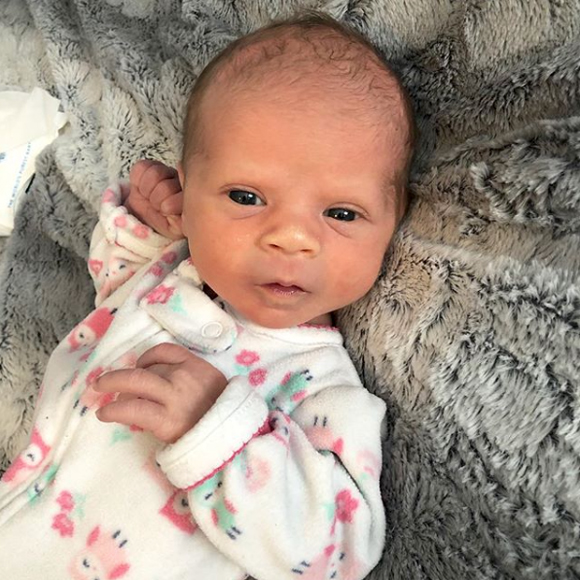 Unfortunately, after posting the adorable snap, Tyler said some social media users left "ridiculously asinine comments" about his and Catelynn's new bundle of joy.
He dished in the comments section:
"Wow. I'm actually just appalled at the ridiculously asinine comments about my newborn. We live in a world that is so divided, judgmental, self righteous & opinionated…& unfortunately it's very evident with these comments. Respectful MATURITY is having a strong opinion & voicing it when necessary. Disrespectful IMMATURITY is having a strong opinion & voicing it when it is NOT NECESSARY. Your deity knows all of your thoughts…but evil can only hear what comes out of your mouth. Live with love & speak with peace or karma is not going to be your ally, I can guarantee that!"
Amid the drama, wife Catelynn decided to add comedic relief to the situation. In reference to rumors that Tyler is not Vaeda's biological father, she wrote:
"Sorry babe I totally cheated and Vaedas not urs… #peoplearecrazy #comeon"
As we reported last month, the two MTV stars welcomed their newest addition on Thursday, February 21.
The couple also share three-year-old daughter, NovaLee Reign, and firstborn daughter, nine-year-old Carly, who was adopted in 2009.
In December 2018, Tyler told Mojo in the Morning that he and his wife lived separately as they worked on their relationship. He revealed:
"Literally we just dive into therapy … We both kind of decided when we did this, we were like, 'Listen, we're gonna do this and then we're gonna come back to the drawing board after this little self-reflection time and see where we stand.'"
Catelynn also called in to the show, and added:
" spends the nights quite a lot … We've been seeing a couple's therapist and things like that and I've even asked Tyler like, 'Do you think things are getting better?' Cause I feel like things have been shifting and changing and he's agreed with me."
In early 2018, Lowell suffered a miscarriage, which she later said was "meant" to happen. She told Us Weekly in September of that year:
"As devastating as the miscarriage was, I really feel like I've worked with my counselor. I really believe in my heart that I was meant to have that miscarriage because I spiraled so hard that it forced me to go to a place where I really had to dig into my childhood traumas and things like that that I have not really dug in before. I really think that it was a push to really work harder on things that I really wasn't working on even though it was a sad and emotional thing. I really think that that baby was meant to leave so that way I was meant to really dig deeper on my wounds from my childhood."
We love a candid Tyler!
Source: Read Full Article