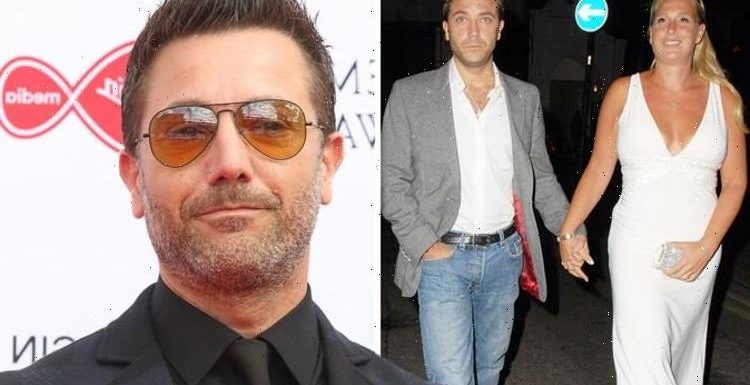 Gino D'Acampo advises caller to poison her mother-in-law
We use your sign-up to provide content in ways you've consented to and to improve our understanding of you. This may include adverts from us and 3rd parties based on our understanding. You can unsubscribe at any time. More info
ITV's resident celebrity chef Gino D'Acampo, 45, has revealed the secret recipe for his successful relationship with wife Jessica Morrison. The This Morning star explained that the couple don't "hide things" from one another, even if it means one of them will be left feeling "hurt".
Opening up on their brutal honestly in a new interview, Gino said: "When you try to hide things because you don't want to hurt each other, that doesn't work.
"If you want a healthy relationship, just be truthful.
"If you need to have a fight, have a fight and then move on."
The Italian chef went on to reflect on the moment he met Jessica for the first time.
Gino was just 18-years-old at the time.
He told the January issue of Platinum: "She used to put the butter into my meat fridge, and that's where we kissed for the first time.
"I was 18 at the time and we've been together ever since."
Gino and Jessica have been married since 2002.
The pair share three children Luciano, 19, Rocco, 16, and eight-year-old daughter Mia.
Gino recently shared an insight into his family life in his new ITV series, Gino's Italian Family Adventure.
The docuseries follows the former I'm A Celebrity… Get Me Out Of Here! contestant taking his brood on a journey into the roots of his Italian upbringing and his passion for food.
Gino previously emphasised the importance of himself and Jessica each having their "own lives" and enjoying going out to dinners with their own friends.
DON'T MISS:
Dan Walker scolded over 'broken promise to wife' amid Strictly chaos [COMMENT]
Kelvin Fletcher on wife's worries as he announces family's new series [INSIGHT]
Halle Berry, 55, stuns in plunging gown as she poses with boyfriend [PICS]
He told the Daily Star in 2020: "We allow each other to have our own lives, that means going on holiday with our friends.
"My wife goes for dinner with male friends and I go for dinner with female friends or business friends.
"We are very relaxed."
Gino also cheekily hinted that he can be "as naughty as I want" in his marriage, as he'll make things up to Jessica in no time with his skills in the kitchen.
He revealed to OK! Magazine: "I've been with my wife for 27 years, 20 years married and it gets stronger and stronger.
"But you know what the secret is?
"Italian food.
"I can be as naughty as I want, but when I cook my wife a beautiful Pollo Milanese with Italian potatoes, that's it, the game is over."
Read the full interview in the January issue of Platinum – out now.
Source: Read Full Article