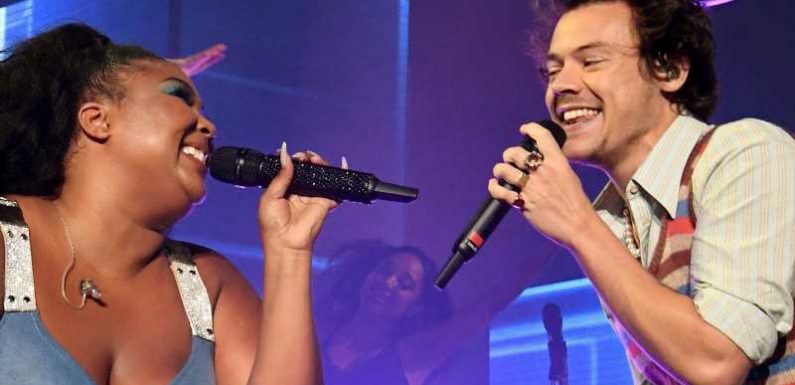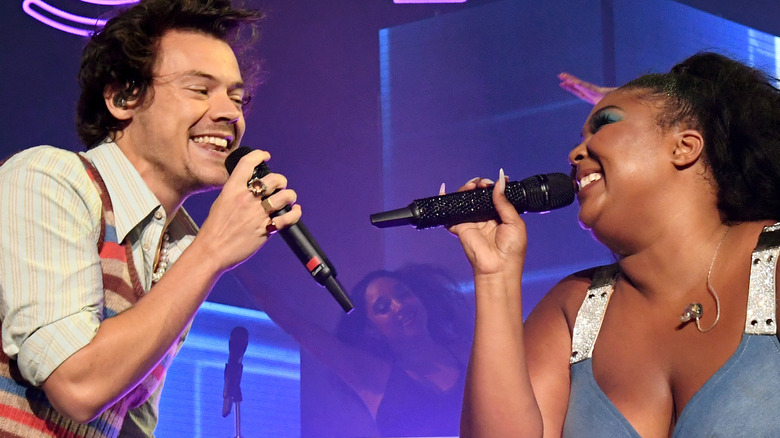 In a world full of celebrity gossip and feuds, there's nothing better than coming across a wholesome celebrity friendship — and no celebrity friendship is more wholesome than that of Lizzo and Harry Styles. The beginnings of the dynamic duo can be traced back to 2019, when Styles covered Lizzo's "Juice" during a visit to the BBC Radio 1 Live Lounge, where he said of Lizzo, "she's exactly what you want an artist to be … which is yourself" (via Billboard).
Just when we thought it couldn't get any better, Lizzo herself replied to the former One Direction frontman's cover and even hinted at a collaboration writing, "you know what this means right…?" with a winking emoji (via Entertainment Tonight). Since then, their friendship has been a gift that keeps on giving to both fan bases (and let's be real, to the entire internet). We think it's safe to say, Styles and Lizzo, we "Adore You!"
When they performed 'Juice' together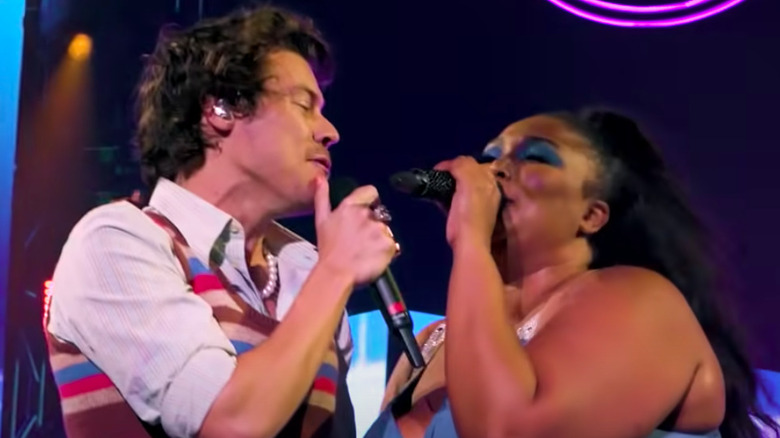 Lizzo wasn't kidding around when she posted about that potential collab. Just a few months after Harry Styles' initial cover of Lizzo's hit "Juice" in November, Styles joined Lizzo as a part of her performance at the Siruis XM & Pandora Opening Drive Super Concert Series at the Fillmore Miami Beach. It was quite a shock to fans when Styles took the stage, in his signature sweater vest and pearls, for a joint performance of "Juice" (via CNN). 
Their performance was as adorable as you can imagine, but you don't have to take our word for it, you can watch it on Insider! The two danced in sync and joked with both each other and the audience as they sang. Lizzo even changed lyrics for the performance, like, "Harry you ain't being slick," and at the song's bridge, she points to Styles when she tells the audience "you better come get your man!"
When Lizzo celebrated Harry's Grammy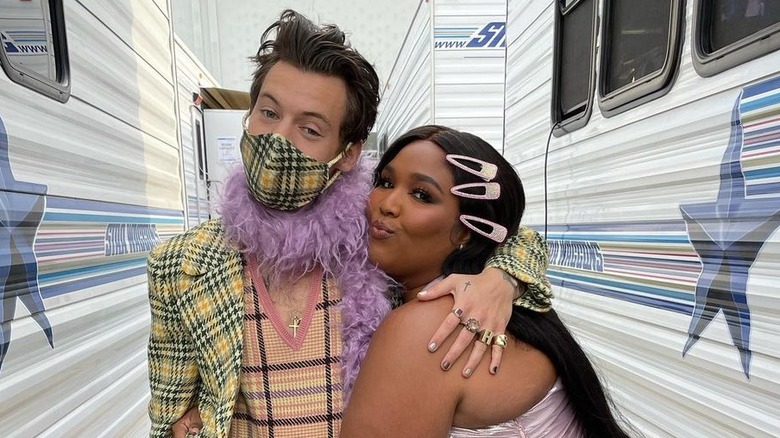 There's nothing more important to a healthy friendship than supporting each other's goals, even if you're in competetion with each other. So, as our resident example of friendship goals, it's no surprise that Lizzo was ecstatic when Harry Styles won his first ever Grammy Award at the 63rd Grammy awards in March. Styles beat out Justin Bieber, Doja Cat, Billie Eilish, Dua Lipa and Taylor Swift in the best pop solo performance category for his single "Watermelon Sugar" (via People). Lizzo won the same category the year prior for her girlboss hit "Truth Hurts" (via Grammy). 
The two reunited backstage just after Styles accepted the reward, and blessed us all with some adorable photos of the two celebrating — feather boa, silly poses, and all!. Lizzo posted the sweet moment on her Instagram with the excited caption "HARRY WON A GRAMMY !!!! @harrystyles" (via CNN).
When they made us all laugh at the BRIT Awards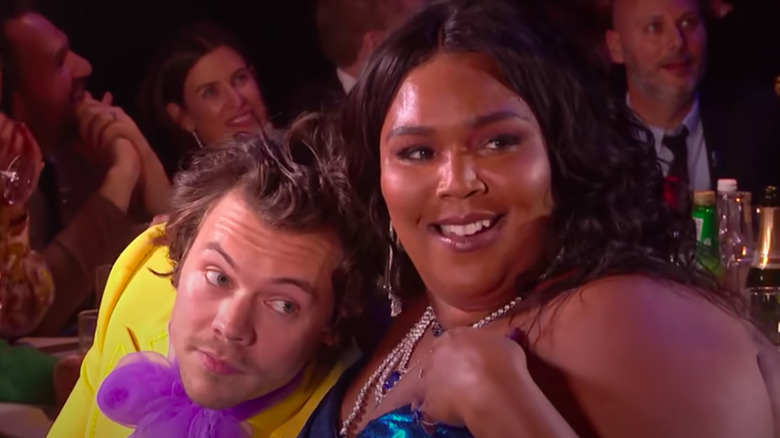 One of the best parts of Harry Styles and Lizzo's iconic friendship? They don't save their silliness for the stage. We think everyone who watched can agree that the duo stole the show at the 2020 BRIT Awards. When host Jack Whitehall sat next to Lizzo and poked fun at their relationship, the pop diva reached right over to hold Styles' hand and cuddle while the two answered questions (via Insider). Lizzo even accused Whitehall of being jealous of Styles when Whitehall said he'd hoped Lizzo would go for a more "posh" English man, drawing a huge laugh from everyone in the London O2 arena.  
Hilarity further ensued later in the night when Lizzo reached over and chugged Styles' entire wine glass full of straight tequila, according to Vogue. Even if neither Lizzo nor Styles went home with an award that night, their antics were certainly the most entertaining part of the evening.
Source: Read Full Article