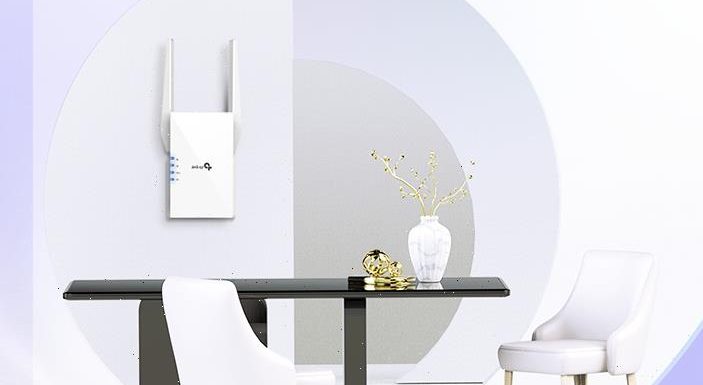 Products featured are independently selected by our editorial team and we may earn a commission from purchases made from our links; the retailer may also receive certain auditable data for accounting purposes.
"Can you hear me now?" Dropped calls may be a thing of the past (well, most of the time) but there's a new dead zone in town and it's running (choppy) circles around your WiFi.
While routers will get you online, their signal strength will only go so far, especially if you live in a house or work in a large office. The larger the space, the harder it is to pick up a signal or stay connected. Getting a strong WiFi signal also depends on the layout of your space and the number of devices you're connecting to the Internet. It's a little like driving — too many road blocks and other drivers will only slow you down. To really boost your speed and connectivity, you'll want to invest in a WiFi range extender.
Related
How to Watch 'The Many Saints of Newark' Online: Stream the Film For Free
This MasterClass Buy One, Get One Free Deal Ends Today
Related
5 Festivals That Ended in Disaster
Muhammad Ali: 4 Ways He Changed America
Also known as a WiFi booster or repeater, think of a range extender as the "Waze" of home networking apps, helping you find a faster way to get online rather than relying on the same old pathways. A WiFi extender captures the wireless signal from your router and replicates it in rooms where the signal is weak or nonexistent. It essentially lengthens (or expands) the range of your signal. The strongest WiFi boosters will be able to get a signal even into corners of the room where you previously had a dead zone. And because a range extender operates on a different wireless channel than the one used by your router, it's able to not only rebroadcast the signal, but elevate it as well.
Aside from expanding WiFi coverage of an existing signal, you can also use some range extenders to create a new or private WiFi network. Set limits on which devices can access the network, to ensure that it's always fast and not bogged down by users. New WiFi extenders can also turn a wired network into a wireless one, freeing you up from confusing cables and connectivity issues.
When buying a WiFi range extender, it's important to note that where you place the unit could affect your coverage. The ideal location to place the extender is half-way between your router and the room where you want to extend the signal to. Or, take your phone or laptop around the room and find out where your Internet connection tends to drop out. Once you find the drop zone (or dead zone), you'll find a solid place to put your WiFi extender too.
Before you call your cable company the next time your Internet is slow, consider picking up a WiFi range extender. Sometimes it's not your signal that's bad, but rather your signal strength. We've rounded up some of the best range extenders online, to help you get online — and stay online — without any lags, drops or interruptions.
What Are The Best Wi-Fi Range Extenders?
There are many factors to think about when choosing the best router range extender for you; below are the most important ones, which we considered while we were researching this list.
Speed: Naturally, the most important feature of a Wi-Fi range extender is its speed. Our picks support speeds between 750Mbps (megabits per second) and 1.4GBps (gigabits per second). The speed you actually get will depend on the composition of your walls, how many devices are connected, and its placement.
Range: The size of your home will have a big impact on the best Wi-Fi range extender for your needs. Our picks can cover an areas between 1,500 sq. ft. (square feet) and 10,000 sq. ft.
Bands: The best WiFi extenders run on two bands — 2.4GHz and 5GHz — constantly working between the dual bands to provide optimal connectivity.
Generally speaking, the 2.4GHz band is great for basic Internet surfing (think: checking emails, reading the news, etc.) and the 5GHz band is best for streaming content and online gaming. The 2.4GHz is a longer-range band but transmits data at slightly slower speeds; the 5GHz band will have less coverage but provides faster speeds.
Ethernet: Most popular WiFi extenders will also have an available Gigabit Ethernet port that lets you plug in any wired device, like a gaming console or computer to get the same boosted speed and performance.
1. TP-Link RE505X
TP-Link
TP-Link's RE505X offers the best speeds and longest range of any Wi-Fi range extender we've seen.
Its speeds top out at a whopping 1.5GB per second, which is up to twice as fast as some of its competition. It's very possible that the RE505X's primarily speed limitation will be your current internet plan. TP-Link says this Wi-Fi range extender can cover areas up to 1500 sq. ft., and you can adjust its two antennas to reach the specific area in your home that's currently an internet dead zone.
The RE505X has four LEDs on its front side indicating whether it has power, a Wi-Fi signal, and whether it's using its 2.4GHz and 5GHz bands. It's nice to have a visual indication of whether these features are working in case you have to troubleshoot an issue. While you'll primarily use the RE505X for Wi-Fi, it does have a single Ethernet port for wired peripherals.
If you're looking for a clean, easy way to ensure your house maintains an ultra-fast Wi-Fi connection, TP-Link's RE505X is our top choice.
Buy:TP-Link RE505Xat$79.99
2. Netgear EX2800
Amazon
Netgear's EX2800 is an excellent budget-friendly Wi-Fi range extender that's great to use if you have an apartment small home.
It supports speeds up to 750Mbps, and has a maximum range of 1200 sq. ft. The EX2800 has four indicator lights that show whether it has power, is connected to your Wi-Fi router, is connected to a device, and if WPS (Wi-Fi Protected Setup) is enabled.
This Wi-Fi range extender doesn't have an Ethernet port, but that's because of its extremely compact size. This is the smallest, most subtle pick in our guide, which is a big plus. If your needs are pretty basic, there's no reason to consider any Wi-Fi range extender besides Netgear's EX2800.
Buy:Netgear EX2800at$32.99
3. Linksys RE6700
Amazon
Linksys' RE6700 can has a range of up to 10,000 sq.ft., which makes it the best Wi-Fi range extender for anyone who lives in a big home.
The RE6700 has a maximum speed of 1.2GBps, which is fast enough to handle most any task. This Wi-Fi range extender doesn't have any status indicators (besides power), which is unfortunate. It does have an Ethernet port, though.
This Wi-Fi range extender's best feature (besides its long range) is the fact that it's got an AC plug built into it, so you don't lose an outlet when you plug it in. This feature along makes Linksys' RE6700 worth recommending. This is also the only Wi-Fi range extender in our guide that has a 3.5mm audio output, which allows you to stream music to a pair of speakers connected to this device.
If you need your Wi-Fi network to reach every nook and cranny of your home, Linksys' RE6700 is an excellent choice.
Buy:Linksys RE6700at$79.99
4. Eero Beacon
Amazon
Eero basically invented the modern mesh Wi-Fi network with its fast, powerful, easy-to-use routers. You can extend your network by getting any of Eero's routers, but the Beacon is best suited for this job.
It has a maximum speed of 350Mbps and is designed to cover an are of up to 1,500 sq. ft.. The Eero Beacon doesn't have any indicator lights, or an Ethernet port, and can only be used as part of an existing Eero system. The other Wi-Fi ranage extenders in our guide can be used with any Wi-Fi router.
Still, in our tests the Eero Beacon did a fine job at extending our network with very little speed loss. We're also fans of its sleek look, and the fact that it can be used as a night light, which is particularly useful if you install it in a hallway.
If you already have an Eero system installed, the Beacon should be your go-to choice. Its build quality and performance are up to the company's high standards, and you can set it up and manage it in Eero's excellent mobile app.
Buy:Eero Beaconat$119.00
Source: Read Full Article