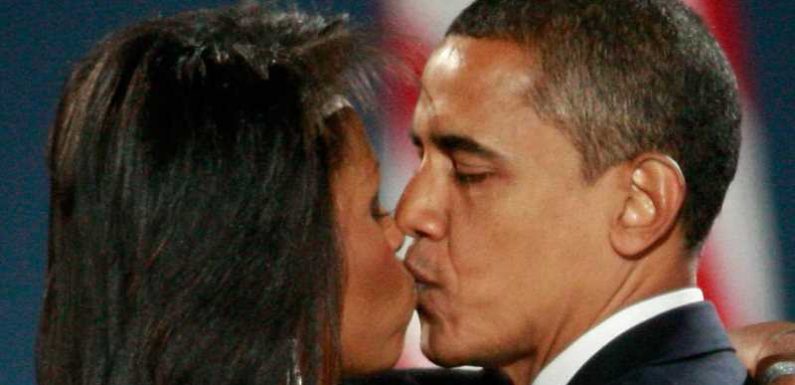 They may be one of the most high-profile couples on the planet, but at the end of the day, Barack and Michelle Obama are just a regular married couple — and they want the world to know it. They've experienced high highs and low lows since their first meeting in 1989, and boy, do they have lessons to teach us about love, patience, resilience, and kindness.
The former president and first lady have become true role models not only for the wider public, but also for their two daughters, Sasha and Malia Obama, as well as for each other. Whether it's talking about the difficult things so people will know they're not alone, or publicly declaring their love, the Obamas are consistently admired for their honesty and openness. They may not have had an easy ride of it all, but theirs is a beautiful — and importantly, enduring — love story that gives us all a bit of much-needed hope.
Let's uncover the truth about Michelle Obama's relationship with Barack Obama.
Michelle Obama wasn't very impressed with Barack when they first met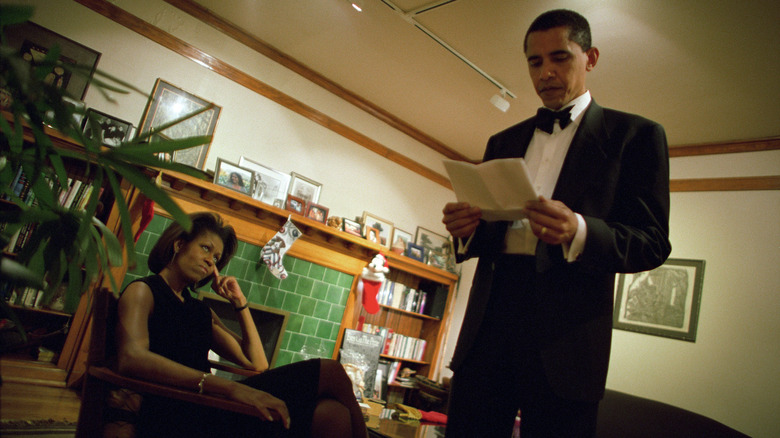 Michelle Obama (nee Robinson) and Barack Obama first met at the law firm in Chicago, where they were both working at the time. The year was 1989, and the young Michelle didn't have time for just any suitor. She knew what she wanted, and what she wanted wasn't Barack … or so she thought. When her future husband joined the firm for the summer following his first year of law school, Michelle was assigned to show him the ropes. "Because I went to Harvard and he went to Harvard, and the firm thought, 'Oh, we'll hook these two people up,'" she told ABC News. "So, you know, there was a little intrigue, but I must say after about a month, Barack, about a month in, asked me out, and I thought no way. This is completely tacky."
If Michelle wasn't interested, her coworkers certainly were. "Word had spread that one of his professors at Harvard — the daughter of a managing partner — claimed he was the most gifted law student she'd ever encountered," the former first lady wrote in her memoir, "Becoming." People at the law firm were also talking about how handsome Barack was, but Michelle was far from impressed. "In my experience, you put a suit on a half-intelligent Black man and white people tended to go bonkers," she wrote. "I was doubtful he'd earned the hype."
Of course, before long, Barack ended up convincing Michelle that he was, in fact, worth a shot.
The Obamas' first date was a total dream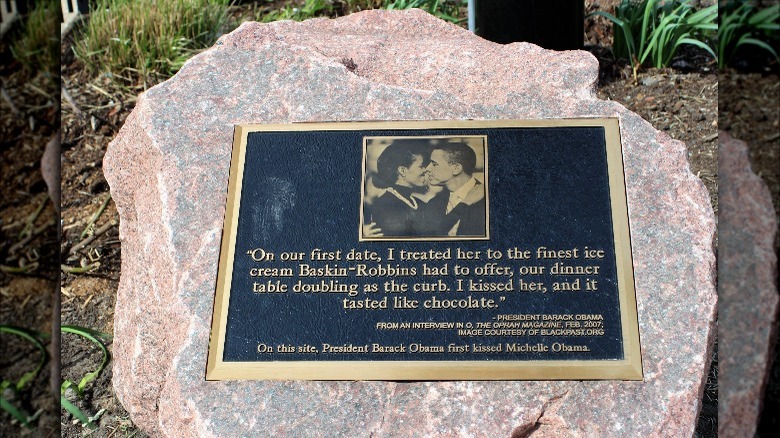 What's a sure sign of a legendary first date? Did you have "gets turned into a movie" on that bingo card? Well, Barack and Michelle Obama's first date in Chicago was the inspiration for the 2016 flick, "Southside With You," which follows these lovebirds as they first realize they totally click. But in another world, this allegedly amazing day the Obamas spent together could have never happened if Barack wasn't so set on Michelle. 
"I asked her out," the former president wrote for Oprah.com. "She refused. I kept asking. She kept refusing." But perhaps Michelle's refusal had less to do with her not being interested, and more with how it would look professionally. Barack recalled Michelle's reason for not accepting at first: "'I'm your adviser,' she said. 'It's not appropriate.' Finally, I offered to quit my job, and at last she relented."
As for what they did on the date that changed everything for the future Obamas, here's what we know. There was art: "Art — guys out there — it impresses people," Barack told The Hollywood Reporter. There was food: "Our first meal was a lovely lunch," Michelle added. There was a movie: "'Do The Right Thing' was actually the first movie we saw together on our first official date," the former first lady said during a celebration event for the film's 25th anniversary. And there was dessert: "I treated her to the finest ice cream Baskin-Robbins had to offer, our dinner table doubling as the curb," Barack revealed on Oprah.com. "I kissed her, and it tasted like chocolate."
Barack Obama tricked Michelle as part of his proposal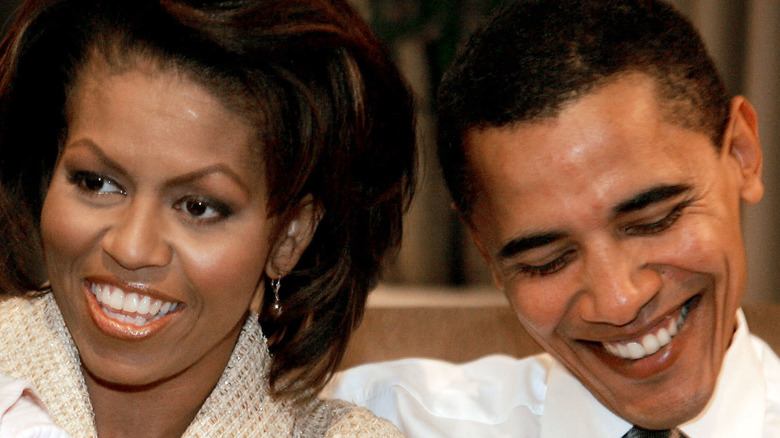 Marriage was a point of contention between Barack and Michelle Obama while they were dating: She was pretty adamant she wanted to be married, while he wasn't convinced about the necessity of it. They had this discussion many times over, with both of them firmly standing their ground — and Barack cunningly exploited this dynamic to put together a proposal that was well and truly a huge surprise. 
As they were out for dinner at one of their go-to spots, Chicago restaurant Gordon, the future president brought up marriage again. "He reached for my hand and said that as much as he loved me with his whole being, he still didn't really see the point," Michelle recalled in "Becoming." The future Mrs. Obama was livid. They'd had a nice dinner, and now Barack was bringing up this sore spot again? Little did she know that she'd fallen for the ruse, and everything was going exactly according to plan. 
"The waiter put a platter in front of me with a little box with a ring on it in the middle of the argument," Michelle revealed on "The Late Show with Stephen Colbert", adding, "[Barack] opened up the box and he said, 'Now that oughta shut you up.' It did." Once Michelle stopped being angry and realized what was happening, the proposal could finally unfold. "He dropped to one knee then and with an emotional hitch in his voice asked sincerely if I'd please do him the honor of marrying him," she wrote in her memoir. So sweet.
The Obamas' wedding day didn't start off too great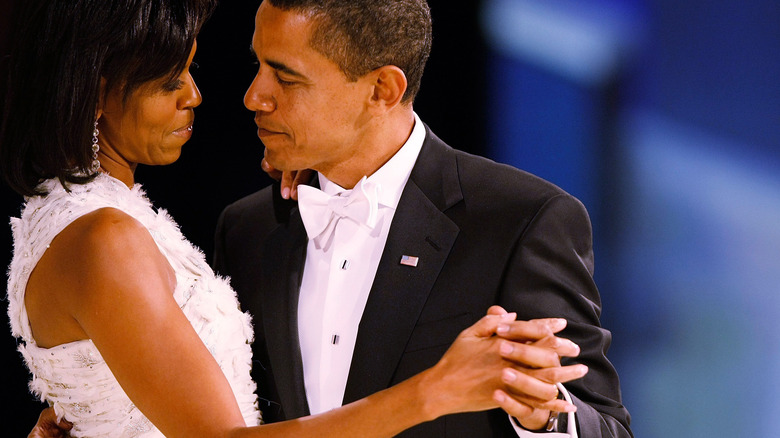 You know in rom-coms when everyone is preparing for a big wedding and everything suddenly goes wrong? It sounds like Michelle and Barack Obama's wedding day — which took place in Chicago in 1992, according to Hello! — got off to a pretty panicky start just like that. But thankfully, everything panned out perfectly fine in the end. 
"You can't tell it from this photo, but Barack woke up on our wedding day in October, 1992 with a nasty head cold," Michelle captioned an Instagram snapshot of their wedding day in 2018. "Somehow, by the time I met him at the altar, it had miraculously disappeared and we ended up dancing almost all night."
Both Obamas have often very generously shared pictures of their nuptials on social media, giving us a glimpse into what looked like a fairytale-worthy day, often on the occasion of one of their anniversaries. "'You and I' #21Years," the former president wrote in 2013, alongside a sweet pic of him beaming delightedly at his bride. "Happy 25th anniversary @barackobama," Michelle wrote in 2017. "A quarter of a century later, you're still my best friend & the most extraordinary man I know. I [heart] you." Also, we're totally obsessed with this photo of the newlyweds pulling faces and generally looking like they're having the time of their lives.
Michelle and Barack Obama struggled to have kids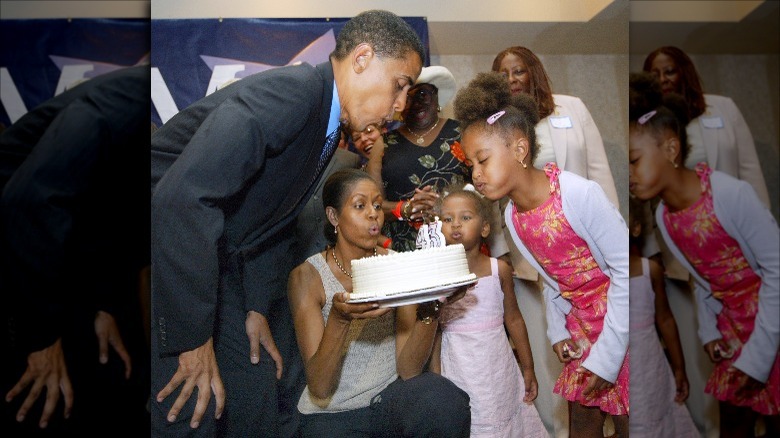 Michelle and Barack Obama have always given the public a sense that they wanted to keep things real as much as possible, and that's certainly what the former first lady tried to do when she decided to open up about her struggles with fertility. The couple wanted kids, but getting pregnant proved to be an upward battle. Finally, they succeeded in conceiving, but Michelle sadly lost that pregnancy. 
"I felt lost and alone, and I felt like I failed, because I didn't know how common miscarriages were, because we don't talk about it," she told ABC News in 2018. "We sit in our own pain, thinking that somehow, we're broken." The Obamas went to see a fertility doctor, who eventually recommended they try IVF, which they thankfully could afford thanks to Michelle's health insurance. It came at a time when Barack was extremely busy with state legislature work, and his wife felt the loneliness of the process. "I sensed already that the sacrifices would be more mine than his," she wrote in "Becoming," explaining, "In the weeks to come, he'd go about his regular business while I went in for daily ultrasounds to monitor my eggs. He wouldn't have his blood drawn. He wouldn't have to cancel any meetings to have a cervix inspection." 
All the same, Barack did everything he could to support Michelle through this difficult experience, and it was all worth it in the end — Malia Obama was born in 1998, and her sister, Sasha, soon followed in 2001, per Biography.
Life before the presidency was super normal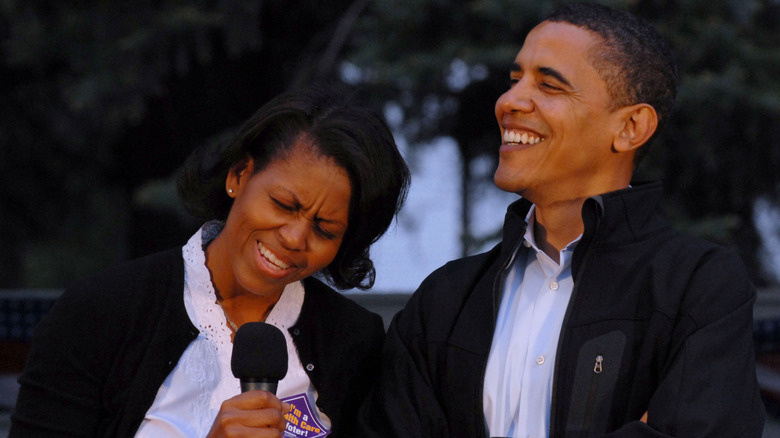 In Barack Obama's Instagram bio, it says "Dad" and "husband" before it says "President." In Michelle Obama's, it says "Girl from the South Side" before it says "former First Lady." The message? The Obamas are people first, and public figures second. As such, their lives before Barack's eight years as the President of the United States were really pretty normal, all things considered.
Michelle made this very clear in her speech at the 2012 Democratic National Convention. "Our life before moving to Washington was filled with simple joys," she said. "Saturdays at soccer games, Sundays at grandma's house, and a date night for Barack and me was either dinner or a movie, because as an exhausted mom, I couldn't stay awake for both." Of course, it wasn't a completely ordinary life — after all, Barack served as an Illinois State Senator starting in 1997, and a U.S. Senator from 2005, according to the United States Senate website. But none of this could fully prepare them for the amount of limelight the presidency entails.
"The truth is, I loved the life we had built for our girls, and I deeply loved the man I had built that life with," Michelle continued. "And I didn't want that to change if he became president."
Michelle Obama 'didn't really think [Barack] could win' the presidential election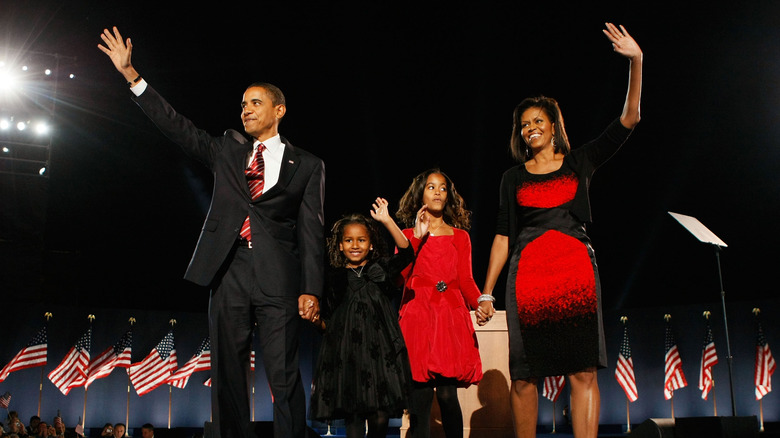 The Obamas' marriage is founded on deep mutual support and respect, but even so, Michelle Obama has typically preferred to exercise caution where Barack Obama's career possibilities were concerned. When at last, after weeks of the couple debating whether he should run for president, Michelle agreed that he should … but she had more than her fair share of doubts.
"I supported him in campaigning, but I also felt certain he wouldn't make it all the way," she wrote in "Becoming," before explaining, "He spoke so often and so passionately of healing our country's divisions, appealing to a set of higher ideals he believed were innate in most people. But I'd seen enough of the divisions to temper my own hopes. Barack was a Black man in America, after all. I didn't really think he could win." 
Despite her concerns, Michelle's husband pushed through, becoming the democratic presidential nominee in August 2008, and the president-elect in November of that year. "I would not be standing here tonight without the unyielding support of my best friend for the last 16 years, the rock of our family, the love of my life, the nation's next first lady, Michelle Obama," he said in his acceptance speech. "Sasha and Malia, I love you both more than you can imagine, and you have earned the new puppy that's coming with us to the White House."
Barack Obama's presidency hurt his marriage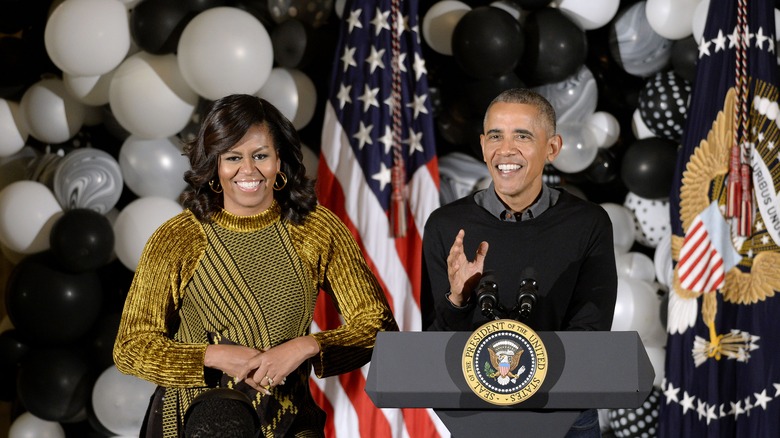 The presidency was, perhaps predictably, a difficult time for Michelle and Barack Obama's marriage. The sheer workload it entailed, coupled with the pressure to appear a certain way at official engagements, caused a certain amount of disconnection between the spouses. 
In his memoir, "A Promised Land," Barack wrote, "There were nights when, lying next to Michelle in the dark, I'd think about those days when everything between us felt lighter, when her smile was more constant and our love less encumbered, and my heart would suddenly tighten at the thought that those days might not return." Barack reiterated this thought while talking to People in 2020. "During the time we were there, Michelle felt this underlying tension," he said. "Tension, pressure, stress of needing to get everything right, to be on at every moment.'" 
Thankfully, Michelle thought very seriously about ways to keep the peace within the family unit — and one of her solutions was to strictly separate Barack's work from their personal life together.  "I felt like, when he came up that elevator and came home for dinner, that we wouldn't do that at our dinner table," she told Stephen Colbert in 2018, explaining that she tried not to interfere with his decisions as the commander-in-chief. "If I wanted to deliver a real message, I did it through staffs, so I had my chief of staff talk to his chief of staff." 
So, the secret to a happy marriage is "have your people talk to their people"? Okay, noted…
Life after the White House was a huge relief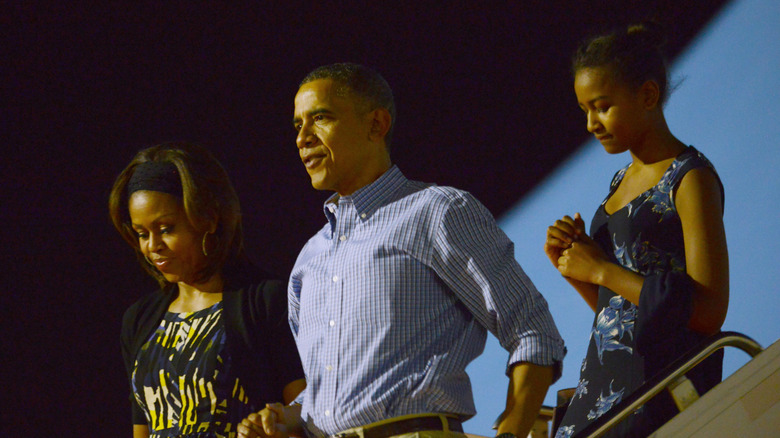 Life as the president and first lady came with a unique set of pressures that made an otherwise normal marriage difficult, so when the Obamas left the White House in January 2017, they felt overwhelming relief that eventually helped them to repair their relationship. "That last flight that we took out when I was leaving from the Capitol and we waved, we got on Air Force One the last time — I forgot about this, 'cause I didn't put it in the book — but a friend of mine reminded me that I cried for about 30 minutes," Michelle Obama told Stephen Colbert. "And it was just the release of eight years of feeling like we had to do everything perfectly."
Barack Obama echoed this sentiment, as well. "It was like a big exhale right after we leave office," Barack told People while promoting his 2020 memoir. "And it took some time to talk about how [Michelle] had felt. There were times where I think she was frustrated, or sad, or angry, but knew that I had Afghanistan to worry about, or a financial crisis to worry about, so she would tamp it down." 
Since 2017, the Obamas have been able to find a renewed sense of friendship, joy, and lightness with each other. As for how they're spending their free time, Michelle gave a clue when she told Oprah Winfrey in 2016 about the normalcy she was looking forward to post-White House: "I wanna go to Target again!" she said. (Don't we all?)
Barack and Michelle Obama are amazing parents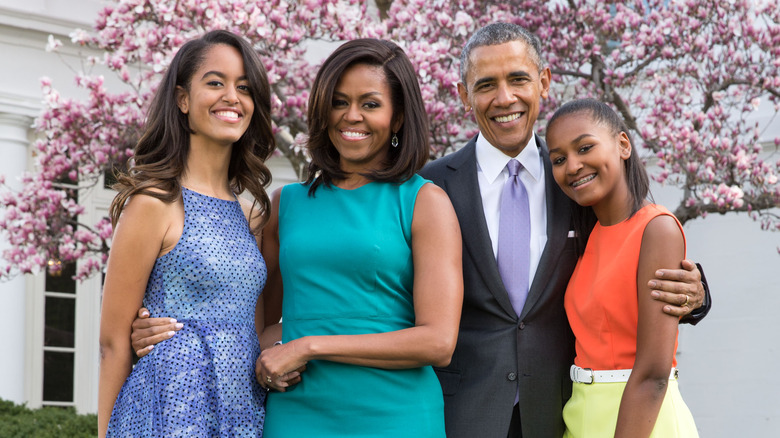 After struggling with fertility, Barack and Michelle Obama are incredibly proud parents to daughters Sasha and Malia. And from what we can tell, they've done a pretty amazing job raising them to be well-rounded women. While Malia enrolled at Harvard University in 2017, her younger sister, Sasha, started at the University of Michigan in 2019, according to Biography.
As part of British Vogue's "Forces for Change" issue, Michelle told Duchess Meghan Markle that her daughters are polar opposites. "One speaks freely and often, one opens up on her own terms," she said. "One shares her innermost feelings, the other is content to let you figure it out. Neither approach is better or worse, because they've both grown into smart, compassionate and independent young women, fully capable of paving their own paths."
Barack and Michelle, ever supportive of each other, also often praise their spouse's parenting skills on social media. "On this Mother's Day, I want to thank Michelle for being such an incredible mom to our girls," Barack wrote on Instagram in 2021. As for his wife, she reciprocated with a sweet Father's Day post, writing, "Happy #FathersDay to all the dads out there — especially the one and only @BarackObama! Our daughters couldn't have asked for a better role model. We're so lucky to have you in our lives." 
The Obamas are basically marriage counselors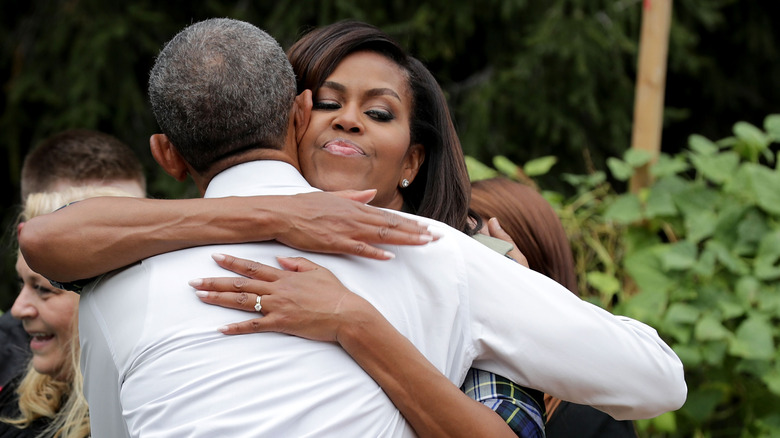 Michelle and Barack Obama's marriage hasn't been without its challenges, and the pair has been open about seeking counseling in order to help repair their bond. "Marriage is hard, even for us," Michelle said on "The Tonight Show Starring Jimmy Fallon" in 2018. "We have a great relationship, but the thing about marriage counseling is like, I was one of those wives who thought, 'I'm taking you to marriage counseling, so you can be fixed, Barack Obama.'" But she realized during these sessions that she needed to find grounding and happiness within herself first and foremost, and that she couldn't rely on Barack to "fix" her.
Thanks to marriage counseling, and their two-and-a-half decades of experience, the Obamas don't shy away from doling out marriage advice of their own. This is really important to Michelle, especially, as she feels she wasn't guided much by previous generations. "We didn't have role models of the hard times because our parents, their generation were taught you don't talk about marriage and you definitely don't talk about the hard times," she told People in 2021. Her main takeaway after so many years as Mrs. Obama? "One thing is for sure: [marriage] also takes a lot of work; a lot of honesty with ourselves and our partners," as she wrote in an Instagram caption.
As for Barack's relationship advice, he wants us to ask ourselves whether our partner is interesting, funny, and will be a good parent if we want kids. That's all, folks.
Giving back is central to the Obamas' marriage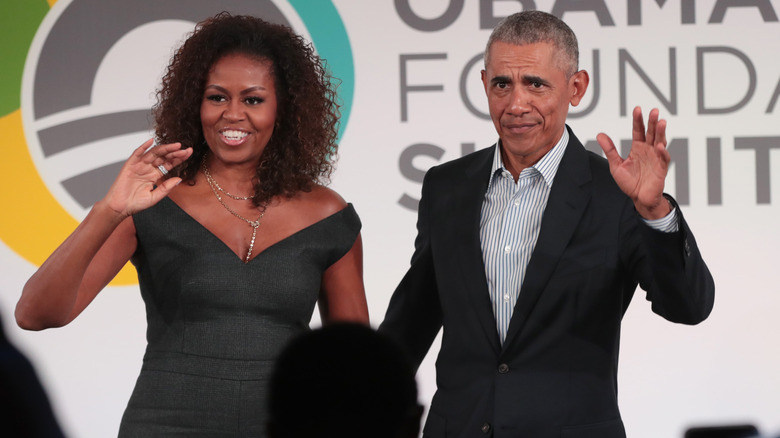 Barack Obama became president because he believed in the inherent goodness of people, and Michelle Obama supported him in that mission. In fact, this will to give back and make the world a better place was partly why she fell for him in the first place. 
"One of the reasons I fell in love with you is because you are guided by the principle that we are each other's brother's and sister's keepers. And that's how I was raised!" she said on her podcast, in conversation with Barack. "… My values, in terms of what I think my obligation — my personal obligation — Michelle Obama — is that it is not enough that I succeed on my own."
Since leaving the White House, the Obamas have remained fiercely committed to furthering the causes closest to their hearts — notably through their Obama Foundation. "The Obama Foundation is guided by a core belief: that ordinary people working together can change history," states the foundation's "About" page. "Our mission is to inspire those people to take action, empower them to change their world for the better, and connect them so they can achieve more together than they can alone." To this end, the organization uses various programs to create support and opportunities for young men and boys of color, promote education for girls around the world, and form the leaders of tomorrow across Africa, Asia-Pacific, and Europe.
The Obamas are 'forever dance partners'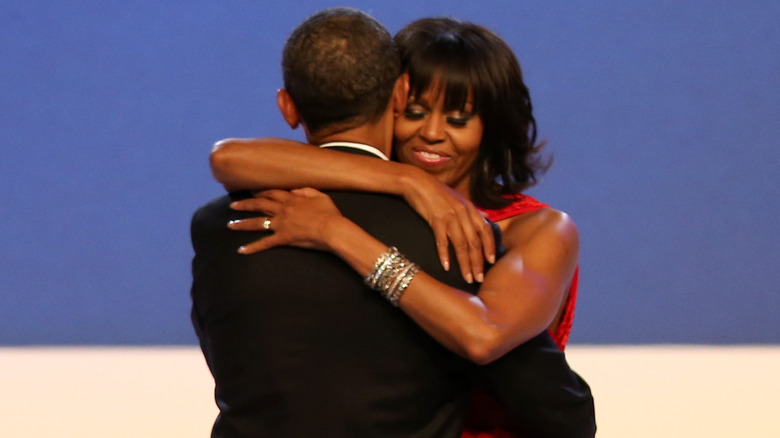 Whether it's slightly confusedly dancing to "Thriller" at the White House's Halloween Party in 2016, or sharing an intimate slow dance, Michelle and Barack Obama love the power of a good lap around the dancefloor to keep their spark alive. In fact, for Valentine's Day 2020, Barack called Michelle his "forever dance partner," alongside a sweet Instagram photo of them busting a move.
The Obamas also danced on many an occasion during their time in the White House, kicking off with the "10 balls" on Inauguration Day in 2009, according to ABC News. At the Inaugural Ball in 2013, Barack introduced Michelle for their first dance by saying, "Some may dispute the quality of our president, but nobody disputes the quality of our first lady. Ladies and gentlemen, my better half and my dance partner, Michelle Obama." As Michelle walked onto the stage in a gorgeous red gown, she and Barack shared a kiss before slow dancing to a serenade from Jennifer Hudson. 
Whatever happens, it looks like the Obamas' dancing days are far from over — and that brings us nothing but joy.
Source: Read Full Article