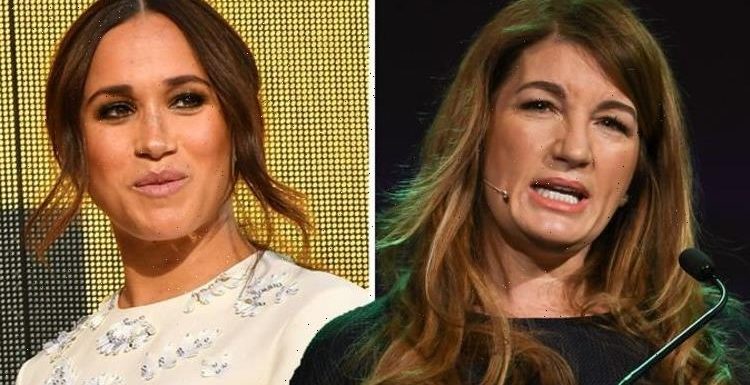 Meghan Markle: Neesom on 'forgetting' detail
We use your sign-up to provide content in ways you've consented to and to improve our understanding of you. This may include adverts from us and 3rd parties based on our understanding. You can unsubscribe at any time. More info
Karren Brady has weighed in with her thoughts on Meghan Markle's court statement last week. The Apprentice star admitted the "truth was out" about the royal as she delved into the story in her latest column.
Last week, Meghan shared a written apology for telling her PR chief to brief the authors of the biography Finding Freedom, Omid Scobie and Carolyn Durand.
This was after she and Prince Harry released a statement last summer saying they "did not contribute" to the book.
In court submissions for the Mail on Sunday's appeal against their High Court privacy case last Wednesday, Meghan said the oversight was an accident.
Meghan had emailed her former communications secretary Jason Knauf on December 10, 2018, with a note on her family history.
As well as this, it contained some insight into an incident with the Queen involving a tiara.
Knauf issued a statement saying: "The book was discussed directly with the duchess multiple times in person and over email.
"The duke and duchess authorised specific co-operation in writing in December 2018."
Meghan then issued a statement to the court in response to this as well.
This read: "In the light of the information and documents that Mr Knauf has provided, I accept that Mr Knauf did provide some information to the authors for the book and that he did so with my knowledge.
"I did not have the benefit of seeing these emails and I apologise to the Court for the fact I had not remembered these exchanges at the time.
"I had absolutely no wish or intention to mislead the defendant or the Court."
Speaking about the incident in her column for The Sun, Karren wondered if the Duchess of Sussex would "live this down".
She penned: "After months of her wanting to 'speak her truth', the real truth is out about Meghan Markle.
"This week she apologised to the Court of Appeal for 'failing to remember' she told an aide to brief the authors of the Finding Freedom biography."
Karren admitted while she has a "memory like a sieve", she "can't imagine" forgetting something like this.
She added: "The court may accept her forgetfulness was genuine.
"Whatever they decide, I wonder if Meghan will live this down, but I suspect not."
However, the business woman did also share how she felt "sympathy" for Meghan as well over her father's comments on her.
"Knowing, therefore, that any communication she had with her father was more than likely to become public knowledge, in a way, can you blame her for having that in mind when she wrote to him?" Karren added.
Source: Read Full Article