Back in the day, Nina and Vanessa were best known for their career launching projects (The Vampire Diaries and High School Musical, respectively) and paparazzi-documented romances (with Ian Somerhalder and Zac Efron). It seemed they had it all: the hits, the hunks, the down-to-there hair.
But now the hits have given way to new projects, the hunks are exes, and the actresses have cropped their locks and moved on to their next chapters. Vanessa took a turn toward more risqué material with 2012's Spring Breakers, playing a party queen on a crime spree, and Nina is about to show off her comedy chops as a reformed bad girl in the new CBS sitcom Fam. Meanwhile, Hollywood has been going through its own revamp. With the industry's focus shifting to female-led vehicles, the timing is perfect for two stars with famously tight sisterhood circles to step into the spotlight. And nobody is better at BFF-ing than they are.
The girl-power enthusiasm is immediately evident in their preferred conversation topics. Instead of going deep on their love lives, they're eager to discuss the bonds they share with women. "My favorite day with my girlfriends is having everyone over to my house, lying by the pool, drinking rosé, listening to music, and dancing," says Vanessa. (On her playlist lately: tons of Radiohead.) When traveling, she keeps in touch with her ladies through Instagram. "We'll post comments and send little love notes to each other via DM."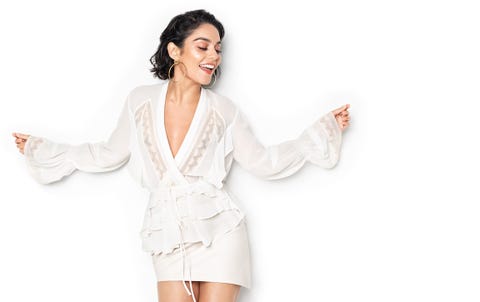 One of Nina's favorite squad moments: After she had a particularly brutal breakup, her girlfriends forced her to write down a list of the dude's pros and cons on massive poster boards. Then they ripped up the pros list and taped the cons version to her bedroom wall. "At nighttime and in the mornings are when you're most vulnerable in a breakup situation," says Nina. "You have to sleep alone, you're by your-self….You might text or call him when you shouldn't. The poster was a daily reminder of why this person ultimately wasn't the one for me."
"I've been able to handle myself and speak up for the most part. But I have seen a lot."
Speaking of male-female relationships, both women are candid when it comes to their professional experiences in a notoriously sexist field. When asked if she's had any #MeToo encounters, Nina says, "Like any woman in every industry, yes. Comments have been made. People have said things that are inappropriate. I've been able to handle myself and speak up for the most part. But I have seen a lot." Vanessa concurs: "I have been very fortunate not to have had any direct run-ins, but I've seen it happen. I'm grateful that we're living in an age when women are finally heard."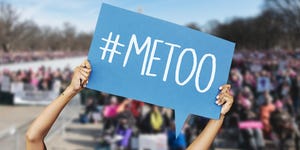 Despite what they've witnessed, they're not quitting the biz anytime soon. Nina's dreams include working with directors such as Greta Gerwig and Lee Daniels and playing Audrey Hepburn in a biopic. For her part, Vanessa is ready for a long and varied career: "I'd love to do Shakespeare and a Tennessee Williams play. And of course I want to work with Tarantino and Spielberg and Scorsese. I'm into everything."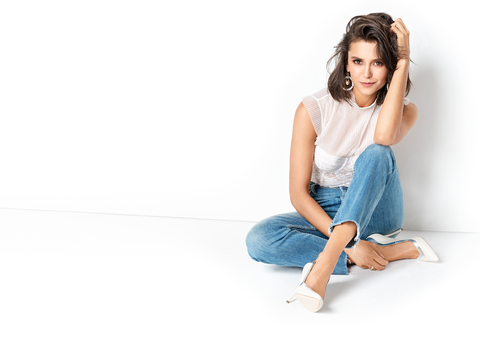 One thing the outspoken actresses aren't into? Spilling intimate details on their love and sex lives. Both tend to be careful about what they share on social media. (No doubt because the combined number of their Instagram followers—more than 43 million—is larger than the population of Canada.) "I don't typically post photos with significant others," says Nina."Which is funny, because when I do post a photo with a guy, the media will pick it up and assume I'm dating him. It makes me laugh because, in reality, if he is on my Instagram, that means I'm not dating him!"
"If you can shift your perspective on a negative thing, it's possible to turn it into a positive."
Vanessa is more public about her longtime boyfriend, actor Austin Butler. He frequently pops up on her social media feeds accompanied by gooey captions and ample emoji hearts. But then again, she's also managed to develop a thick skin, having experienced the horror of being hacked and seeing private photos of herself leaked on the internet—the first time when she was just 18.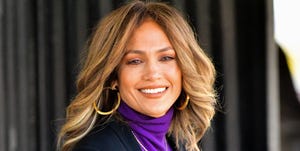 To combat the pitfalls of working in the public eye, Nina and Vanessa have armed themselves with very different versions of self-care techniques. "I do a lot of yoga," says Vanessa. "I'm a meditative person, and that has allowed me to live a somewhat stress-free life." And she takes a philosophical approach to the inevitable peaks and valleys of fame. "If you can shift your perspective on a negative thing, it's possible to turn it into a positive."
Nina's way of working hard and playing hard involves putting herself in, to put it bluntly, scary-as-shit situations. She's gone skydiving, swum with sharks, bungee-jumped, and—perhaps the most terrifying experience of all—performed in front of live audiences, both while taking comedy-improv classes at Upright Citizens Brigade and now in front of the Fam studio audience. "I am attracted to doing scary things," she says. "I might have a slight addiction to firsts. When you've never done something before, you don't know what to expect. It's the fear of the unknown. It keeps you on your toes."
All of which is precisely why both women continue to be such fun to watch. The way these two see it, they're just getting started.
For more of Vanessa and Nina, pick up the September 2018 issue on newsstands August 8, or click here to subscribe to the digital edition.
Photographer: Ben Watts; Styled by Kristen Saladino
ON VANESSA'S NEWSSTAND COVER: dress by Milly, earrings by Jennifer Zeuner, ring by Jennie Kwon Designs, body chain by Jacquie Aiche
ON NINA'S NEWSSTAND COVER: jacket and skirt by Alice + Olivia by Stacey Bendet, bralette by Cosabella, ring by Sewit Sium, and earrings by Jennifer Fisher
ON VANESSA + NINA'S SUBSCRIBER COVER: Vanessa's top and skirt by IRO Paris, ring by Joanna Laura Constantine, and earrings by Lady Grey, and Nina's top by Victoria's Secret, jeans by Mother, earrings by Lulu Frost, and rings by Adina Reyter
Source: Read Full Article