A mother and YouTube star has been accused of physically abusing her seven adoptive children if they didn't participate in the videos for her channel "Fantastic Adventures."
Machelle Hobson (above) was arrested last Friday after officers conducted a welfare check at her home in Maricopa, Arizona and found seven children "who appeared to be malnourished, due to their pale completion, dark rings under their eyes, underweight, and they stated they were thirsty and hungry," according to the complaint filed in Pinal County Superior Court.
The children told authorities they were pepper-sprayed, beaten, and deprived of food and water if they didn't participate in the 48-year-old's YouTube series, which featured them in different silly scenarios.
Video: YouTube Star Held At GUNPOINT During Livestream
Police interviewed two of the kids and attempted to speak with a third, but say she was "visibly nervous, shaking, and it appeared she was too scared to answer any questions." The four other children were not questioned.
According to the kids, they were punished if they forgot their lines or didn't follow Hobson's directions. One child told cops Hobson locked her in a closet for days without food, water, or access to a bathroom; she alleged that she was forced to wear a pull-up diaper.
The child also explained that her adoptive mother would allegedly spray her and her six siblings with pepper spray — she claimed she was once pepper-sprayed between her legs and was in pain for several days — spank them, and force them to take ice baths. If they resisted, Hobson would allegedly punish them further.
Another child told officials he either gets "beat with a hanger or belt," "or a brush," "or get pepper-sprayed from head to toe." He also accused Hobson of grabbing his "privates" and pinching him with her fingernails until he bled.
The probable cause statement alleged that the children "have not been in school for years," adding that Hobson allegedly "took them out of school" so they can keep filming their series.
Hobson denied the allegations, saying she has only grounded, spanked, and made the kids stand in the corner as punishment. Her attorney Richard Scherb told ABC News that the "state's case is without merit."
But Hobson's two adult sons, Logan and Ryan Hackney, are backing the children's story. After being taken into custody with Hobson, Logan allegedly admitted that the kids would be locked in the closet for extended periods as punishment.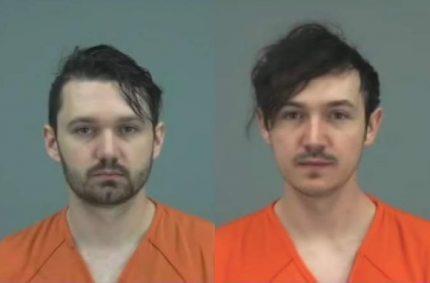 He also confessed he had knowledge of the alleged pepper spray and ice baths, and had told police he saw physical injuries on the kids and heard them scream and cry.
Logan told authorities he had a discussion with Ryan about reporting the alleged abuse. The children claim Ryan would sneak them food when they were locked in the closet.
The welfare check was conducted days after Hobson's biological daughter Megan, 19, told the Maricopa Police Department that her younger adoptive sister told her all of the younger siblings were being abused by her mother.
Video: YouTuber Jake Paul Has A New Music Video Out
The Pinal County Attorney's office called the claims "highly disturbing and alarming," saying in a statement:
"Children are our community's most precious resource, and this office is committed to holding those individuals who choose to harm them fully accountable for their actions."
The channel, which has garnered almost 800,000 subscribers and 250 million views since 2012, has been terminated by the website for "violating YouTube's Community Guidelines."
A YouTube rep said in a statement Thursday morning:
"We work closely with leading child safety organizations and others in our industry to protect young people. When we're made aware of serious allegations of this nature we investigate and take action. We immediately suspended monetization when notified of the arrest. In cases where there are Community Guidelines violations, we may take additional actions, including terminating the channel."
All seven children were removed from Hobson's custody.
Watch the video (below) to see clips of the now defunct web series.
Source: Read Full Article