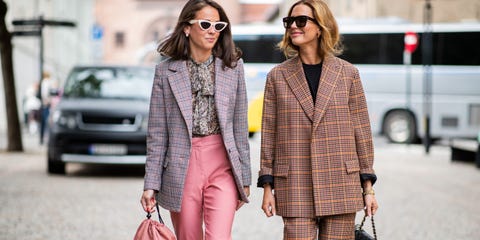 With fall fashion officially underway, there are plenty of new trends and styles to try now. But if you're going to commit to one new look this season, make it the pantsuit. Serving up some empowering Working Girl vibes, the power suit is back and in full force for fall. Whether you want to try the '80s-inspired check blazer, an ultra-feminine pink pantsuit, or a mini skirt suit, there's a take on the look for everyone to test drive. Get inspired with these 12 fresh ways to style the suit this season.
1) The Versatile Gray Check
The perfect neutral for your fall wardrobe, a menswear-inspired gray checked suit can be worn an endless amount of ways—from the office to a night out. Add a touch of femininity to the look in the form of accessories.
"Dress for the weather you want, not the weather you have." – ancient fashion proverb. Picking up my September issues in my new favorite @katespadeny power suit ✨
A post shared by nicolette mason (@nicolettemason) on
SHOP THIS SUIT NOW
2) Dress It Down
For a more casual take, style your suit with a plain white tee and sneakers that don't make the look feel so buttoned up.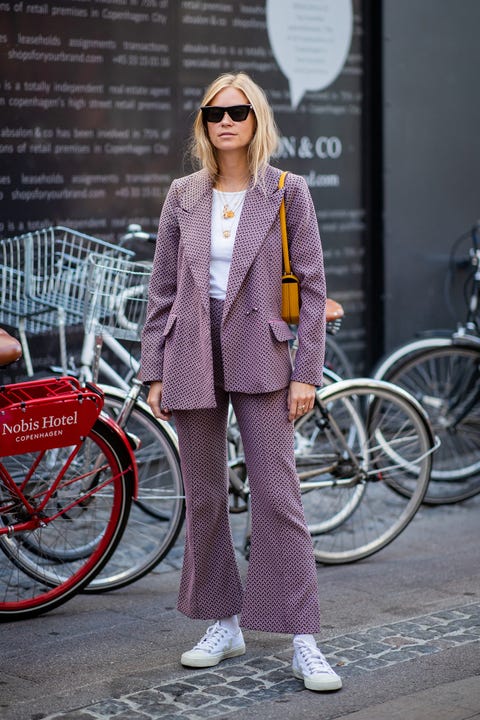 SHOP SIMILAR SUIT SEPARATES
3) Crop It
A cropped pair of trousers makes way for a more playful shoe opportunity. For a suiting look outside the office, try a cropped top instead of a blouse.
Bluedak yellow || Moody blues but also walking on sunshine ???? @katespadeny #katespadejoy #ad
A post shared by Shiona Turini (@shionat) on
SHOP SIMILAR SUIT SEPARATES
4) Borrowed From The Boys
Go oversized or go home this season. Think '80s-like shoulders and boxy silhouettes that look like you took them from your boyfriend's closet.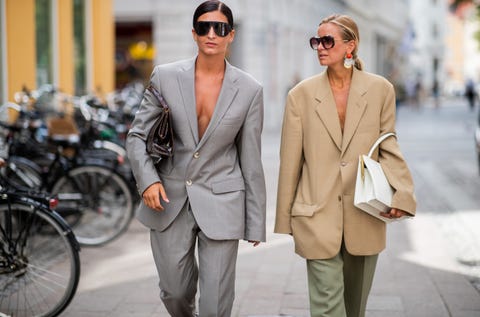 SHOP SIMILAR SUIT SEPARATES
5) Mix and Match
Modernize the classic pantsuit by mixing and matching contrasting jackets and trousers. The end result is still polished, but a little more unexpected.
Feeling super comfortable on these @nduoofficial pieces #❤ #friday #friyay #thatfridayfeeling #streetstyle #lookdodia #ootdfashion #? Happy Friday guys ??
A post shared by Marta (@thestylethesaurus) on
SHOP SIMILAR SUIT SEPARATES
6) Cinch It With a Belt Bag
Embrace two of fall's hottest trends at once by defining your waist with a belt bag layered over your blazer.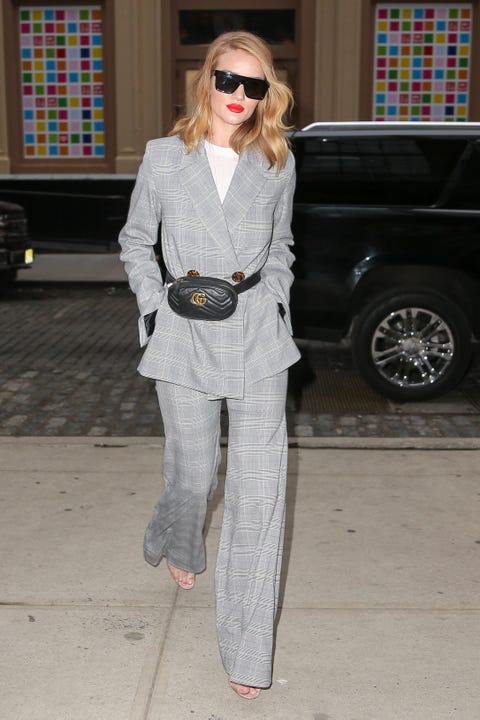 SHOP GUCCI BELT BAG
7) Shorten Things Up
Channel the '90s with a shortened version of the classic suit, whether it's with a pair of shorts or a mini skirt.
City life. ?
A post shared by Negin Mirsalehi (@negin_mirsalehi) on
SHOP THIS SUIT NOW
8) Go Bold
Take a page from Blake Lively's book of risk-taking summer suits and opt for big color and pattern that's instantly statement-making in its own right.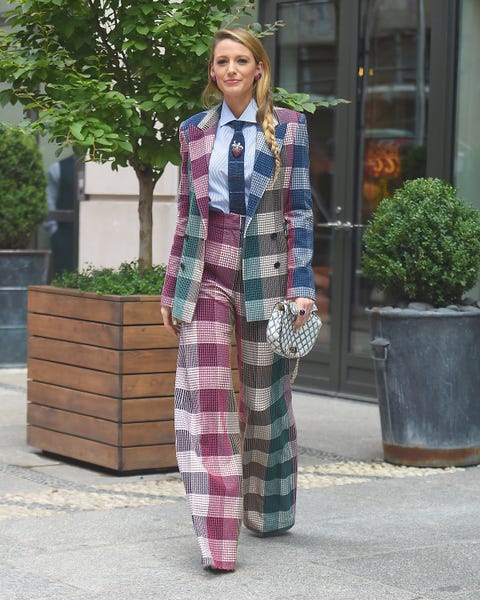 SHOP SIMILAR SUIT SEPARATES
9) Add a Bra Top For a Night Out
For an unexpected (and ultra-sexy) going-out look, style a suit with a lacy bra instead of a top.
Serving crazy, sexy, cool vibes at tonight's #SquadLaSenza event. #ad Can't wait to show you guys the new goodies I bought. Thanks for having me @lasenza!
A post shared by BLAKE VON D (@blakevond) on
SHOP SIMILAR SUIT SEPARATES
10) Style it With a Turtleneck
Layer your suit over a turtleneck for a fall and winter-friendly ensemble.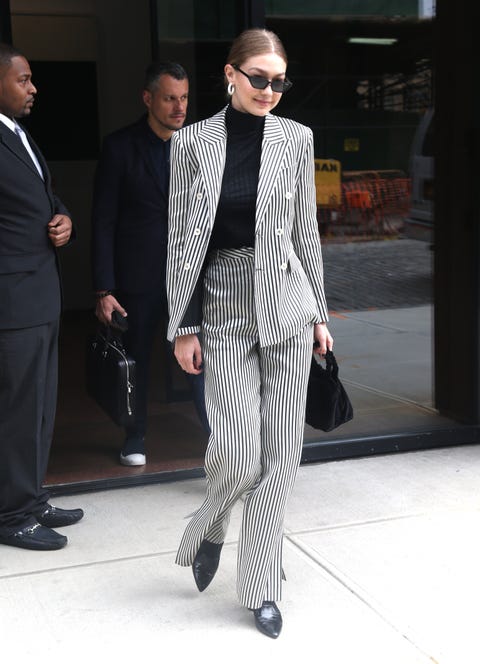 SHOP THE PERFECT LAYERING TURTLENECK
11) Simplify Your Accessories
Keep it sleek with streamlined accessories: a clean white t-shirt, simple strappy heels, and dainty gold jewelry.
BO$Y best during couture ? @styleheroine
A post shared by Vanessa Hong (@thehautepursuit) on
SHOP SIMILAR SUIT SEPARATES
12) Try a Belted Suit
Give yourself more of an hourglass silhouette with a belted blazer jacket.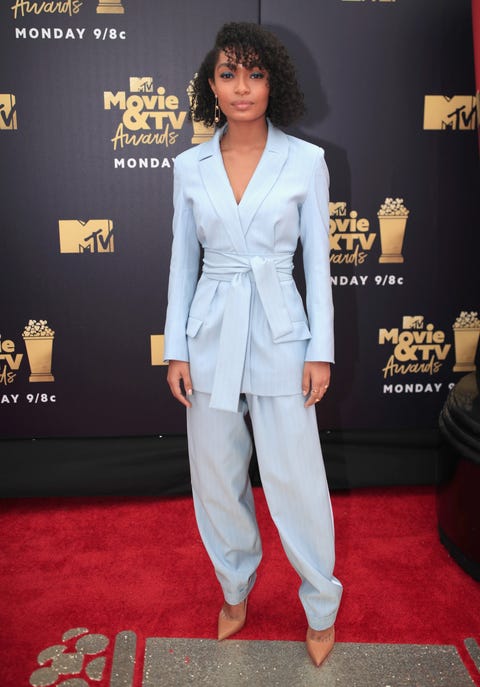 SHOP SIMILAR SUIT SEPARATES
Source: Read Full Article