Autumn's signature crisp chill is on its way, meaning you're going to need to start pulling out your scarves, mittens, and outerwear before you know it. Cheap leather jackets for fall 2018 are the perfect transition for both their goes-with-anything style and wind-blocking abilities, so if your cold weather wardrobe doesn't already include one I'd suggest rectifying that stat. Many real leather jackets can cost upwards of $300, which, ouch. I certainly don't have that kind of cash to drop on a singular piece of fall clothing!
If you're savvy and hint for cheaper iterations, though, or if you're open to faux leather jackets (which you should be because faux leather is so good these days), you can find a slew of excellent options that won't break the bank. Whether you prefer the bomber coat silhouette or something with more of a biker style, fur-lined or hoodie equipped, there's an under-$150 leather jacket out there for you this season. Check out the 13 options below and snag one before the leaves start to fall. Whether you pair it with a dress and heeled booties or a cozy sweater and jeans, it'll complement your look effortlessly.
Quilting Circle
Plus black faux leather biker jacket
$120
River Island
This classic leather motorcycle jacket features quilting detail along the bodice, which features a more fitted silhouette and double zipper trompe l'oeil design detail.
Hell's Angel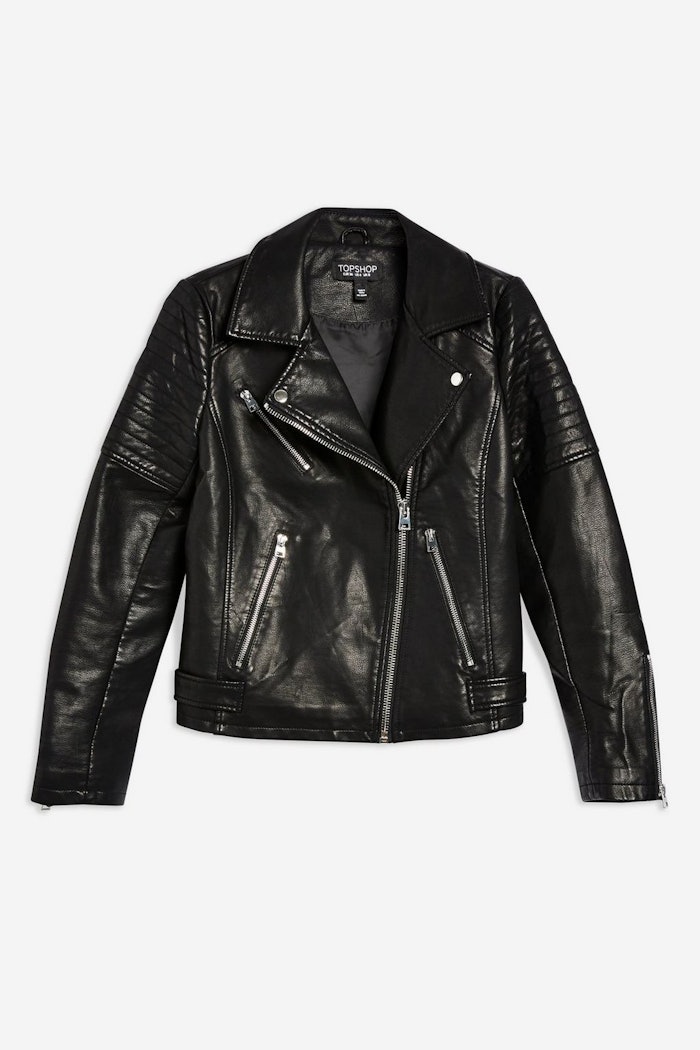 PETITE Black Polyurethane Biker Jacket
$95
Topshop
Another classic moto style, this jacket features a boxier silhouette, shoulder stripe details, and a faux belt detail.
Give Me A Hug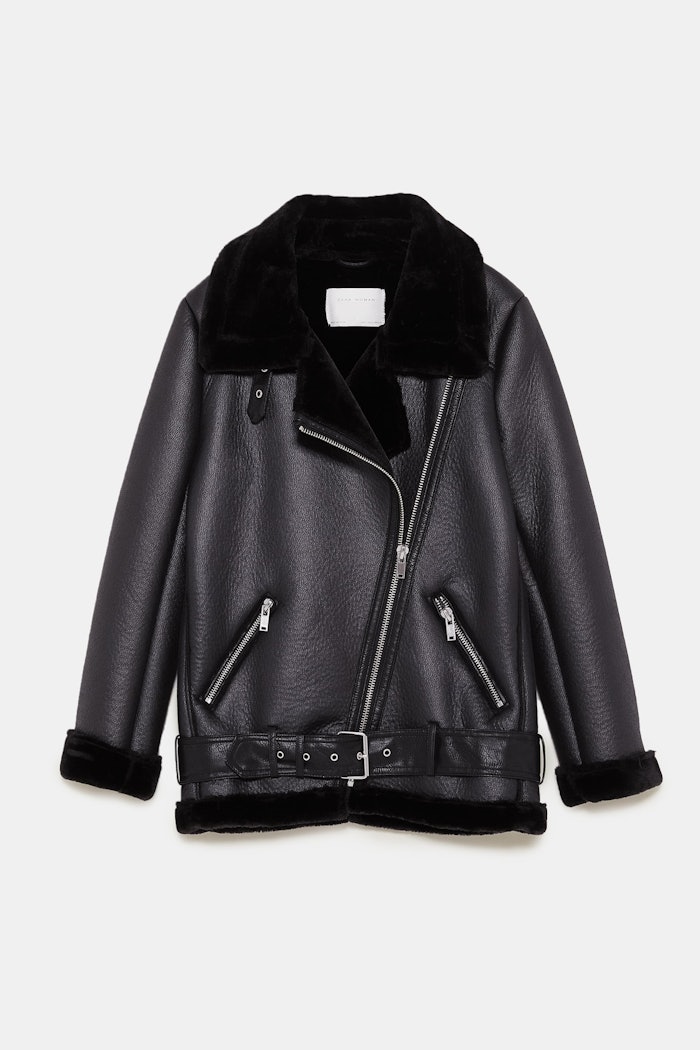 CONTRASTING BIKER JACKET
$149
Zara
This literally looks like a wearable inside-out teddy bear. It's lined with a plush faux fur for ultimate warmth and comes in an oversized silhouette. I want to live in this.
Classic Cool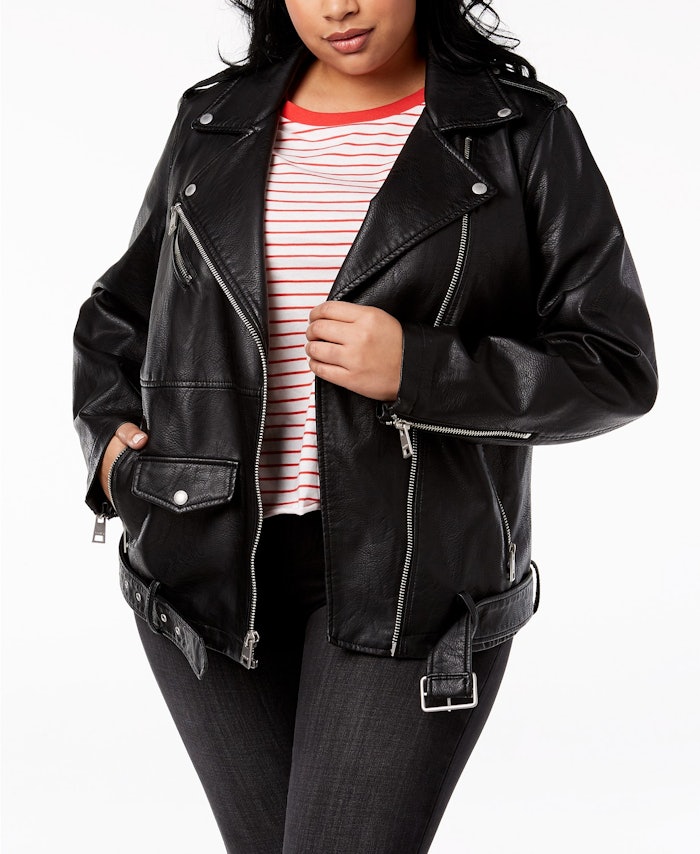 Levi's Plus Size Faux-Leather Moto Jacket
$130
Macy's
No brand does classic American style better than Levi's, which means this moto jacket is sure to be ace.
Chop Chop!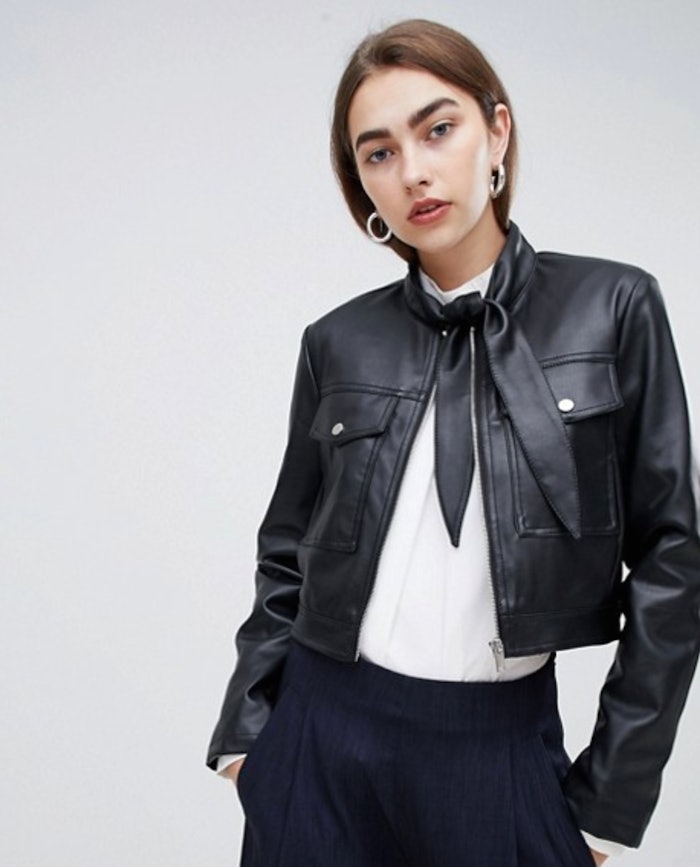 ASOS DESIGN Tie Neck Leather Look Jacket
$72
ASOS
If you're a love of all things high-waisted, this cropped leather jacket might be for you. Thanks to its plain square pockets and minimalistic design it's got a very sleek and streamlined feel to it.
Bomb Dot Com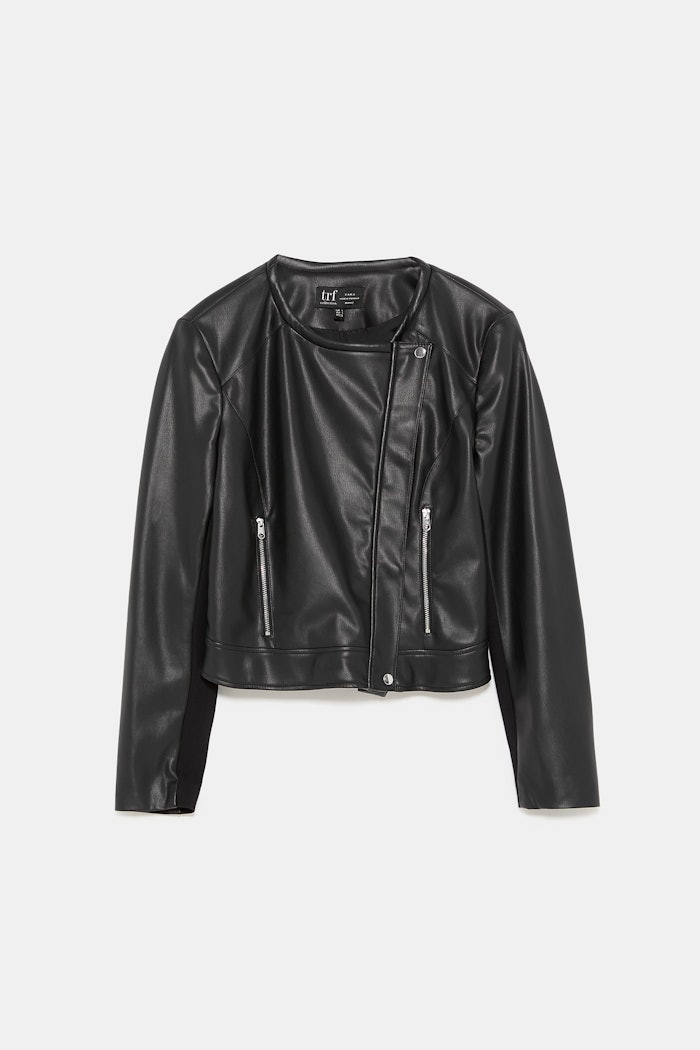 CONTRASTING FAUX LEATHER JACKET
$50
Zara
The classic bomber gets an '80s update thanks to a soft faux leather material. The main standout design element of this jacket is its lack of a collar. Sometimes, less is more.
Metallica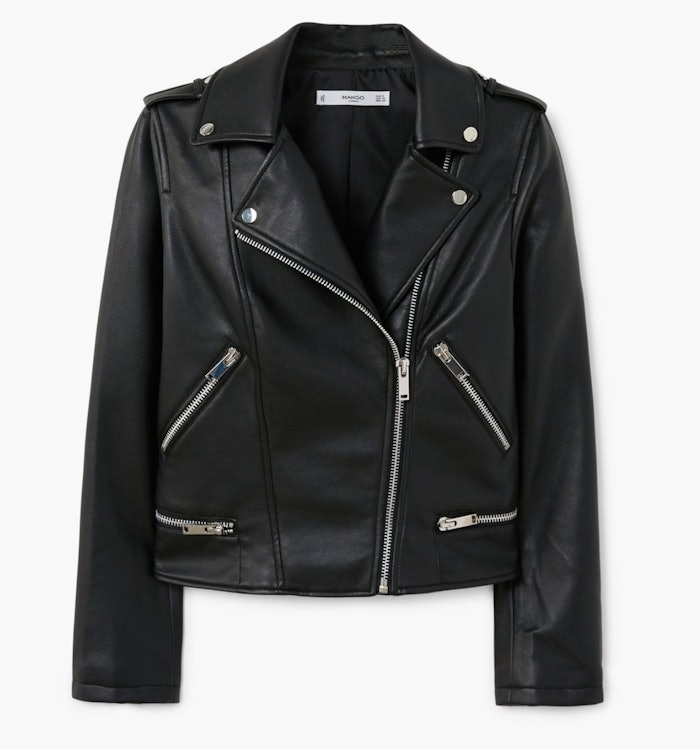 Appliqué biker jacket
$80
MANGO
A classic biker jacket with tons of tiny little silver-zippered pockets. If you like to carry around your belongings in your jacket rather than in a bad, consider this option.
Head Space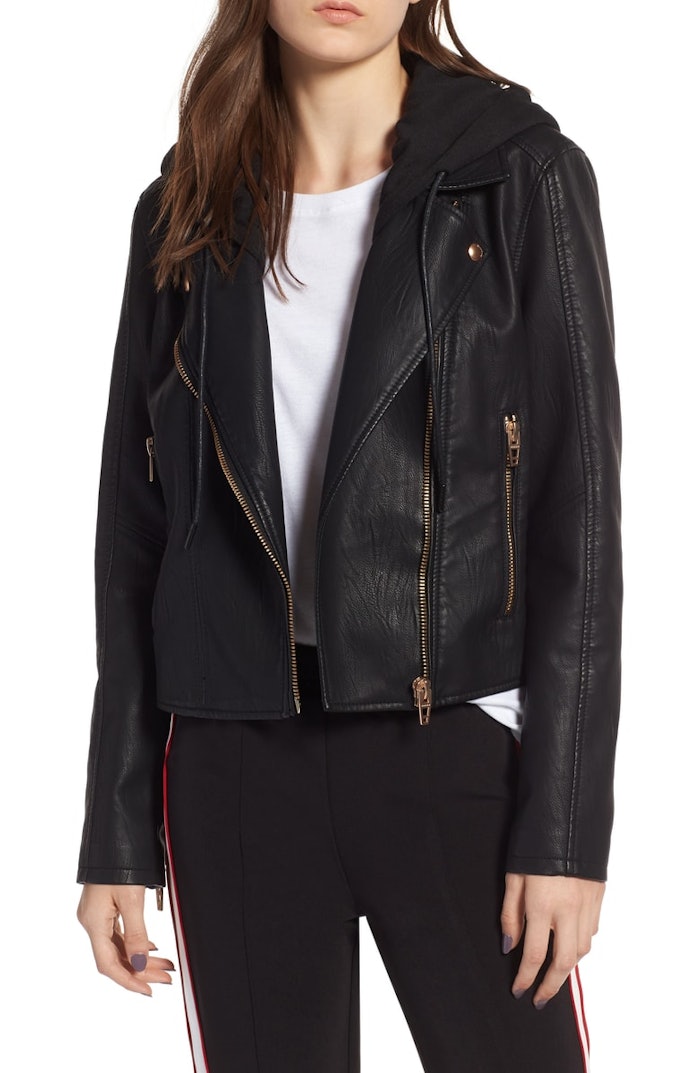 BLANK NYC Meant to Be Moto Jacket with Removable Hood
$98
Nordstrom
This style comes with a built-in sweatshirt hood that's easily removable if it's not your style. It also features gold hardware, which is a nice reprieve from the silver detailing that typically dominates black leather jackets.
The White Stripes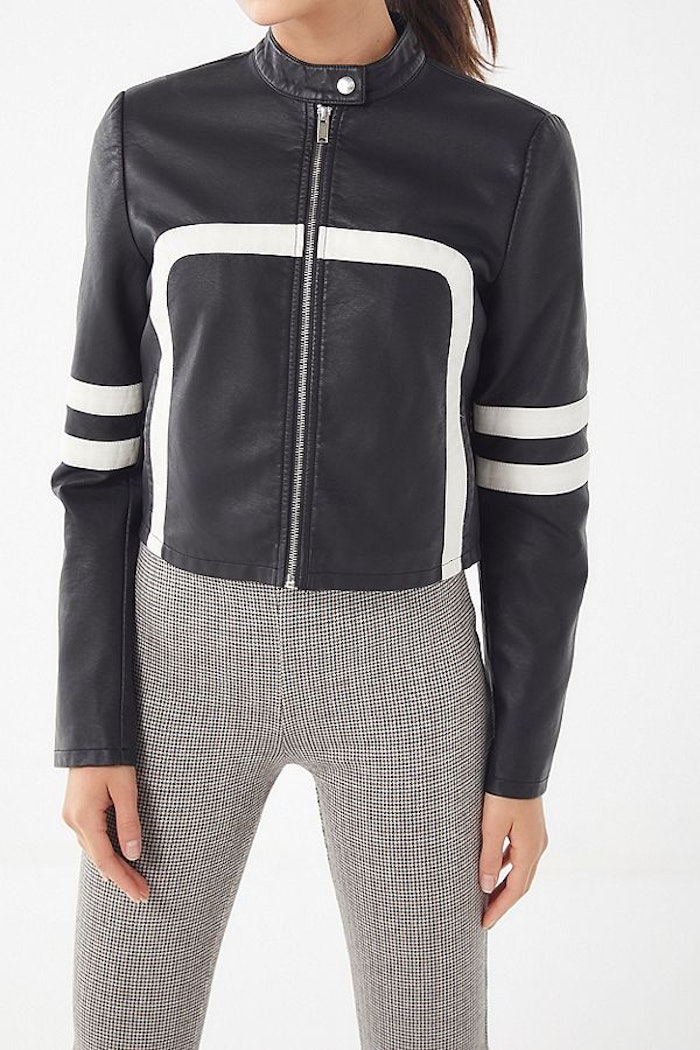 UO Faux Leather Colorblock Moto Jacket
$99
Urban Outfitters
This option's got a bit of a race car driver vibe to it and would look killer with a pair of long black wide leg trousers and white sneakers. Sporty sleek at its best!
Tell Me About It, Stud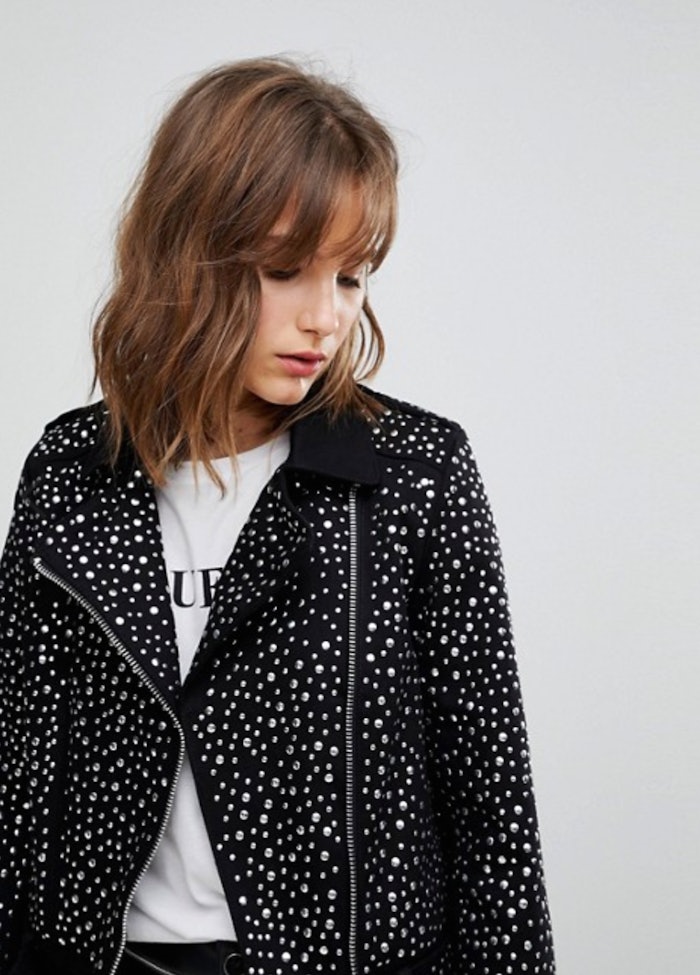 ASOS Studded Jacket
$62
ASOS
Yes, galaxies are wearable.
No Sweat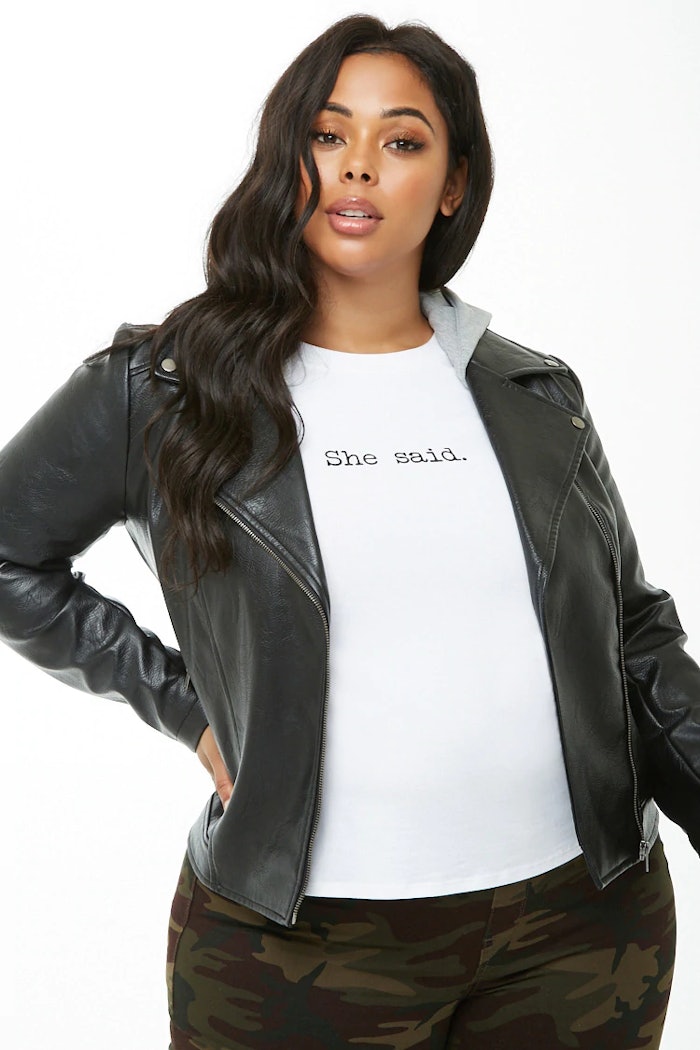 Plus Size Faux Leather Combo Moto Jacket
$33
Forever 21
But yes, sweatshirt. This style also features a comfy hood for those of you who want warm ears along with your warm core.
Silver Linings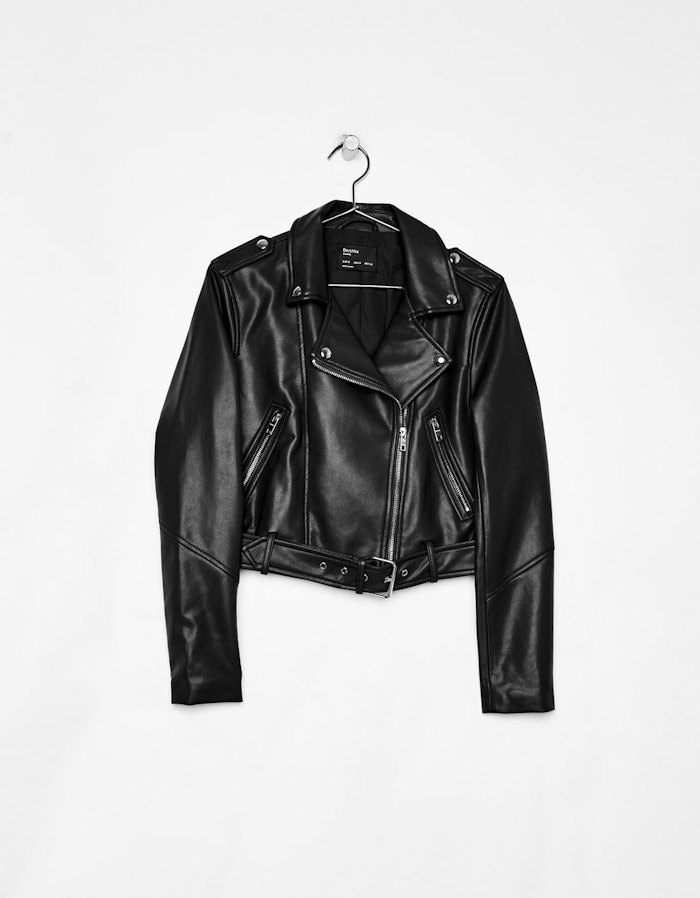 Cropped biker jacket
$40
Bershka
It's boxy, it's got a notched collar, and it features a buckle belt. It's the ultimate classic moto jacket.
Maroon 5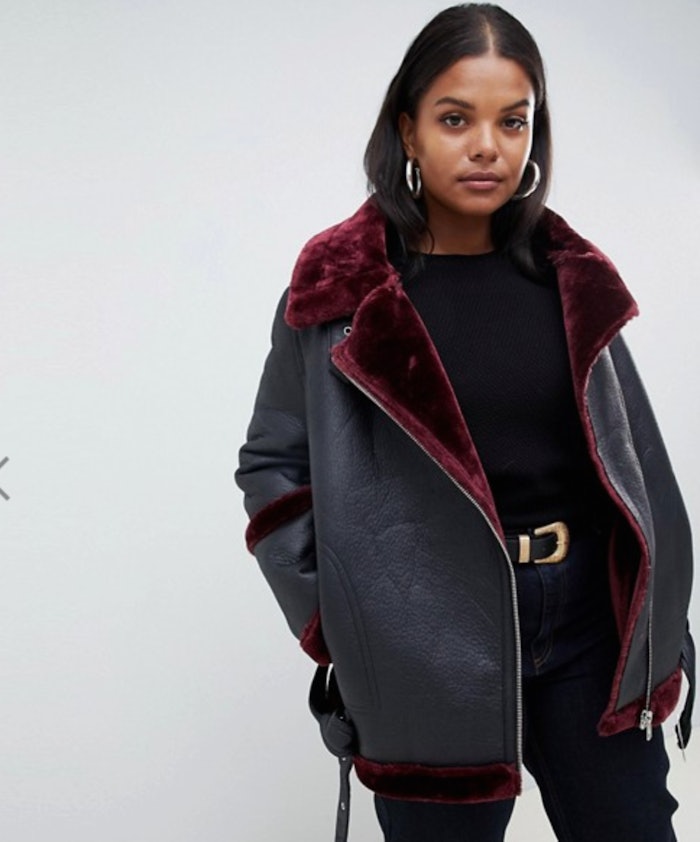 ASOS DESIGN Curve bonded aviator
$119
ASOS
Faux fur in an oxblood shade? Doesn't get cozier than that.
Source: Read Full Article