By now it's no surprise that whatever Meghan Markle steps out of the palace wearing, fashion lovers will rush to copy and find dupes of. Meghan Markle wore a mini tuxedo dress to a performance of Hamilton, and now people are scrambling to get the chic and tailored outfit for themselves. Going to a special charity performance of the show in London, the event was a gala event in support of Prince Harry's HIV charity, Sentebale.
To attend Markle skipped the usual midi dress or wide leg pant and, instead, wore a very smart blazer cocktail dress, where the mini hit right above her knees, mimicking the look of a long, black tuxedo jacket. She accented the look with pointy black heels and a gold and black box clutch from Jimmy Choo, keeping the look formal and minimalist, which is her go-to aesthetic.
While Markle is known to mix high and low fashion together, picking out affordable retail stores like Zara and J.Crew, and deftly mixing them with high fashion labels, this dress wasn't exactly cheap.
The sharp mini is from the luxury brand called Judith and Charles (offers sizes XS-XL, 00-14) which is Canadian-based label that deftly mixes feminine soft touches with well-structured menswear silhouettes and accents.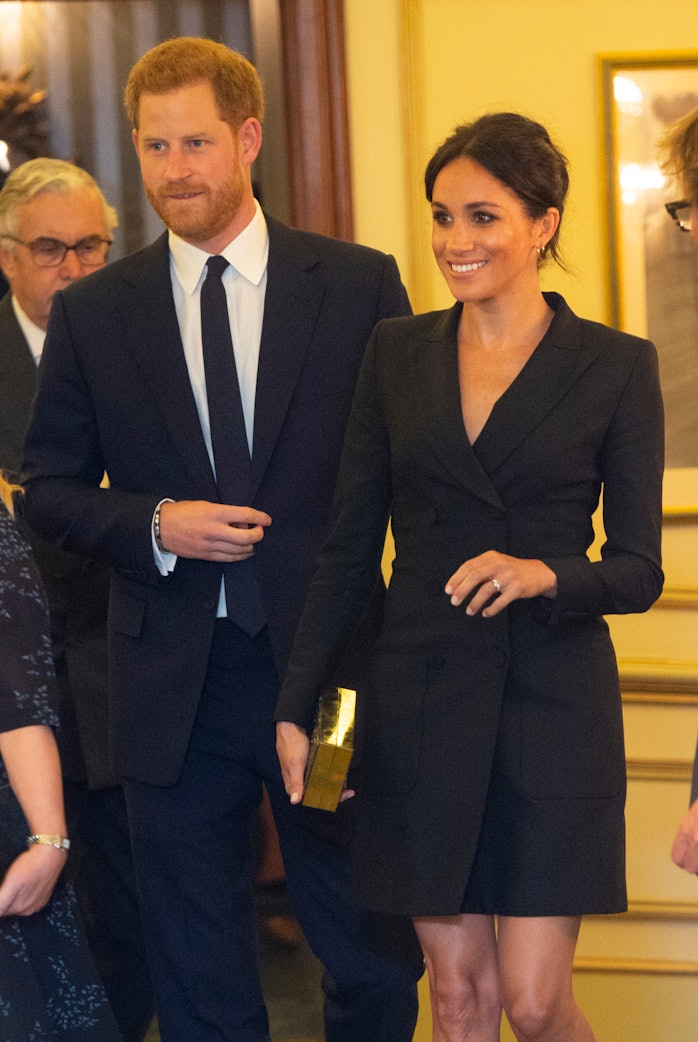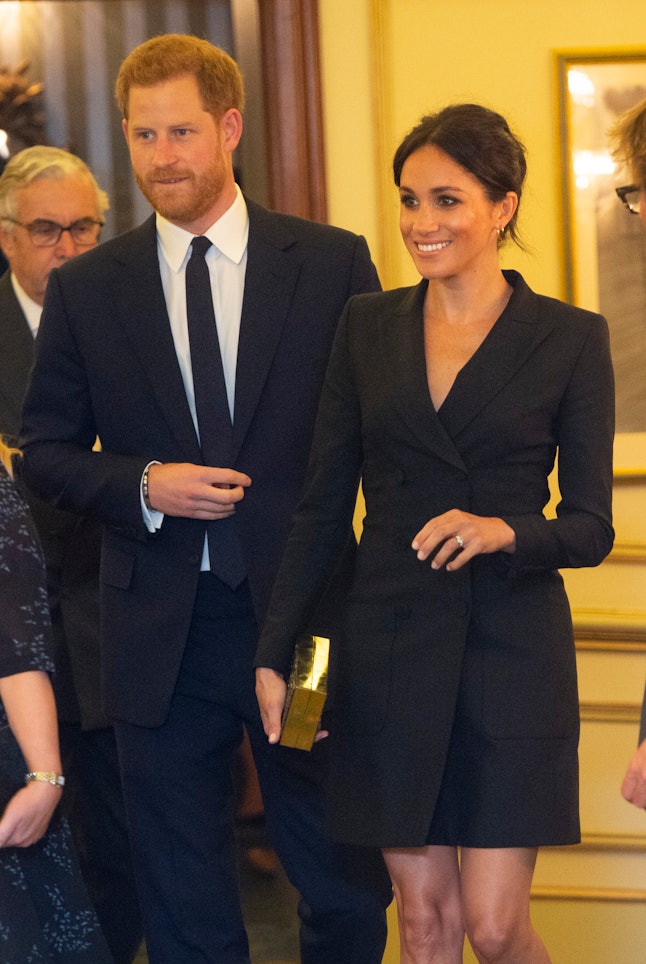 The particular frock that Markle wore was the Digital Dress, and it runs from sizes 00 to 12, and is available for pre-order on the website. It comes in the black shade that the Duchess stepped out in, but it is also available in Aubergine and Navy. But it's not exactly a "steal" — the mini will set you back nearly $600, clocking in at $595. Made out of 97% virgin wool, one could see why the double-breasted tuxedo dress would come with such a hefty price tag.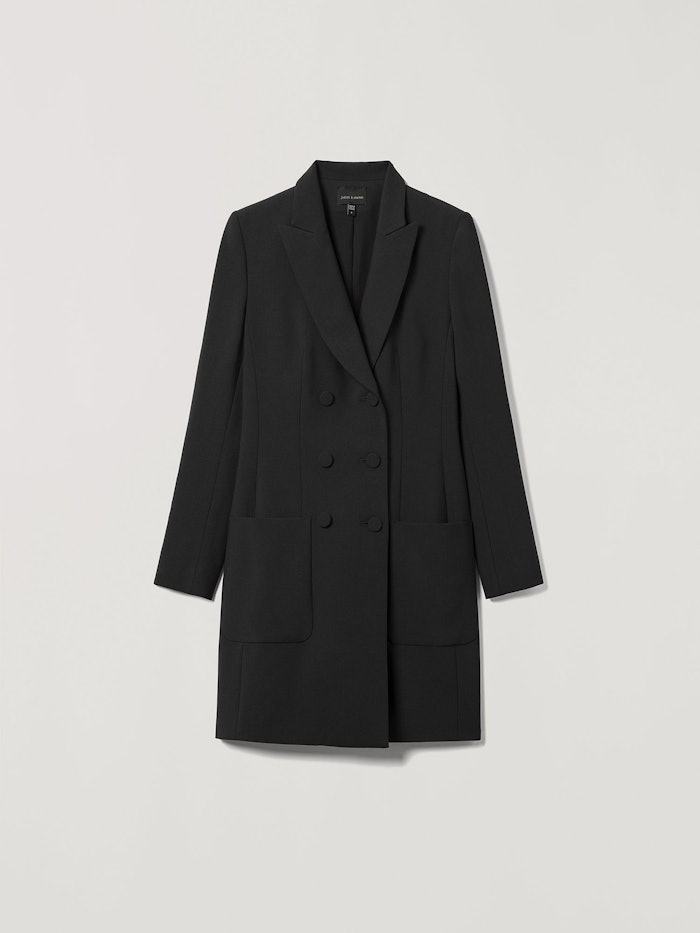 Digital Dress
$595
Judith & Charles
But since not everyone can afford to drop half a thousand dollars on a dress, there are plenty of dupes that will help you mimic that same look.
Missguided Tux Dress In Black
$64
ASOS
While ASOS' tuxedo version has gold buttons rather than discreet black ones, this dress is nearly a dead ringer for Markle's wool version.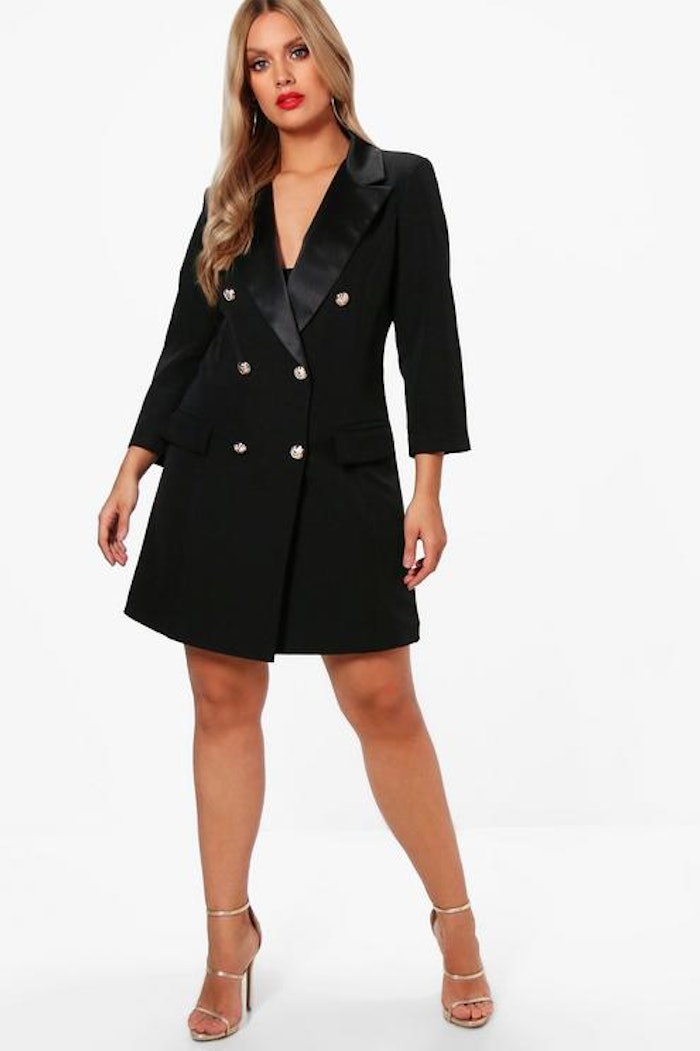 Plus Button Tuxedo Dress
$50
boohoo
For a plus size version, this mini dress features brass buttons and satin lapels, breaking up the all-black look. Where Markle chose to pair her frock with black pointed shoes, gold strappy heels are also an option.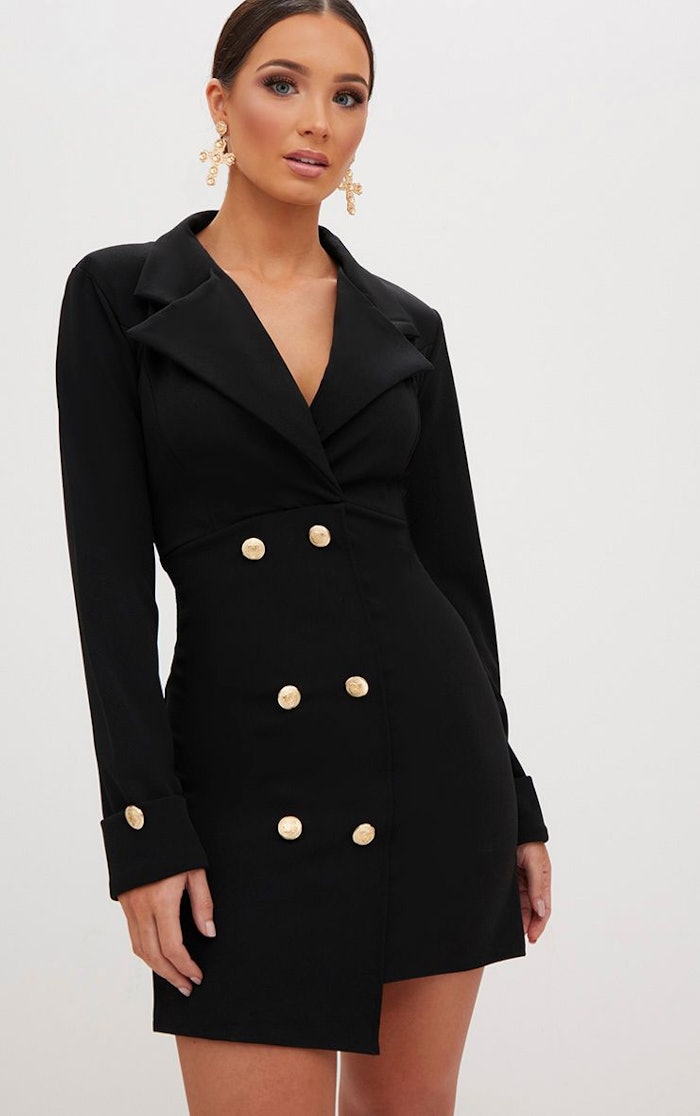 Black Gold Button Detail Blazer Dress
$45
PrettyLittleThing
Not only does it come in black but it's also available in red, letting you choose between demure and attention grabbing. The double breasted buttons are also skewed to the side, making for an asymmetrical and avant garde outfit.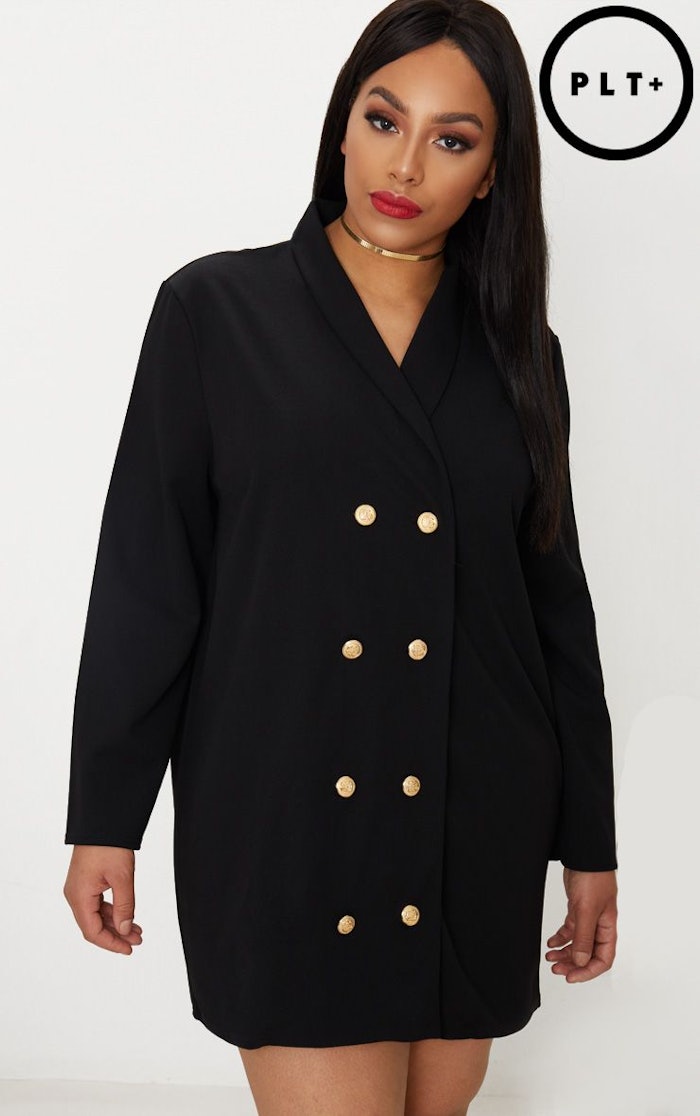 Plus Black Gold Button Oversized Blazer Dress
$38
PrettyLittleThing
Coming in an oversized fit and contrasting gold buttons, this shift is just as luxe as the Duchess' version.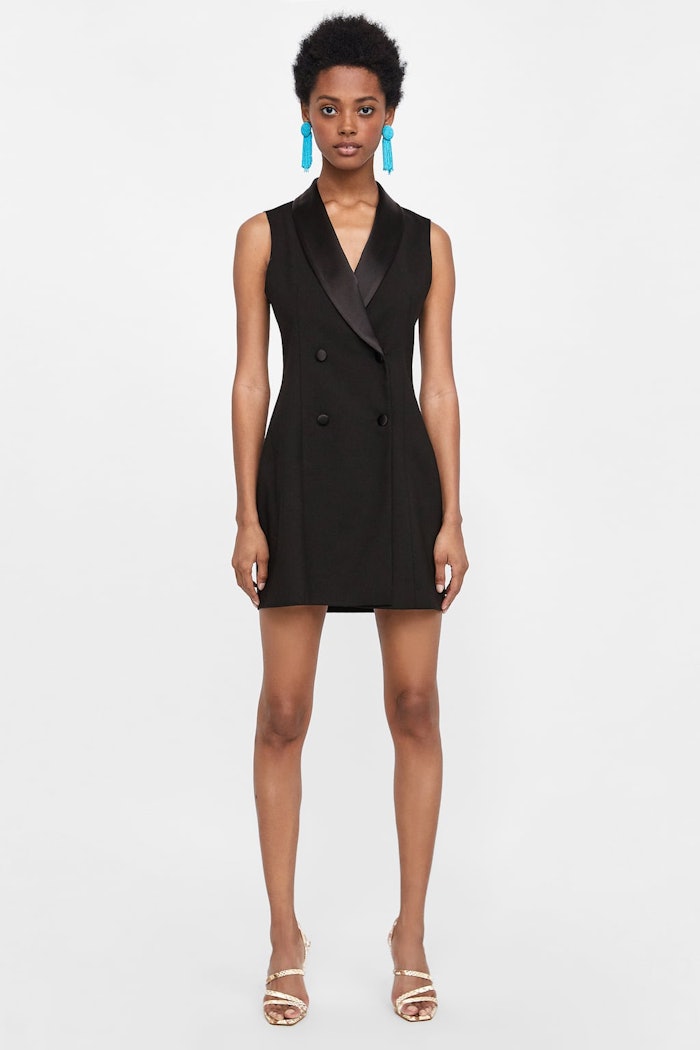 Tuxedo Dress Vest
$99.90
Zara
If you're looking for a tuxedo dress that is a little more playful and less covered up, try this sleeveless dress vest from Zara. It's got a less conservative fit, and would be perfect for the end of summer and its hot weather.
Suits You Blazer Dress
$45
Nasty Gal
If you want to accent your waist, this blazer dress comes with a built-in belt.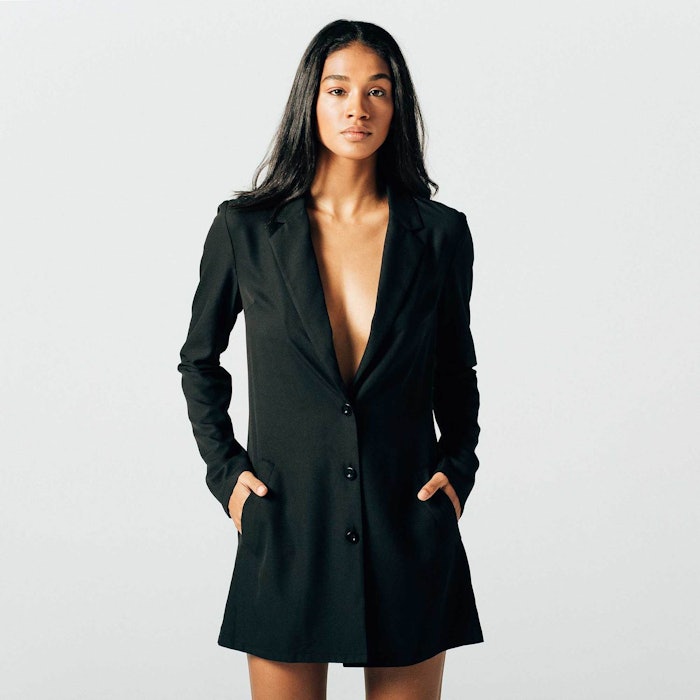 Womens Blazer Dress In Black
$95
DSTLD
For a more deconstructed look, this loose and oversized blazer dress is perfect.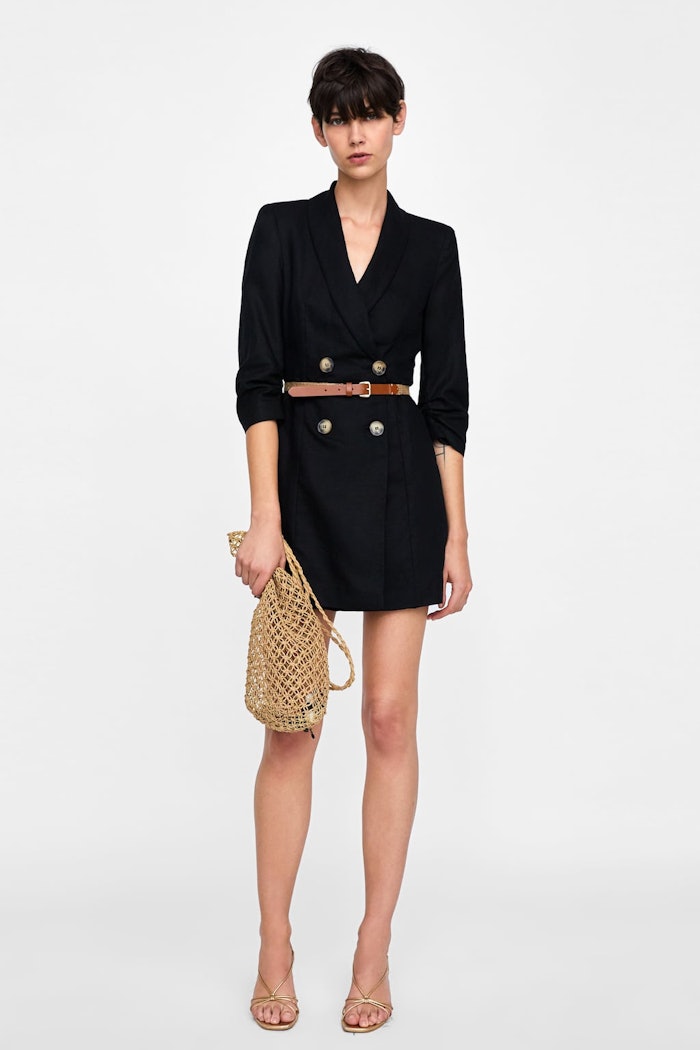 Belted Blazer Dress
$99.90
Zara
Zara has a near dupe of the Duchess' tuxedo dress, except for the leather brown belt that cinches the waist, making it a little more casual.
Source: Read Full Article