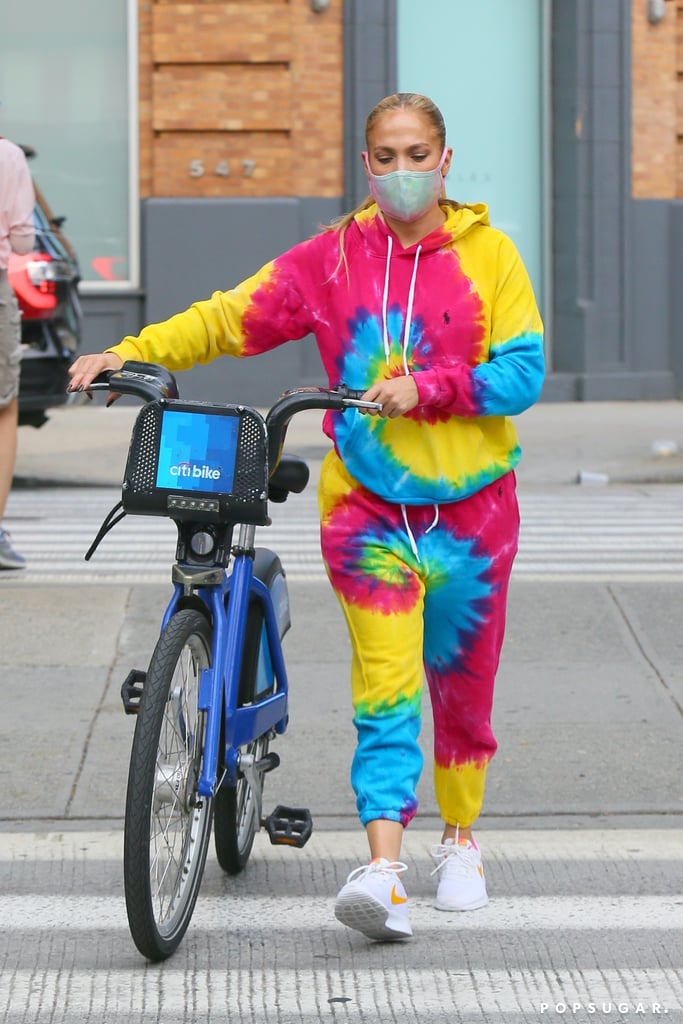 Here's some good news regarding all those tie-dye clothes you invested in earlier this year: the trend is indeed still alive and thriving. For proof, please refer to Jennifer Lopez's latest outfit. The triple-threat was recently photographed biking around New York City (in a rented Citi Bike, no less!) while wearing a truly loud head-to-toe tie-dye look by Polo Ralph Lauren . . . as if she wasn't going to draw in plenty of attention as is.
It's worth noting that Jennifer also paired her tie-dye sweats with a pastel tie-dye face mask (love that commitment to a theme) and cool, customized sneakers from Nike. While Jennifer's sweatpants are currently on sale, her exact sweatshirt is unfortunately out of stock. The abundance of tie-dye loungewear online, however, should help make recreating the outfit a cinch.
See photos of Jennifer wearing her summery sweats, and browse our relevant shopping selections, ahead. If the groovy throwback trend isn't your thing, Jennifer also recently wore an all-gray sweatsuit from The Mayfair Group that might be of interest. And if you're so over sweats, please refer to the flirty and feminine Tory Burch slip dress Jennifer wore on Labor Day for an entirely different vibe.
Source: Read Full Article