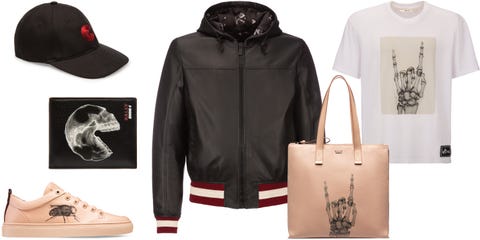 Swiss luxury brand Bally just launched a limited edition capsule collection in collaboration with street artist Shok-1 and Grammy Award winner Swizz Beats. The edgy street style collection features sweatshirts, joggers, totes, fanny packs, sneakers, and hats for both men and women featuring Shok-1's iconic street art X-Rays. Shok-1 chose three of his staple symbols for this collaboration—X-Ray paintings of a hand gesture, a fly, and "The Consumer"—all in black, white, and blush.
British artist Shok-1 — who calls himself the "pioneer of aerosol X-ray" — is known for his spray painting technique, and for using walls all around the world as his canvas. His work has been featured in KITH's SoHo store as well as The Bushwick Collection in Brooklyn.
View this post on Instagram
'Stolen Heart' —-> Swipe for more images… ?? @trumanbrewery
A post shared by SHOK-1 (@shok_1) on
The brand launched the collection with a party in Shibuya, Tokyo where Shok-1 debuted his first ever large scale mural in Japan. The party featured performances by Nas and Swizz Beats himself.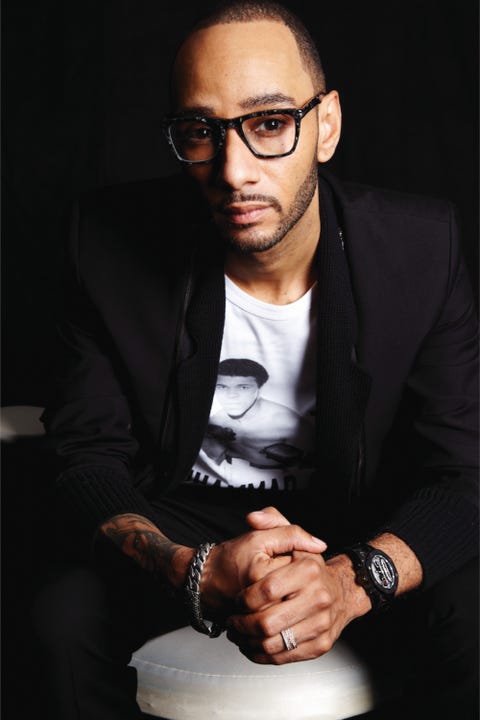 "Our focus for this capsule was exploring the art of X Ray, and Shok-1 is a master artist and a legend at his craft," Swizz Beats tells BAZAAR.com. "Bally is an iconic brand that represented the music culture very early, and the quality, in my opinion, has always been number one."
View this post on Instagram
POISE ON ?? #ballyxswizzxshok1 ??
A post shared by therealswizzz (@therealswizzz) on
Swizz Beatz, whose real name is Kasseem Dean, is not just an award-winning singer. Dean works with Bacardi as their Global Chief Creative for Culture and has collaborated with Reebok, Christian Louboutin, and Aston Martin in the past.
View this post on Instagram
Swizz Beatz presents Bally x SHOK-1. _ @therealswizzz @shok_1 #BALLYxSWIZZxSHOK1
A post shared by Bally (@bally) on
Streetwear never had it so cool.
Source: Read Full Article