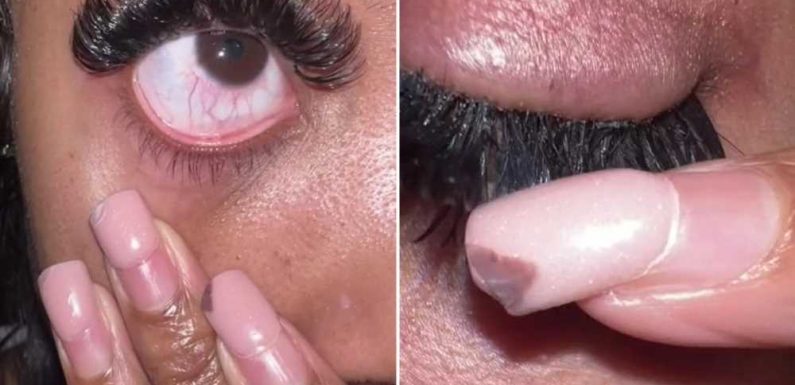 A BEAUTY fan who was concerned she was having an allergic reaction to her eyelash extensions was instead inundated with comments about her nails.
Raven took to TikTok to share a video asking for advice after her eyelids started to get puffy following her lash appointment.
"Are they supposed to be like this?" she asked.
"You can see my eyelid is kind of swollen. My eyelids are getting real swollen.
"Are they supposed to be like this? Like, this close to my eyelid?
"Don't get me wrong, my lashes are really cute but…"
Read more Beauty stories
Beauty fan raves about a £6 Elf lip stain that's a dupe for Fenty poutsicle
Beauty whizz shares 5p hack to banish dark undereye bags with kitchen staple
She also wrote in the caption: "This was definitely a sign to just be natural.
"And don't talk about my nails. This ain't about the nails, this about the lashes."
As she touched her eyelids to point out the swelling, it was clear to see that she needed her nails done – as the tips she had on were almost off of her natural bed because she'd let them grow out so much.
And despite her disclaimer, people couldn't resist weighing in on her nails in the comments section.
Most read in Fabulous
I'm covered in tattoos & regret it – it's like wearing the same shirt for life
Fashion fan shares spring dresses from M&S & says everyone needs them
Aldi Olaplex dupes are finally back in stock but you'll need to be quick
Woman leaves people stunned after ditching glam make-up & bleached hair
"All I could focus on was the nails," one person wrote.
As another added: "Did anyone notice the nails?"
"Dam, those nails on tight though," a third commented.
"Okay, your nails though!" someone else laughed.
Continuing her video, Raven explained that she texted her lash tech, and she took the lashes off the next morning, before telling her to go home and take two antihistamine.
Noting that her "real lashes are literally bald", Raven added that she had a nap and woke up with a "bigger swollen eye".
As well as people commenting on her nails, the comments section was filled with people saying that the tech had applied the lashes far too close to the eyelid.
Source: Read Full Article