Eight-year-old Daisy-May Demetre is the star of River Island's latest kids' activewear campaign, and the photos are so inspiring.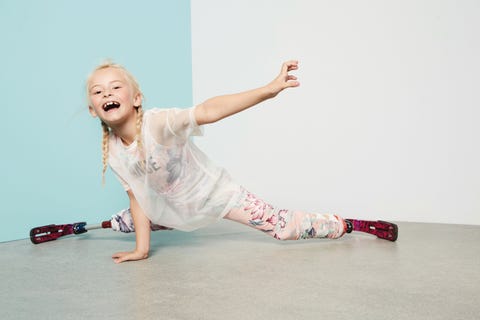 In the ads, she wears a mesh white T-shirt over a sporty floral crop top and matching leggings, as well as her red prosthetic blades.
Demetre was diagnosed with fibular hemimelia (underdeveloped fibular bones) when she was born, and, as a result, both her feet were amputated when she was just 18 months old. That hasn't deterred her from pursuing her modeling goals or hitting the gym with her dad.
A spokesperson from the British retailer said in a statement to Huffington Post U.K.: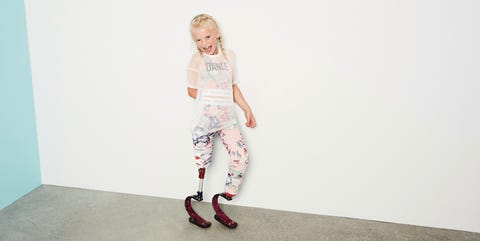 The model signed with Zebedee Management in 2017, an agency that represents people with disabilities, and she walked in London Fashion Week in February.
#Repost @minimode_lkfw with @get_repost ・・・Where it all began at London kids fashion week big thanks to them for getting my journey started ?? ??SPECIAL ANNOUNCEMENT ??? MINI MODE, London's Premier Kids Fashion Week is really excited to see @daisy_maydemetre_zebedee blowing up. ?? As most of you know, we're all about inclusivity in kids fashion and I've worked with @zebedee_management for the last 2 years now championing what they do so we're feeling super proud to see Daisy on the @itvnews and @metronewspaper @riverisland @riverislandpr @ted. At our Inaugural Show in February I had grown men telling me that she brought tears to their eyes which really shows what and inspiration she and her family are!! @big_al_demetre you guys rock. Mini Mode loves what your doing and thank you for doing Mini Mode first at our first. Designer @amelieetsophie Image @emmawrightphotography HMU @wowbeaute Styling @beckyseager Asst @kate_e_hill
A post shared by Daisy-May Demetre (@daisy_maydemetre_zebedee) on
When she's not starring in fashion campaigns or strutting down a runway, you'll find her climbing over gym equipment, working on her push-up form, playing soccer, or cartwheeling her way down a sidewalk.
Always working ???? #doubleamputee #amputeemodel #gymgirl #gymlife? #gymmotivation #havefun? #justgettingstarted #leadtheway #inspireothers #fitnessmodel #fearless #fierce #doyourthing #dowhatyoulove #dream #fitnessmotivation #fashioninspiration @big_al_demetre @fitnessbymarko_
A post shared by Daisy-May Demetre (@daisy_maydemetre_zebedee) on
Fashion brands have made slow but steady progress toward including disabled models. Almost a year ago, Target's children's brand, Cat & Jack, launched a 40-piece line made for children with disabilities. In April, Tommy Hilfiger unveiled its Spring 2018 campaign that expanded upon its adaptive clothing options, which featured details like magnetic buttons, adjustable hems, and Velcro closures for people with disabilities. And in July, ASOS debuted a rainproof jumpsuit that is wheelchair accessible.
Hopefully River Island's new campaign will push even more retailers to follow suit.
Follow Lauren on Instagram.
Source: Read Full Article