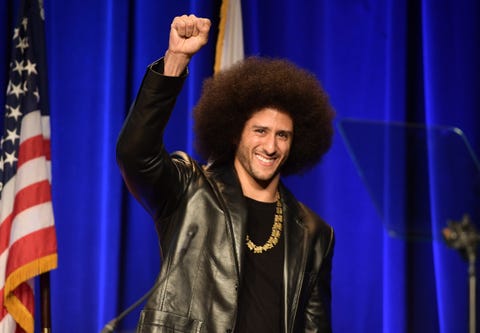 Two summers ago, former 49ers quarterback Colin Kaepernick took a knee during the singing of The National Anthem in protest against racism and oppression plaguing the black community in the United States. "I am not going to stand up to show pride in a flag for a country that oppresses black people and people of color," Kaepernick told NFL Media. Since then, the athlete has been both lauded and criticized for his powerful statement—and without a job in the league for over a year.
While many companies would run from a polarizing figure like Kaepernick, Nike's doubled down on its relationship offering the activist a new, multiyear deal and making him the face of the brand's "Just Do It" 30th-anniversary campaign.
Believe in something, even if it means sacrificing everything. #JustDoIt
A post shared by colin kaepernick (@kaepernick7) on
"Believe in something. Even if it means sacrificing everything," reads the text over a black-and-white portrait of Kaepernick. According to the New York Times, Nike will design Kaepernick merchandise, including a sneaker and t-shirt as part of the deal. Nike will also donate money to Kaepernick's Know Your Rights camp, which he launched in 2017 to "raise awareness on higher education, self empowerment, and instruction to properly interact with law enforcement in various scenarios."
The "Just Do It" anniversary campaign also stars other athletes like Serena Williams, LeBron James, Odell Beckham Jr., Lacey Baker, and Shaquem Griffin.
As expected Kaepernick's new endorsement deal isn't sitting too well with some people. Miffed former-costumers haven taken to burning merchandise (they presumably paid for with their own money) in "protest."
"Our Soundman just cut the Nike swoosh off his socks. Former marine. Get ready @Nike multiply that by the millions," one man tweeted.
Another took a video of himself burning his Nike sneakers and posed the question: "Since when did the American Flag and the National Anthem become offensive?" Others followed suit, which launched the hashtag #burnyournikes.
The NFL has yet to issue a statement in reaction to the news nor has President Trump who has been quite vocal on Kaepernick in the past.
From: ELLE US
Source: Read Full Article