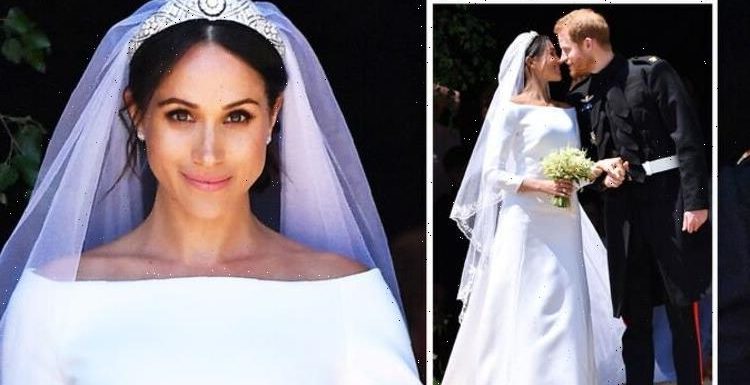 We use your sign-up to provide content in ways you've consented to and to improve our understanding of you. This may include adverts from us and 3rd parties based on our understanding. You can unsubscribe at any time. More info
When Meghan Markle steps out in public, photographers rush to take photos, while royal fashionistas desperately find out the name of the designer she is wearing. With such an impact on the fashion industry, what is the most influential dress the Duchess of Sussex has ever worn?
New research reveals Meghan's wedding dress is the most influential dress.
The timeless bridal gown which Meghan wore to tie the knot with Prince Harry back in 2018 was designed by Clare Waight for Givenchy.
The dress, which cost £110,000 caused searches for Meghan's style to rise 3,606 percent above average.
The second most influential dress worn by Meghan was her Givenchy elegant cream belted dress, in June 2018 when the Duchess visited Cheshire alongside the Queen.
Costing £14,171, this dress was what she wore for her first royal engagement without Harry.
Pictures of Meghan in the dress posted to the Royal Family's Instagram account amassed almost 200k likes.
Meghan's third most influential dress was from her visit to Fiji in October 2018.
The silk red-printed 'Federica maxi dress from Figue cost £1,151 and fans took to the internet to find dresses of a similar pattern and style.
A picture posted by the Royal Family's official Instagram account reached over 472k likes.
Meghan accessorised the dress with Castañer wedge espadrilles.
The fourth most popular dress of Meghan's was her striking yellow midi dress designed by Brandon Maxwell – a particular favourite designer of the Duchess.
The dress was showcased at the reception which marked the Culmination of the Commonwealth Secretariats Youth Leadership Workshop in London.
The dress, worth £1,300, back in July 2018 caused searches for the term 'yellow dress' to skyrocket 213 percent above average after the appearance, signifying Meghan's impact on the fashion sector.
The fifth most popular dress of Meghan's was a £50 purple midi dress.
More specifically, the Aritzia Babaton Maxwell Dress which she wore to the One Young World Summit Opening Ceremony at The Royal Albert Hall in October 2019.
Searches for 'Meghan Markle Aritiza Dress' increased by 1,117 percent after the Duchess was seen at the Ceremony as well as raking in 318,564 likes on a post about the evening's events.
A spokesperson for Dalston Mill Fabrics commented on the findings: "Meghan Markle is the epitome of class and style.
"This research highlights how truly influential her style is, with the public instantly searching where to buy dresses in similar styles and copy her looks after each major appearance.
"Her impact on the fashion world has continuously remained unmatched despite stepping back from her role as a working royal in 2020."
Source: Read Full Article