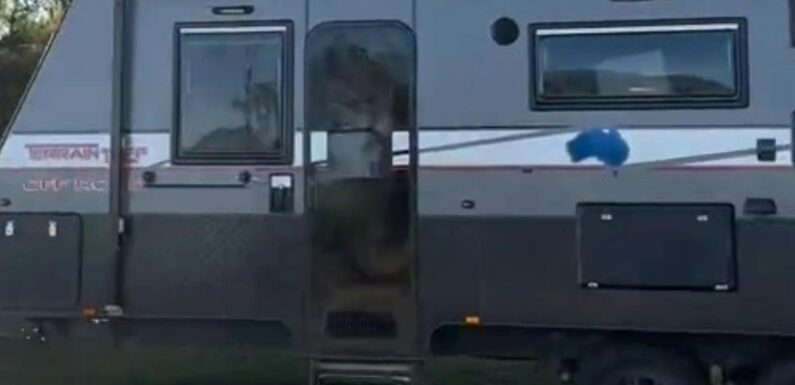 A MOTHER has revealed that she, her husband and their five sons, live full-time on the road, in a caravan.
The woman explained that her family are travelling around Australia and to save money on rent, live in a caravan. 
Posting on TikTok under the username @josh_cassfamilyadventure, Cassie and her husband Josh gave their followers a close-up look at their home on wheels, where they live with their children, aged five, eight, nine, 10 and 11. 
In a recent clip, Cassie said: "Come for a tour in one home.
"This is our network RV caravan – this section here is Mum and Dad's bed.
"Here is our kitchen, down the plates, bowls, cups, cutlery, all that sort of stuff and up the top there we've got our food.
Read more caravan stories
I gave my caravan the ultimate transformation with cheap buys from B&M & Dunelm
I bought an old caravan that was mouldy & leaking & gave it a mega makeover
"We use our induction cooker more so than the stove top because we like how fast it cooks.  Plus we don't like having to lift the top up constantly.
"Here is our lounge room which our five boys do actually fit comfortably in.
"We've got a 270 litre compressor fridge. Our fridge surprisingly holds a lot of food for our big family.
"We have five boys, we homeschool them all.
Most read in Fabulous
Meghan Markle 'welled up' while accepting gong at glitzy New York gala
People are just realising what the secret buttons on McDonald's cups are for
My hubby is useless- we've got 4 kids & I do practically everything
Urgent warning to dog owners over pet food which could be DEADLY
"Technically we actually unschool them – so we don't do a whole lot of theory, paperwork sort of stuff.
"They've all got their own bed, they've all got their own pockets, their own fan.
"Each of them has one of these boxes at the end of the bed which everything stays in.
"Then they have drawers down the bottom here – one each for all of their clothes and then the last one is for activity books, colouring, all that sort of stuff.
"This is our bathroom which we feel is pretty big.
"We have our shower which is a really good size and really good water pressure for a caravan.
"We have so much space in this van that we actually don't have enough weights to carry everything.
"We've got a lifesaver three kilo front load washing machine, absolute lifesaver on the road.
"There's our toilet which is almost full so somebody's gonna have to do a run to the dump soon.
"And there you have it – come join us while we travel Australia with our five boys, while we life school them along the way."
The clip has clearly left many open-mouthed, as it has quickly amassed a whopping 522.1k views.
It has 19.4k likes, 291 comments and 354 shares.
WIN A HOLIDAY TO MEXICO FOR TWO WORTH UP TO £6K!
Fancy winning a dream holiday to Mexico for you and a partner, worth £6,000?
Fabulous has teamed up with the five-star Hard Rock Hotel Riviera Maya to give you the chance to win a seven-night, all-inclusive holiday for two, with return flights courtesy of Thomas Cook.
All you need to do to enter is vote for your favourite hair, make-up and skincare products in the Fabulous Beauty Awards 2023.
Plus, there is £17,000 worth of beauty goodies up for grabs! Click here to vote.
However, social media users were left divided at the family's way of living.
Many were quick to comment on the size of the caravan and the lack of privacy for the children.
One person said: "No privacy!" 
Another added: "I don't like this at all for the kids." 
A third commented: "Not logical. It would be a mess with 7 people in that." 
Whilst someone else noted: "7 people??? No way. I would go insane."
At the same time, many other social media users were impressed with the caravan lifestyle.
One user posted: "This is awesome! I'd absolutely love to do this."
A second chimed in: "Wow what a life for the kids! Very lucky travelling while growing up! Looks brilliant."
Read More on The Sun
Vet nurse reveals the best dogs for first time owners & those to AVOID
I took a cheeky week-long break in Spain without using annual leave – here's how
Whilst another person claimed: Omg I'm obsessed!!" 
Fabulous will pay for your exclusive stories. Just email: fab[email protected] and pop EXCLUSIVE in the subject line.

Source: Read Full Article