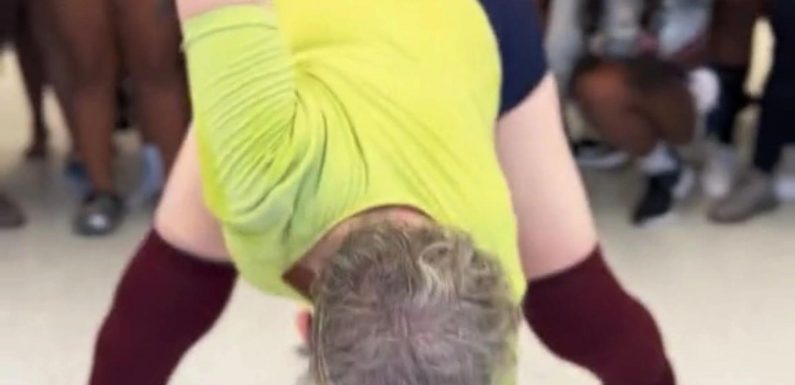 A 69-YEAR-OLD has gone viral on social media after showing off her incredible twerking skills on the dance floor.
Just because you pass a certain age doesn't mean you now have to sit indoors and become invisible – and this lady, approaching her 70s, certainly won't disappear any time soon.
The video of the lady, whose identity's remained undisclosed,was shared on TikTok by her coach, CJ The Trainer (@cjthetrainerofficial) – and we're totally obsessed.
Rocking shorts, a lime green T-shirt, as well as adorable knee warmers, the dancing fan showed her impressive skills in front of a huge crowd.
With people cheering and going wild in the background, she bent over and started shaking her bum up and down.
After a few seconds of twerking, the 69-year-old got up and pleased the fans by swinging her hips from left to right.
read more on age
Sexy gran at 57 reveals younger men love her wrinkles but trolls are jealous
I'm 45 and a cougar trolls say I'm old and fake but my fans say I'm a milf
''Bring it up! Bring it up!'' the coach could be heard in the background, as dozens filmed the moment.
''69 yrs old where !! I make all ages shake,'' the bloke couldn't believe his eyes and wrote in the caption.
Uploaded just a few days ago, the clip has already taken the social media platform by storm, racking up over a thousand comments.
But whilst some praised the woman and said they admired her, others thought she was too old for twerking.
Most read in Fabulous
Fergie befriends mysterious billionaire as she & Prince Andrew face eviction
Home Bargains shoppers rush to buy luxury product for just £3 instead of £21
I was the Benefits Queen raking in £26k a year – now I can't afford to eat
Inside celebs' VERY messy homes – from litter-strewn carpets to 'rodent issue'
One troll demanded she got off the dance floor: ''Get up baby that's enough lol.''
Someone else insisted the dancing would not be safe for her: 'Grandma hip is going to be hurting in the morning.''
FABULOUS BINGO: Get a £20 bonus & 30 free spins when you spend £10 today
''What in the TWILIGHT ZONE, PARALLEL UNIVERSE, 4TH DIMENSION, MULTI VERSE, SPACE/TIME CONTINUUM is this?'' a viewer was mortified.
Luckily, it wasn't all negative, as heaps of people showed their support.
''Howww I'm tryna be when I get older,'' a person chuckled.
''This is amazing!! Not only is she living her best life- but that support behind here is beautiful,'' another penned.
One nan who certainly couldn't care any less about what others think of her is Alvarina Bonaccio.
The 75-year-old, believed to be from the sunny coasts of Portugal, regularly puts on sexy lingerie sets and swings her curves.
Alvarina, who is also an avid fan of all things fitness, regularly shares clips of her dancing – and of course, her moves have taken the internet by storm.
Ever since she started uploading clips on TikTok, the nan's become somewhat of a sensation, amassing close to a whopping 2million followers.
Her videos, viewed by many, have been liked over 19.3million times and often see Alvarina sporting a short mini skirt with her cheeks out.
But although thousands have praised the nan for her attitude, some have also insisted she's simply lost the plot.
In one such video, where the 75-year-old was showing her best moves in a teeny bodysuit with a plunging neckline and gold chains, people reckoned Alvarina's gone crazy.
Amongst the 3.6million viewers, one mortified TikTon fan exclaimed in horror: ''My Lord, with age people losing their mind.''
''No no no!! Where is your family?'' a second wondered.
''My eyes are melting,'' another meanie added.
Fortunately for Alvarina, who has not yet addressed any of the nasty remarks, there have also been countless of those supporting her dancing.
Here, they reminded others that life is short and the 75-year-old should do whatever she wanted.
''Good on you, hunny! Haters, you should be ashamed of yourselves!'' one person insisted.
''She's got more heart and guts than any of you.''
In the meantime, however, Alvarina is not stopping any time soon.
When she's not enjoying herself to music, the nan, who said she's a lover of faith, will workout in the gym.
Read More on The Sun
Plus-size woman sports a teeny bikini but trolls call her 'disgusting'
TUI issues travel update for anyone with Turkey holidays
Not only will she do some cardio on the treadmill but you can also catch her lifting weights – Alvarina seems to be a fan of doing chest exercises and working on her legs to keep them toned.
To look after her figure, the 75-year-old will complete her diet with heaps of fresh veggies and nutritious fruit.
Source: Read Full Article