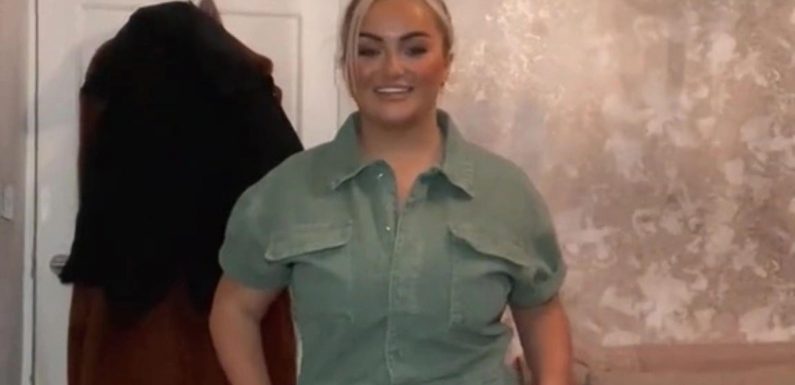 A MIDSIZE fashionista decided to hit Primark for some new outfits and it didn't disappoint.
Macy Varnham went to the Leeds store to find some new pieces for summer and shared a try-on shopping haul over on her TikTok account, @macyjademua.
The make-up artist did so much damage that her Primark bags were on the verge of breaking.
Macy, who is a size 14/16 in the UK, first found an adorable blue tracksuit set.
"Really comfy, nothing too special, but I don't own anything in this colour," she said.
The fashion fan added: "I thought going into spring and summer it might be quite cute."
READ MORE ON PRIMARK
Primark launches new corset colours and caters for bigger boobs too
Fashion fans go wild for Primark's £6 sets that are a total dupe for Lounge undies
Next, Macy bagged a charcoal grey T-shirt with an image of the ocean printed on it.
She paired it with bright green cycling shorts and a puffer gilet in the same colour which she picked up in a large size.
The Primark fan then found a cargo skirt with pockets on each side which was perfect for casual days.
She added: "Nice and stretchy, and I just thought for a casual skirt you can't really go wrong."
Most read in Fabulous
I bought a £1.6k Cavoodle & expected a model dog, but that didn't work out
Fergie befriends mysterious billionaire as she & Prince Andrew face eviction
Home Bargains shoppers rush to buy luxury product for just £3 instead of £21
I was the Benefits Queen raking in £26k a year – now I can't afford to eat
One of Macy's favourite pieces from the haul was a khaki green playsuit which is currently priced at £20, and it is perfect for the summer.
Macy said: "I think this might be one of my favourites, but this khaki with a tan in the summer, how cute.
"And you don't have to think about your outfit because it's all put together.
"It sucks you in and the shorts are long enough if you get chub rub like me, it's just an all-rounder."
Macy also found a multi-coloured mini dress perfect for summer, which she paired with her new love heart-shaped earrings, pink heels and pink sunnies.
Primark also had a stunning satin midi skirt which Macy said gave off Zara vibes.
"You cannot tell me that this skirt does not scream Zara," she said as she showed off the silver and blue skirt
Next, Macy picked out a cute mint green blazer and shorts co-ord, which again, she said was perfect for midsize girls.
"I love that the shorts are long because usually, the Primark shorts come up really short," Macy explained.
"So at least for us girls who get a bit of chub rub, we're gunna be alright."
Ending the video, Macy said: "Girls run, don't walk.
"Also, I hope this helps anyone with a similar body type to me.
"Just embrace your curves and wear what the f*** you want."
The video has since gone viral with over 400k views and 25,000 likes.
People quickly took to the comments to thank Macy for sharing her haul.
One wrote: "Omg the playsuit! It's so refreshing to see a midsize gal and feel represented!! Smashing it."
Another person commented: "Everything looked soo good on you queen!!"
"This is brilliant I'm off to Primark," a third penned.
Read More on The Sun
I live in a rainbow house – people always ask how on earth I'll sell it
I work in M&S – here's how to do a weekly shop for £37, we've got great bargains
Meanwhile, a fourth added: "Look amazing in every outfit, me off to Primark."
"I'm a size 14 and I have a very similar body type. You've given me loads of inspo. Thank you," claimed a fifth.
Source: Read Full Article