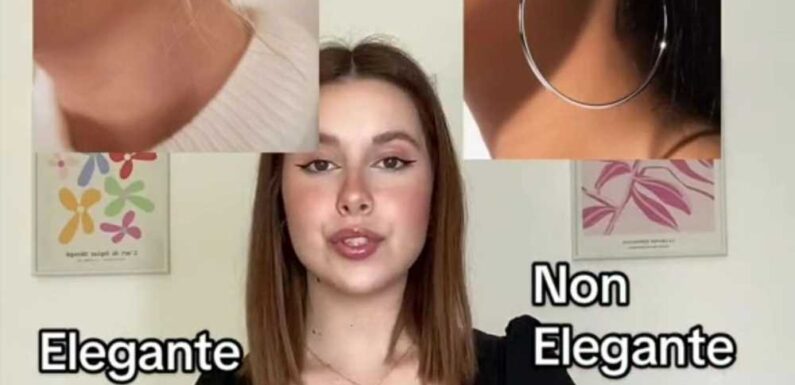 AN ELEGANCE coach has listed three viral accessories that will instantly cheapen your appearance – and it's bad news if you like massive hoops.
They might be the latest trends taking over the fashion world – but according to style whizz Gloria Polato, there are some jewellery and accessory designs to best be avoided at all costs.
The classy pro, believed to be from Italy, took to TikTok to reveal which viral looks will make you look tacky – and the alternatives to opt for instead.
When it comes to choosing earrings, the whizz advised to stick to a more dainty and timeless design, such as small golden hoops with a sparkly diamond element.
In her video, Gloria described it as a ''work of art''.
However, large hoops, on the other hand, do not belong in an elegant lady's wardrobe, as the Italian pro called them ''bull***t''.
read more on style
I'm a G cup – ASOS have the best budget bras for bigger boobs some under £20
Kim Kardashian's Skims bikinis are like S&M gear & won't cover normal boobs
Just as important is your watch – and here, it's recommended to opt for a more neutral design decorating your wrist.
Paired with a few golden bracelets, a timeless watch will never go out of style – and you will also appear more elegant.
When shopping for your next watch, the guru urged to avoid any bright and colourful designs and prints, such as a floral background.
At the end of the clip, Gloria shared her thoughts on necklaces – and just like with the other two accessories, the 'less is better' is the ultimate approach.
Most read in Fabulous
Everyone's saying same thing about Meghan & Harry's latest faux pas
Meghan and Harry accused of ripping off latest Netflix idea from BBC show
I'm a fat-fluencer and love my skimpy bikinis… trolls mock me but I don't care
Fergie told me real reason she fell out with Di before tragic death, Piers reveals
Instead of forking out for the viral pearl choker that took over our social media feeds last summer, the pro advised to invest in a simple golden necklace.
But despite living by these tips, it seems that not everyone will be taking her advice on board.
FABULOUS FIVER: SPEND £5 AND GET A £25 WELCOME BONUS
More than whopping 4,000 people flocked to comments to hit back at Gloria, who posts under the username @polatogloria.
One chuckled: ''I love wearing my hoops.''
Another insisted: ''Beads are beautiful and cultural.''
Someone else, meanwhile, reminded: ''I don't need to be elegant, I need to wear what I like.''
''The world would be so boring if we all wore the same thing,'' a fourth agreed.
A fellow style enthusiast reckoned: ''Too much gold looks so cheap.''
Source: Read Full Article