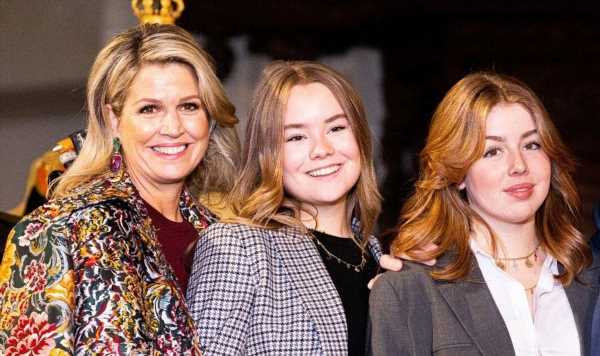 Queen Maxima was pictured last night, November 4, with her husband, King Willem-Alexander, and their daughters, Ariane, Amalia, and Alexia, as they visited the Queen Juliana exhibition at Nieuwe Kerk in Amsterdam. The exhibition shows the work and life of former Queen Juliana, who acceded to the throne 75 years ago.
For the occasion, the royal opted for an all-burgundy outfit, complete with a multicoloured, patterned coat.
Maxima wore a shortsleeved jumper by Italian designer Roberto Collina, called the Shortsleeved Merino Jumper.
The top featured a round neckline and is wine red, or burgundy, in colour.
She matched this with a thick, suede belt in the same hue.
We use your sign-up to provide content in ways you've consented to and to improve our understanding of you. This may include adverts from us and 3rd parties based on our understanding. You can unsubscribe at any time. More info
This was by Natan Couture and called the Burgundy Suede Belt. The Belgium-based brand is one the royal often wears.
Matching her jumper, Maxima opted for a faux leather, pleated skirt, also by Roberto Collina.
This was called the Plissé Leather-Effect Pleated Midi Skirt in Bordeaux.
Maxima has worn both the shortsleeved jumper and the skirt many a time before.
DON'T MISS:
'I was miserable' – Fergie shares how she 'lost close to 50 pounds' [INSIGHT]
Sarah Ferguson shares her unusual nickname for Queen Elizabeth [ANALYSIS]
Princess Beatrice wraps up in colourful coat [PICTURES]
However, what stood out the most about her outfit was her coat: an incredible, colourful piece, it was the Floral Fil Coupe Coat by Oscar de la Renta.
On Orchard Mile, a fashion website, the coat is described as: "Multicoloured long floral brocade coat from Oscar de la Renta featuring a notched collar, a front fastening, long sleeves, two front pockets, a straight hem and an embroidered brocade design."
The garment is no longer in stock, but it did retail on the website for $4,590, or £4,034.
Maxima completed the look with a pair of suede, high heels, which were the Gianvito 105 Royale Burgundy Suede Pumps by Italian designer Gianvito Rossi.
Maxima's hair was styled in loose waves and she wore her usual make-up look of coloured-in brows, lashings of mascara, eyeliner, a little bronzer, and a slick of subtle lipgloss.
She also donned long, dangling earrings featuring green and dark purple gemstones, which went well with her coat.
Royal fans were quick to comment on Maxima's outfit, and many praised her for her look.
Instagram user @luxemeagainpreloved wrote: "May I repeat my admiration for Max. This is another beautiful outfit.
"Have seen it before worn with different coordinates. I like the coat/skirt better somehow. Fantastic to see the family photo. They have three lovely, grown up young ladies at home."
User @birdnerd327 commented: "It wouldn't be a 'coat as a cape' post without me complaining about not putting your arms through the sleeves. That's a beautiful jacket. Imagine how beautiful it would be if worn properly. Or not worn at all as these pics are taken inside a lovely church or former church Love the burgundy colours."
User @miss_flora.g wrote: "I love her recent autumnal fashion, she really knows how to dress for the season."
Rose McGuire said: "Love everything about this look, especially that gorgeous coat."
User @annja_le wrote: "Love this coat! Stunning colours."
User @mydocuments_ added: "I adore this coat. I know it's a bit busy, but this is just up my alley. I am less bold that Queen Max, so I'd probably do black on black underneath, but the burgundy is just as lovely as can be."
Source: Read Full Article