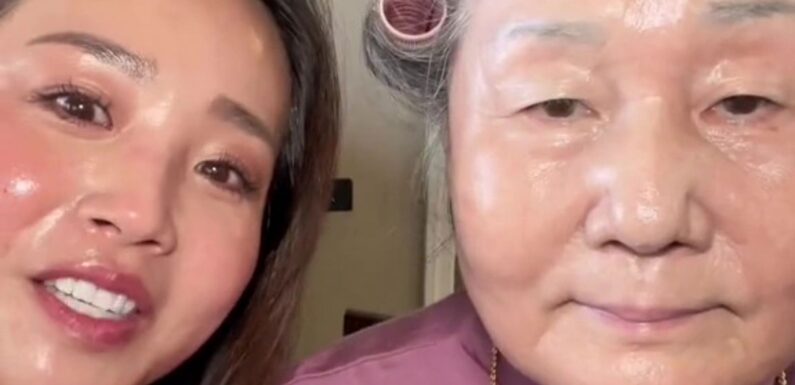 A GRANDAUGHTER has revealed her grandma's top secrets to looking wrinkle-free.
Yuri Lee took to TikTok with her 80-year-old grandma to reveal her best anti-ageing tips.
In the clip, Yuri said: "So everyone was asking my grandma's secret.
"So I'm gonna show you guys her skincare routine."
The pair first went through her grandma's skincare routine, which included using a toner as her first step.
She then applied a hydrating serum and a moisturiser on top.
READ MORE ANTI-AGEING TIPS
I'm 41 but people say I look ten years younger – it's my easy makeup secrets
I'm a skincare pro, here are 5 products to splurge on & ones to avoid altogether
Her grandma used products from a brand called Manavis, which is from Japan.
Then she moved on to foundation – she used the brand La Prarie, which has SPF to protect from the sun.
Her grandma then revealed some of her favourite foods to eat, including avocado and seaweed, both full of antioxidants and vitamins.
She also recommended eating lots of fermented food for good gut health.
Most read in Fabulous
Urgent vet warning over common garden flower that can make your dog very ill
51-years-old reveals her secret to looking decades younger without using Botox
Urgent warning as 'harmful' froth appears on plants in Brit gardens
Harry branded 'loose cannon' after making 'unwise' decision at coronation
In recent years, many studies have revealed good gut health can improve your skin.
Yuri explained: "She eats nattō every day. Fermented soybeans, so it's supposed to be good for her gut health.
"She drinks miso soup every day.
"Miso is fermented soybeans as well.
"And then she eats kimchi, too, every day.
"A lot of, like, fermented foods. Helps the gut health.
"Um, so that give you the better skin."
"That will give you more probiotics and it's healthy for you," she added.
"That's what she says.
"That was her secret."
Yuri's grandma put her wrinkle-free skin down to a simple skincare routine and lots of fermented food and people were in awe over how good her skin looked at 80.
People were quick to take the comments section of the video posted to Yuri's account @yurileeeee.
One person wrote: "Wow I have never seen a grandmother with such healthy looking beautiful skin."
Another commented: "She doesn't gatekeep! hope she stays pretty and healthy."
"Ferment everything, got it," penned a third.
Meanwhile a fourth said: "This is such a Nice video! And yes as a nutritionist I can confirm The fermented foods aspect!"
"80 YEARS OLD?!?! AND SHE LOOKS THAT GOOD?!?! HOLY," claimed a fifth.
Someone else added: "80?! She looks younger than me."
Fabulous will pay for your exclusive stories. Just email: fab[email protected] and pop EXCLUSIVE in the subject line.
Source: Read Full Article