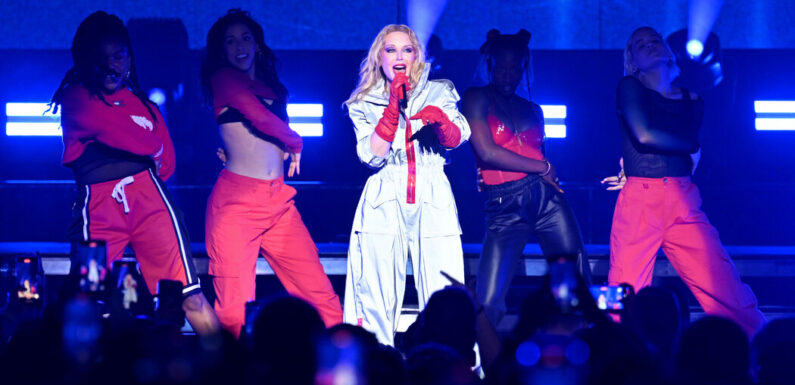 When "Padam Padam," the Australian pop star Kylie Minogue's 77th (77th!) single, was released last month, it was embraced almost instantaneously by a certain type of listener. L.G.B.T.Q. people, especially gay men, greeted the campy song with gleeful incredulity, and its infectious chorus quickly spawned memes upon memes upon memes.
As is often the case with pop music phenomena, it's hard to say exactly why the track makes so many people's hearts go, to borrow a lyric, "padam padam." But the song has already asserted itself as a fixture of this year's Pride festivities, cropping up on parade floats, dance floors and parties in Los Angeles, Chicago and Provincetown, Mass.
We asked several D.J.s who are booked to spin for Pride events in New York for their thoughts on the inescapable dance gem and their remix recommendations. Their emailed responses — this is a busy week for many of them — have been condensed and edited for clarity.
Kim Chi
"RuPaul's Drag Race" contestant and D.J., 35
I will absolutely be playing "Padam Padam" this weekend. It is the summer gay anthem of the year. Kylie Minogue might not chart in the U.S.A., but the gay community has loved and appreciated her for many years. Her discography is flawless, and she always finds a way to refresh her sound without resorting to gimmicky concepts. The "Padam Padam" craze might have started off as a meme, but also it's making a new generation of kids discover her, and that's thrilling to see.
Ryan Farr
Executive producer of Stuntsz New York, 29
When Pride rolls around each year, it seems like there is inevitably a song that you hear at almost all the parties. Last year it was "Break My Soul" by Beyoncé; this year it's "Padam Padam." I think it's been so captivating because of the call-and-response structure of its chorus. It's like a gay Marco Polo.
The best remix I've found is the Miracles remix. It takes the original and turns it into a thumping and sexy club track with elements of dancehall that you'd want to hear at 5 a.m. in a dark and sweaty room.
D.J. Sean McMahill
D.J. for Yes Homo at C'mon Everybody, 53
I will be saving it for a peak dance-floor moment. If I play it too early, I know I'll get another request to play it again later, and I don't want anyone getting sick of it. It does feel like Pride Week is probably also peak "Padam," unless the general public catches on and it becomes a Top 40 hit.
Adding a new pop culture catchphrase to inject into conversation is always popular with the gays, and the fact that it's by Kylie certainly helps. We're always rooting for her to achieve mainstream recognition here in the States. I'm not sure if it would be quite as beloved and exciting if it were recorded by anyone else. Britney, maybe.
fur trap
D.J. and co-producer of Studio 5'4", 37
I've made a point to play "Padam Padam" at every single party all Pride Month long. It is as if Kylie implanted these switches in the brains of all the gays that were set to turn on the first time they heard "Padam Padam," and now we're all her "Padam" zombies. Even the music video is mesmerizing. I've lost track of how many times I've watched it now.
I 100 percent recommend the silversound remix by my friend David Silver, a.k.a. silversound. David added a high-hat riff, dreamy synth and punched-up bass line that adds some really beautiful texture and a little bit of grunge to the track.
Chauncey Dandridge
D.J. at the Stonewall Inn, 47
I'm actually really curious why the L.G.B.T.Q. community has been so captivated by "Padam Padam." I feel like there might be some secret government mind-control subliminal message in the production. I've been a huge Kylie fan for many, many years, but this song just doesn't measure up to a lot of her other big tracks like "Come Into My World," "Slow," "Can't Get You Out of My Head," "Love at First Sight," "Say Something" and more.
But please don't take anything I've said too seriously. I love a good pop-trend phenomenon.
nasir mf.
D.J. and co-organizer of Whorechata NYC, 26
Although the song is a captivating ear worm, it's way more than just that. This track is Kylie's biggest hit in the U.K. since 2010's "All the Lovers." "Padam Padam" is not just a song: It's a statement, a cultural conversation about ageism and a triumph. We mustn't forget that Kylie Minogue was a trailblazer for dance pop, so the least we can do is give her her darn flowers. And the Vogue remix by Gravity Jacobs is fabulous.
Source: Read Full Article