Selena Gomez in a Car

This week, celebrities decided to be *extra* with their outfits in the best way possible. Let's start off with one of my favorites, Selena Gomez. The Rare singer posted a picture of herself sitting in a car wearing a pair of sparkly gold pants with a beige trench coat. Not only was her outfit the right amount of extra, but her nonchalant pose was pretty spot on. Kylie Jenner decided to give her Disney World wardrobe a luxurious spin with a pair of cool Gucci x Disney Mickey Mouse jeans. Billie Ellish was also the level of cool I aspire to be in 2020 when she showed up to the Spotify New Artist Awards in a neon green Louis Vuitton look.
As for some of our favorite supermodels over in Paris for Couture Fashion Week, Gigi Hadid and Kaia Gerber found ways to make statements on the runway. Gigi walked Jean Paul Gaulteir's last runway show ever in an eye-catching sailor outfit, while Kaia Gerber's Givenchy wedding dress came with a giant veil that says, "don't talk to me." Bella Hadid caught our eye off the runway in a barely there denim crop top that had buckles on the front — talk about making a grand exit! Read on to see our top looks of the week ahead.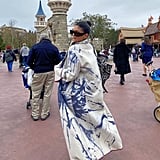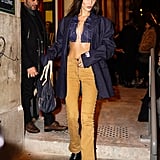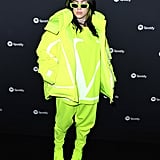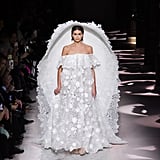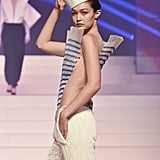 Source: Read Full Article