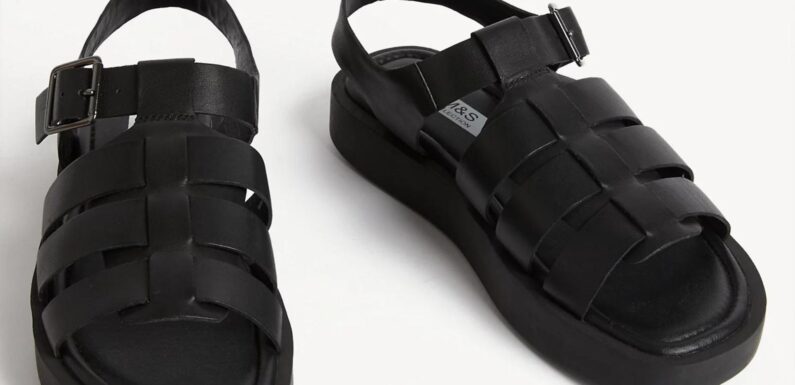 IT'S good news for bargain-savvy shoppers hoping to add a fashion essential to their summer footwear game.
Fashion fans are rushing to buy these budget-friendly sandals from M&S that social media users are calling an 'insane dupe' for a much pricier pair.
M&S Leather Flatform Sandals – shop here
Shoppers have highlighted the return of the must-have Leather Flatform Sandals available now for £45 at M&S, whilst noticing how similar they look to a designer pair that cost over £1000.
Eagle-eyed customers have likened the cosy sandals to the hugely popular Fisherman Leather Sandals from designer brand The Row.
The original The Row pair, as nice as they are, will set you back a staggering £1,060.
Read More
Shoppers rush to buy £26 Hermes sandals dupe from ASOS
Fashion fan raves about the ultimate Skims dupe – it's a whopping £63 cheaper
Yes, you read that correctly!
In a pretty like-for-like comparison style-wise; shoppers are opting for the much more affordable M&S sandals, which isn't just a regular dupe saving, but a colossal £1,015 saving compared to the designer version.
A complete no-brainer if you ask us and the resemblance is almost identical.
The M&S sandals come in UK adult sizes three to eight and are an affordable and super stylish footwear option for long walks or sunny days relaxing.
Most read in Fashion
I'm a size 16 & found dream top for summer in Shein, it's perfect for my mum tum
I asked my man to rate my holiday outfits – he wanted a bikini returned
Maya Jama's sexiest outfits after Love Island wardrobe broke the internet
Primark fan raves about their new line, including a dress that has pockets
The return of the Leather Flatform Sandals will no doubt excite social media users inspired by style influencers Ty Lynn Nguyen and Monikh were spotted in more expensive The Row designer versions online.
And it's not just on social media where people have been keen to share opinions.
The reviews section on M&S is full of happy shoppers, with many branding the sandals as 'super comfy'.
One M&S shopper shared: "Lovely sandals. Good fit and are extremely comfortable. Brilliant!"
Another reviewer added: "Stylish black sandals, so comfy! Would definitely recommend them."
Another commented: "Really good fit, very comfortable to wear and good value for money."
Keen to find more summer footwear options? You can find our guide on the best walking sandals for 2023.
Or read about the £26 Hermes sandals dupe from ASOS that is perfect for summer.
Plus find out where fashion fans are racing to get their mitts on Crocs dupes that are £45 cheaper than the original.
Looking for more stylish savings at your favourite fashion chains? Visit Sun Vouchers where you'll find amazing discounts and voucher codes for hundreds of fashion retailers including ASOS, Very, River Island, Roman Originals, New Look and more.
Source: Read Full Article