The early and mid-aughts birthed some of the absolute strangest fashion trends, from stretchy popcorn shirts and lace shrugs to platform flip flops and layered polo shirts. Silk scarf tops, however, are one product of the early 2000s that have actually stood the test of time and remain legitimately and non-ironically cool. Whether worn to a festival or to a high-brow dinner, the shirt looks effortlessly cool, so why not follow in the footsteps of some of fashion's biggest icons and try the look out for yourself?
Britney Spears, Christina Aguilera, Beyoncé, and other mega stars all championed the trend when it first rose to popularity, often pairing it with low-rise jeans and mini skirts. Today, modern fashion darlings like Bella Hadid have brought the style back to the streets with the help of high and low brands alike (Balenciaga and Réalisation Par have both recently released their own scarf top offering). Some of the iterations truly are simply silk scarves tied into a strapless top, while other versions feature straps and simply riff off of typical scarf patterns and shapes. Either way, they're an awesome way to infuse some throwback cool into your wardrobe without going overboard and they're the perfect way to beat the summer heat, to boot. Below are some of the best picks out there right now.
Pattern Play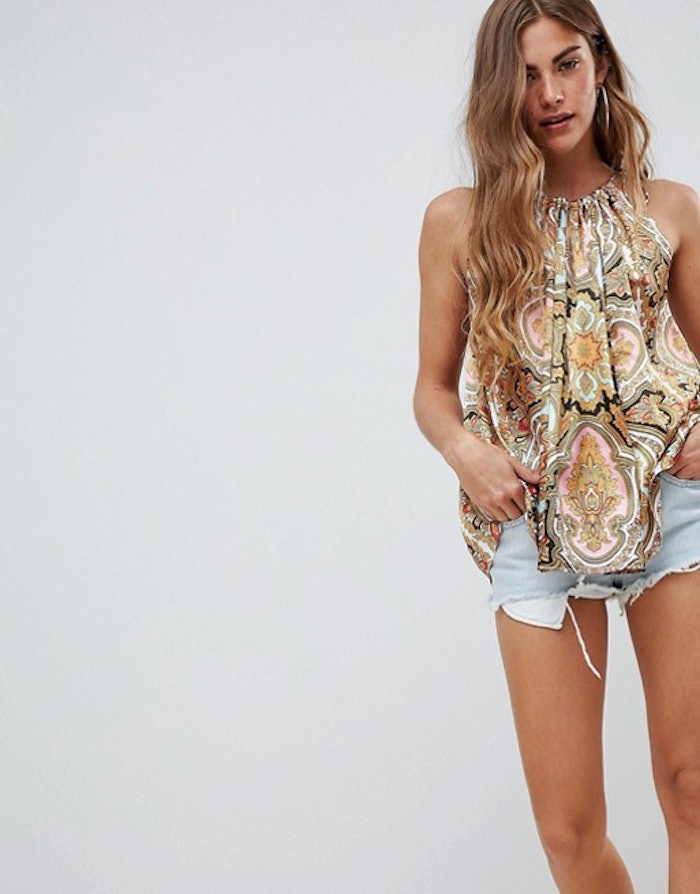 ASOS DESIGN tie shoulder swing cami in scarf print
$35
ASOS
The classic silk scarf gets a convenient upgrade thanks to a gathered halter neck and billowy shape. Pair this with jean shorts for a casual day look or wear it over a black mini skirt and with heeled booties for a retro-inspired night now.
In Full Bloom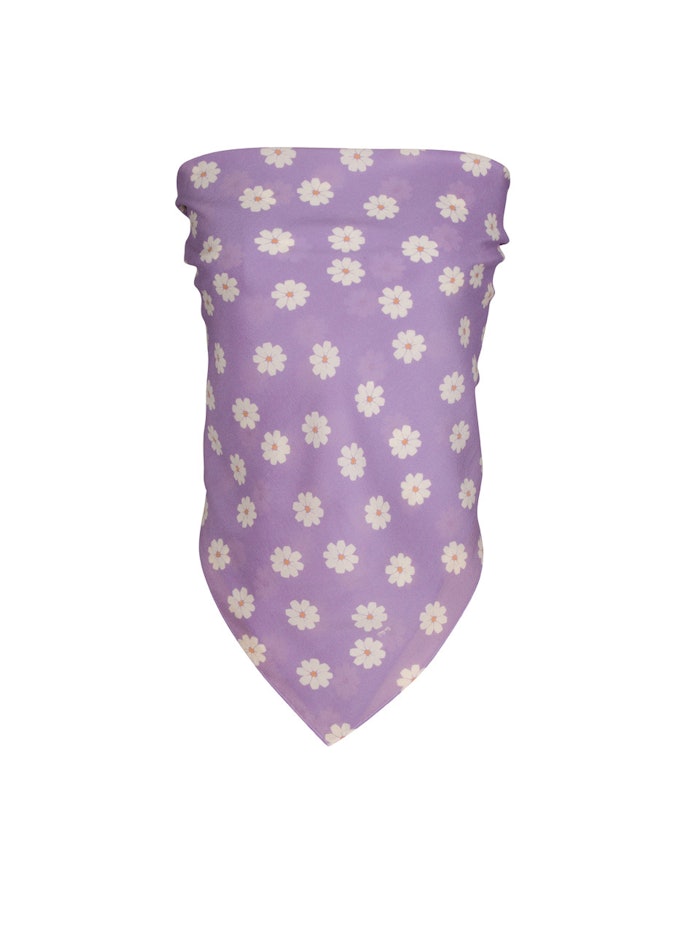 Handkerchief – As If
$69
Realisation Par
Spring florals at their absolute cutest! This top with black shorts and white booties would be to die for.
Red Hot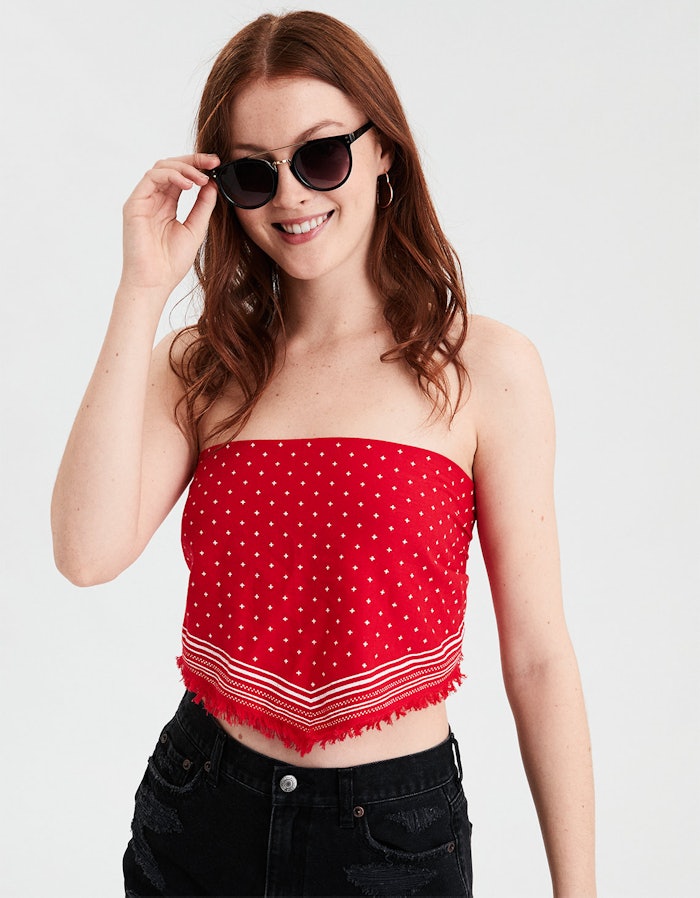 AEO BANDANA TOP
$16
American Eagle
the frayed detail at the edge allows this scarf top to not be taken too seriously.
Check, Mate!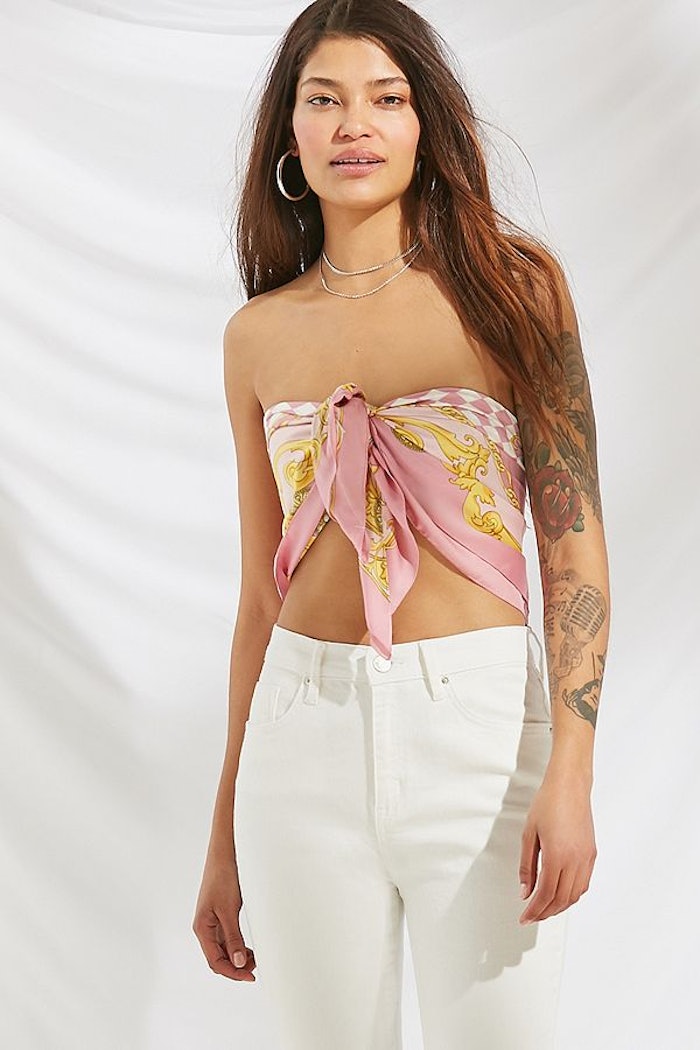 Urban Renewal Remade Tie Scarf Tube Top
$29
Urban Outfitters
My favorite part about this top is the pink checkered pattern. It proves that there's no right or wrong way to make a scarf into a shirt!
Out West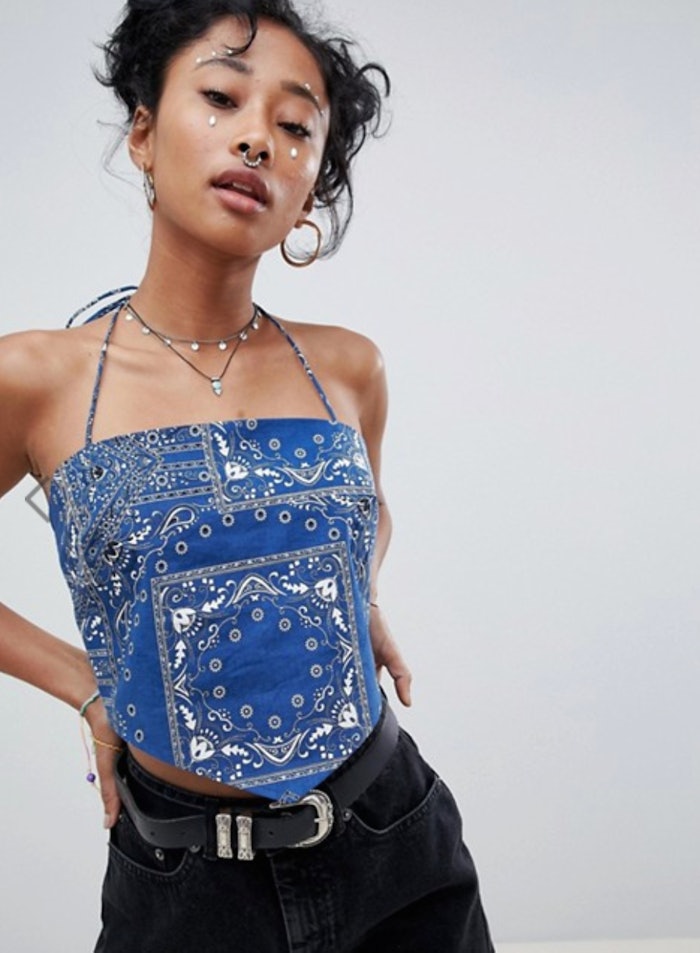 ASOS DESIGN Bandeau In Scarf Print
$18
ASOS
This is a cool and fresh way to wear the trending Americana look! I love how they styled the top above with a Western-inspired belt and throwback '90s chokers.
Drama, Drama, Drama
Savannah Silky Print Bandana
$38
Free People
Talk about making an exit.
She's Got The Blues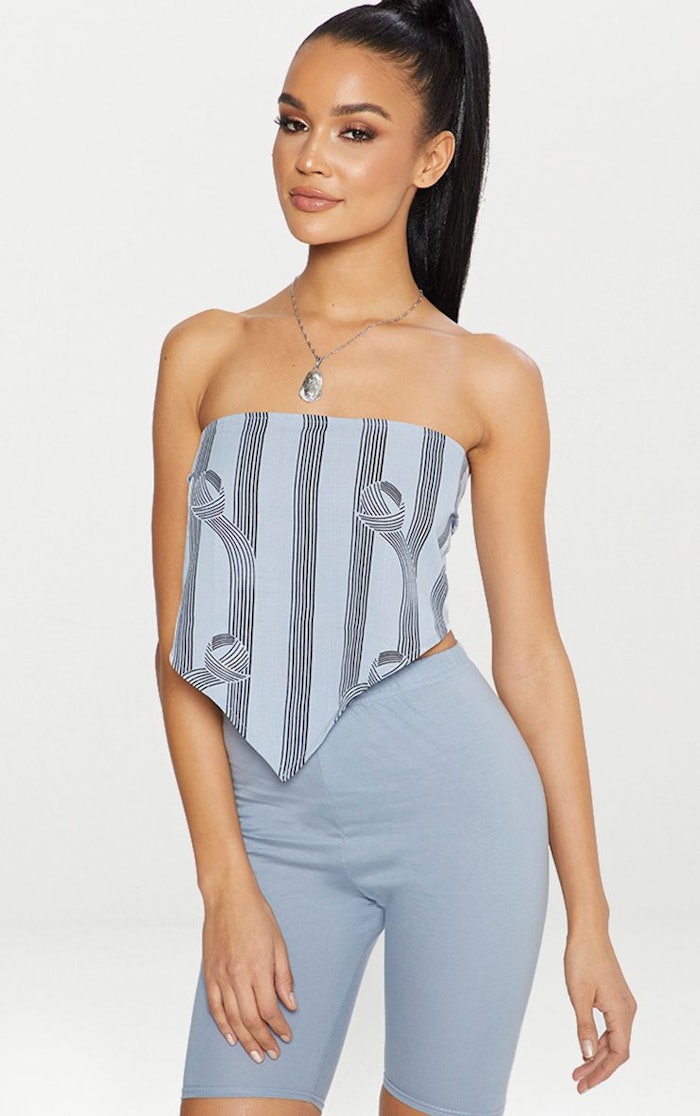 BLUE STRIPE HANDKERCHIEF CROP TOP
$8
Pretty Little Thing
If sleek, minimal patterns are more your thing, this powder blue scarf top might be for you.
Little White Lines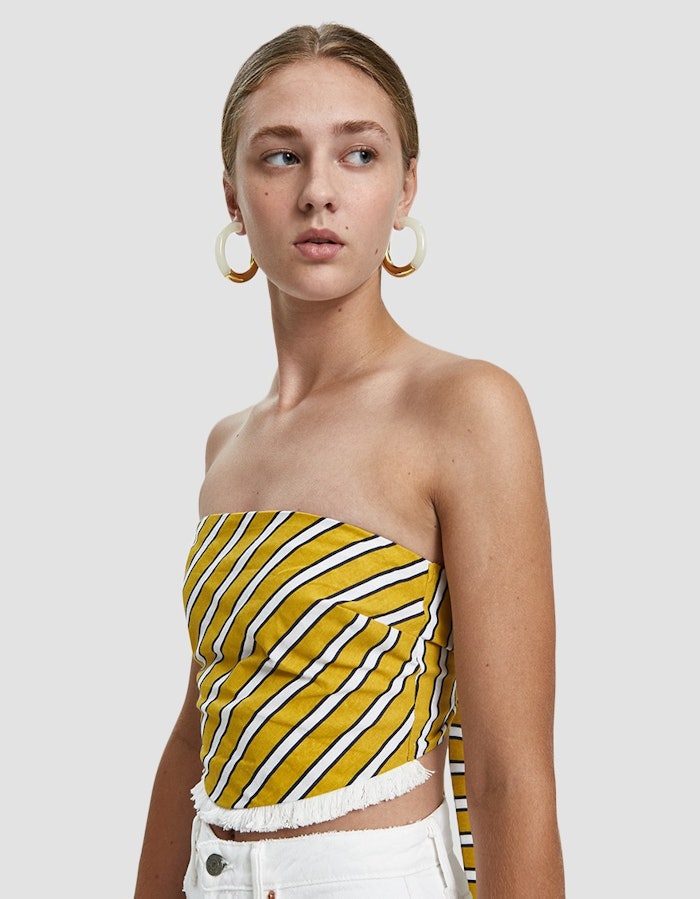 Farrow Drew Striped Bandeau Top
$52
Need Supply Co
This top is super fresh and clean. Pair it with white jeans, gold hoops, and platform sandals for the perfect upscale brunch look.
Cloud 9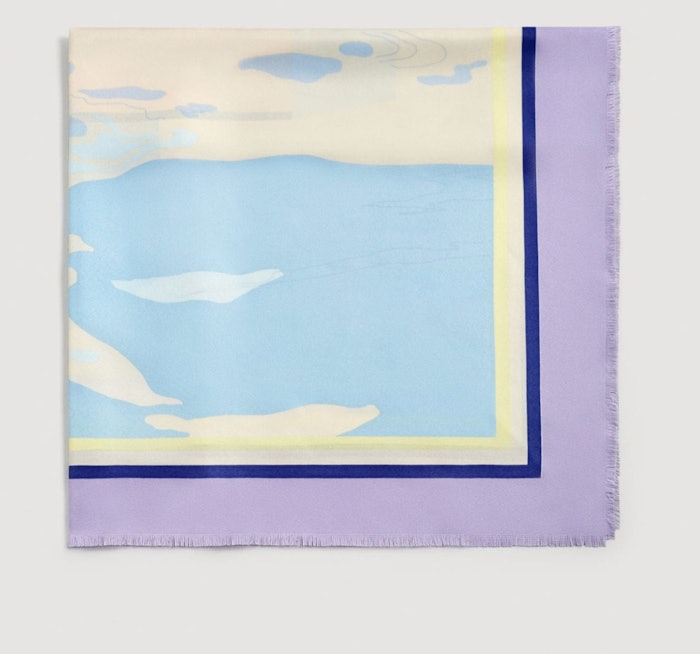 Next Mixed print scarf
$20
Mango
Easy and breezy, this scarf would pair excellently with pretty much any shade of denim. Wear it as a top, around your neck, or on your bag—it's a total chameleon.
Patch Me In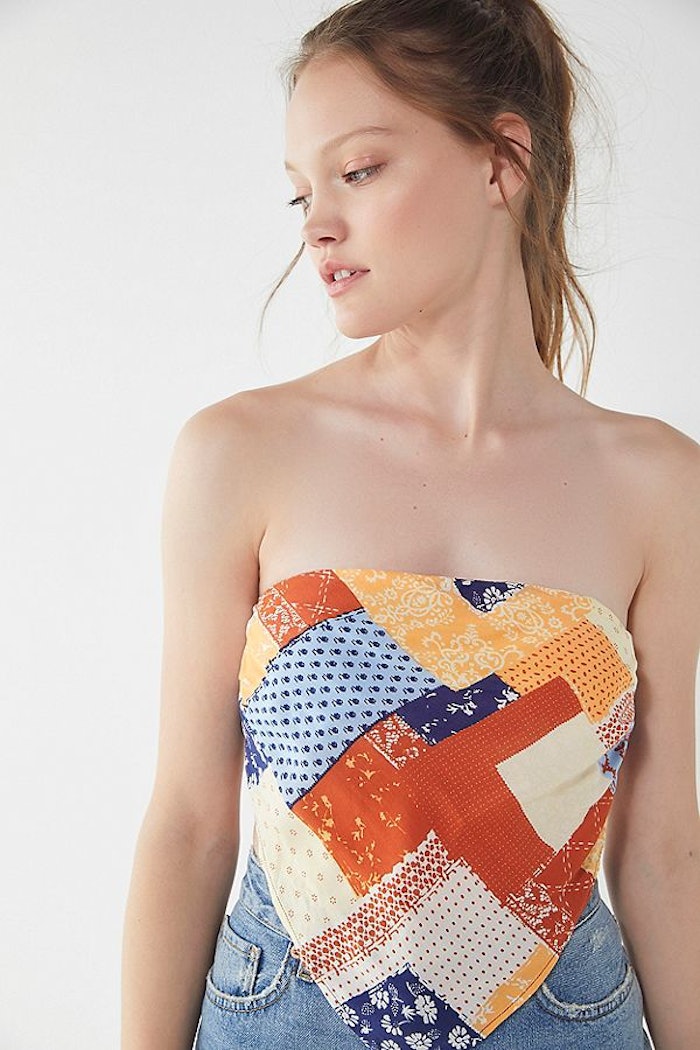 UO Bandit Patchwork Bandana Tube Top
$34
Urban Outfitters
Like your grandma's quilts, but way less stuffy. I love the retro color palette and blocky print of this scarf.
Flow Up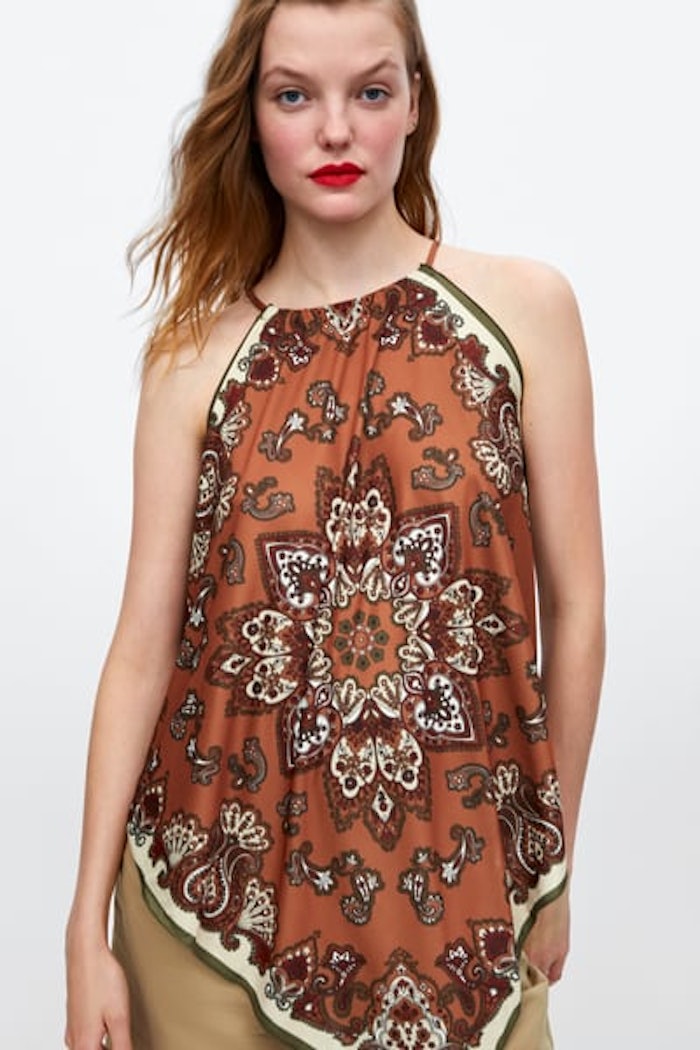 PAISLEY PRINTED T-SHIRT
$20
Zara
If tight tube tops aren't your thing, this loose and breezy top could be for you.
Source: Read Full Article