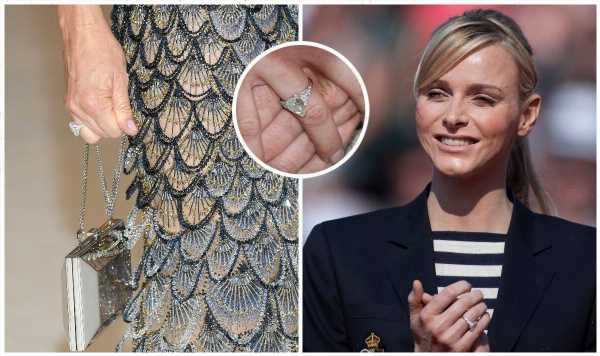 Princess Charlene celebrates 10th wedding anniversary in July
We use your sign-up to provide content in ways you've consented to and to improve our understanding of you. This may include adverts from us and 3rd parties based on our understanding. You can unsubscribe at any time. More info
Princess Charlene, 44, married Prince Albert, 64, in 2011 after he proposed to her in 2010 with a totally unique engagement ring. However, the Princess hardly ever wears it. It is not often fans will see the Princess of Monaco sporting the huge jewel on her finger, but she does slip it on for big occasions.
The stunning ring includes a massive three-carat, pear-cut diamond flanked by smaller diamonds in triangular arrangements.
The piece was crafted by Parisian jeweller Repossi, a leading name in handcrafted jewels.
Charlene's ring is bespoke, making it a completely unique design.
The pear-shaped bling is certainly unique among royal circles.
The cost of the ring has never been revealed, emphasising the privacy of Charlene's ring.
The Princess usually only wears the ring out to formal events alongside her husband.
Occasional photos on Instagram show off Charlene's ring.
Royal fan @ablaelfarouki said: "Stunning! So elegant!"
Another fan, @juliawells2015 wrote: "Such a great look!!"
The reason why the Princess of Monaco doesn't often wear the ring is a mystery – but she is not short of glamorous, expensive pieces to wear.
One of the most notable pieces of jewellery the Princess owns is a specially designed necklace from Beirut-based jewellers, Tabbah.
Known as the Infinite Cascade necklace, designed to mimic the ripples of the water, the Princess wore the piece for her wedding celebrations.
The jeweller Tabbah said: "Their individual settings ensure a delicate sparkle and warm glow as they catch the light."
The Princess also has a large array of expensive diamond earrings.
A pair of the Princess's favourite earrings are from Van Cleef & Arpels, known as the ocean earrings.
A trail of diamonds drop down to a circle arrangement, finished off with a blue sapphire at the bottom.
The pieces were commissioned by her husband and are some of her most worn items.
Much of Princess Charlene's jewellery is water-themed, as she competed for her native South Africa in the Olympics prior to royal life.
In July 2011, Charlene and Albert married, and the wedding celebrations were epic, taking place over three days.
The nuptials began with a concert on June 30 by classic rockers the Eagles.
Then a civil ceremony took place on July 1 and then on July 2, Charlene and Albert were married in a Roman-Catholic ceremony in the presence of global celebrities and various heads of state.
Source: Read Full Article