Collecting, loving, buying and even wearing sneakers is different now than it's ever been before. At the end of 2019, we noted that everyone wanted to be a sneakerhead in our annual end-of-year list. In 2020, that hasn't really changed — but so much else has. Although sneaker collecting has long been trending towards a digital pastime with online raffles, Instagram flexes and resell sites like StockX and GOAT taking the place of campouts, meet-ups and conventions, this year forced the "game" even further in that direction owing to sweeping changes necessitated by the coronavirus pandemic. Beginning-of-year prediction lists? Rip 'em up. The Olympic Games, an annual innovation summit for the world's biggest footwear brands? Postponed until 2021. Release dates? More flexible, fluid and likely to be pushed back than ever before.
Sneakerheading from home became a necessity in these unprecedented — a word we'd honestly be cool with never hearing again after 2020 — times, but through the dark cloud cast by COVID-19, several unexpected bright spots shined through as well. New sneaker silhouettes, bold technical innovations, rising collaborative partners, and rich storytelling were all present and accounted for. Comfort-focused trends like mules supplied some of the year's most interesting footwear options, ones that the public may very well bring with them to their daily lives when the globe conquers the pandemic. Highfashion brands like Dior and Prada continued to fuse themselves to the world of sneakers — further blurring the lines between runway and street.
Now, with the rollercoaster that was 2020 coming to a close, the HYPEBEAST footwear team has looked back across the entirety of the year to select its ten best sneakers and two honorable mentions. Pull on your favorite pair and let's get right into it: there's a lot of great sneakers from the past twelve months for us to discuss.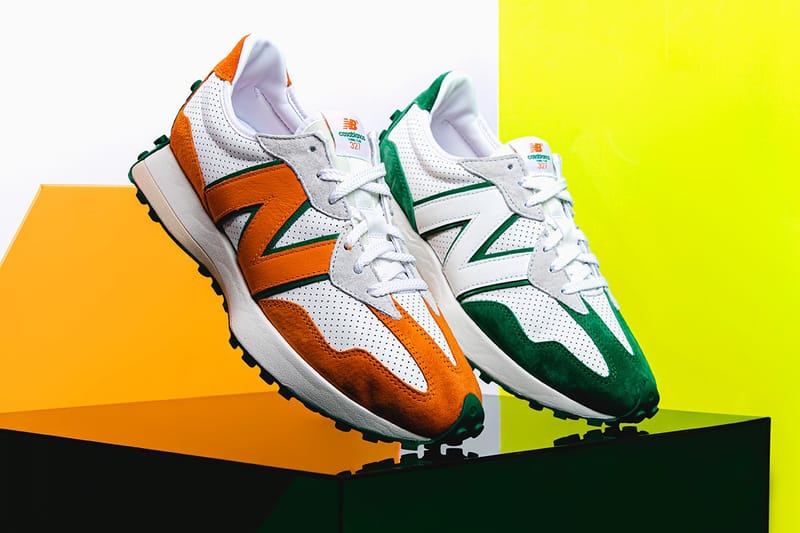 Heison Ho/Hypebeast
Casablanca x New Balance 327
In many ways, New Balance's 327 silhouette could be on this list on its own merits. The sneaker, inspired by '70s running shoes, has featured in numerous collaborations and arrived in a string of bold colorways this year, but arguably the best of all was its first release. To launch the silhouette, New Balance partnered with rising label Casablanca for two colorways of the 327. Creative Director Charaf Tajer used the footwear to develop the label's house codes of modern luxury.
Speaking to HYPEBEAST to mark the launch back in April, Tajer said, "It's the ultimate grandpa shoe — not a dad shoe but a grandpa shoe. I want to create a new classic, and I think this shoe really encapsulated my idea of a new classic sneaker." The two sneakers in the capsule featured an all-white base, with one adorned with bright orange touches inspired by Morocco while the second came with green overlays inspired by tennis uniforms. They were simple updates for the silhouette, but they represented the perfect mix of New Balance's athletic heritage and Casablanca's pursuit of a new luxury. -Jack Stanley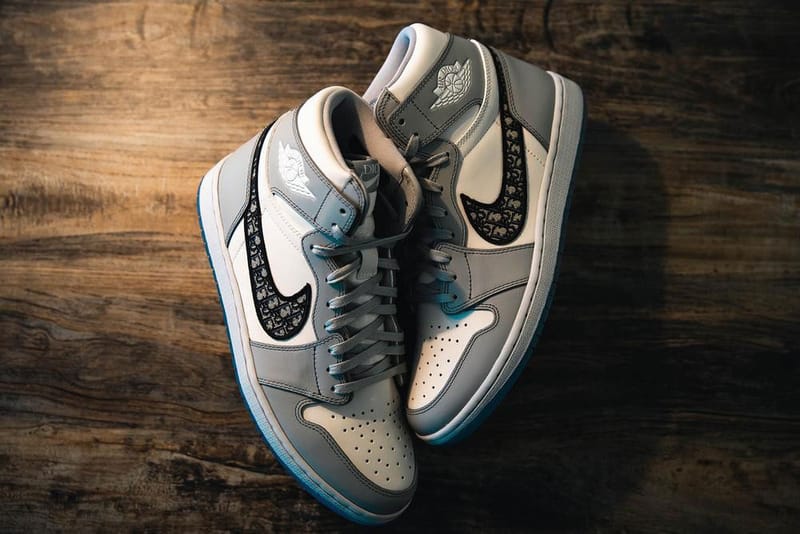 Keith Hui/Hypebeast
Dior x Air Jordan 1
Kim Jones' Dior dominated the sneaker industry this year. Despite a global pandemic getting in the way of the Dior x Air Jordan 1's release numerous times, there was still unrivaled amounts of hype when the pair did finally drop. And for good reason, too. It marked something very special — two titans of their respective industries coming together. High fashion meets high-tops. With a well-crafted story, plenty of immersive content to keep us drooling, and a dizzying amount of celebrity endorsements, along with the shoe itself being expertly crafted from the finest materials and dropping in very limited numbers at an extortionate price point, Dior and Jordan stole the year in terms of hype-factor and desire. Was this Air Jordan 1 the best shoe this year, or perhaps just the most talked about? Either way, there's no escaping the collaboration's impact. -Eric Brain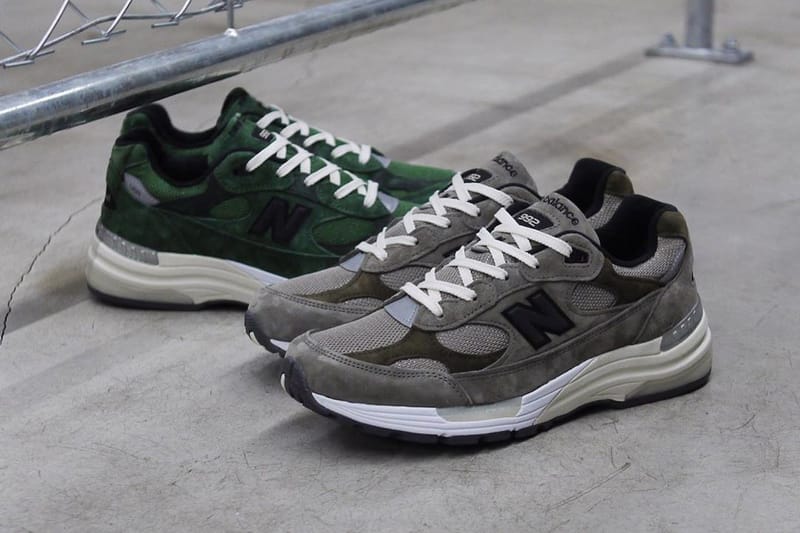 Mita
JJJJound x New Balance 992
While New Balance has undoubtedly cemented itself as the brand of 2020, its 992, more specifically, has to be in with a shout of winning silhouette of the year. Finding itself the focus of collaborations alongside the likes of KITH, WTAPS and Levi's, the elevated sneaker has gone from strength-to-strength. Its mid-summer release in partnership with Canadian studio JJJJound, though, takes top accolades in our list. Arriving in either a "Rich Forest Green" or a more subtle gray, the 992's understated yet luxury aesthetic saw it sell out in minutes. Dubbed the "Master of Minimalism," JJJJound's Justin Saunders had his say on a classic silhouette, stripping back any unnecessary features that you might expect with more modern sneakers, and stringently stuck to the basics, a move that certainly hit the spot. -Tayler Willson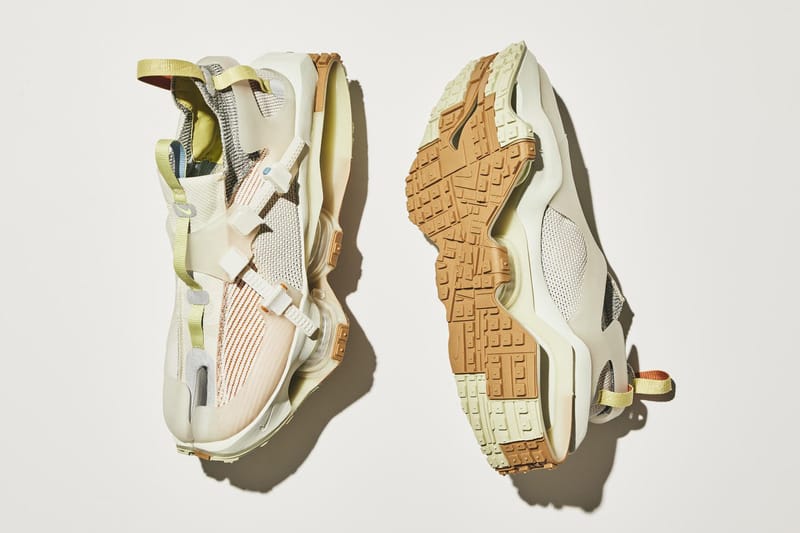 Nike
Nike ISPA Road Warrior
Nike's ISPA sub-label enticed many a sneaker aficionado this year thanks to its output of several new futuristic footwear designs. However, if one were to identify the silhouette that sparked the most conversation, and quite frankly the most "What are those?!" reactions, it was the ISPA Road Warrior.
As soon as this model surfaced on the Internet, folks were lightning quick to comment on its ultra-technical and conceptual shape. To simply put it, this is probably the wildest, most visually complex design that the Swoosh has ever launched to the public. Base layers are constructed with that of knit-patched uppers, and come packaged with buckles, straps and rubber cage overlays. Down under, the sole unit features double-stacked Zoom Pods in the forefoot — a design reference to the popular Air Zoom AlphaFly NEXT% runner — as well as a hollowed out heel inspired by retro Nike Shox models. After its inaugural "Sail" release in July, the silhouette followed up with a "Clear Jade" iteration that hit the shelves in October, both of which sold out quickly despite a $500 USD price point. -Elliot Santiago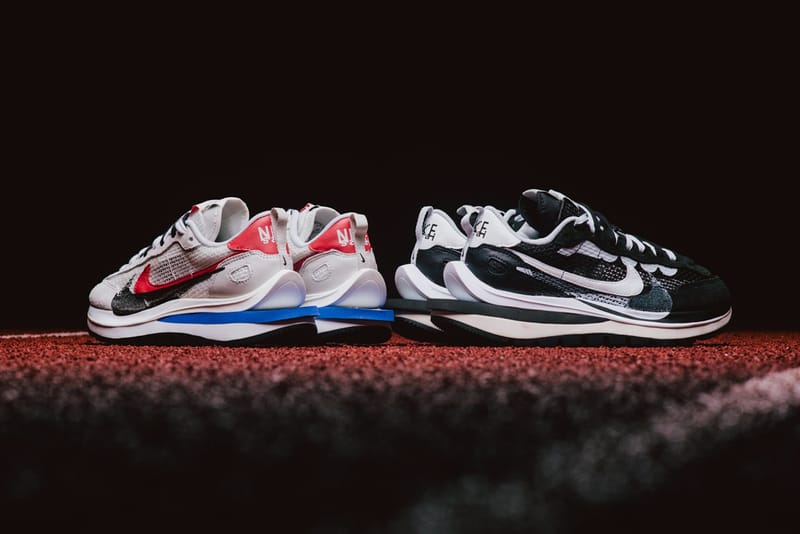 Sneaker Politics
sacai x Nike Vaporwaffle
2019 was a huge year for sacai, thanks to its collaboration with Nike on various colorways of the LDWaffle and Blazer Mid. But, once the hype had died down, everyone moved onto Nike's other high-profile collaborations without a second thought. Keen to regain some of the attention, sacai developed its take of the Nike VaporFly and Pegasus with the VaporWaffle. Released this fall, the VaporWaffle brought plenty of retro design cues alongside Chitose Abe's fancying for doubling everything up. The result was nothing short of a Sneaker of the Year contender, ticking the box on style, comfort, price, colorways, exclusivity, forward-thinking, heritage, and fun. -Eric Brain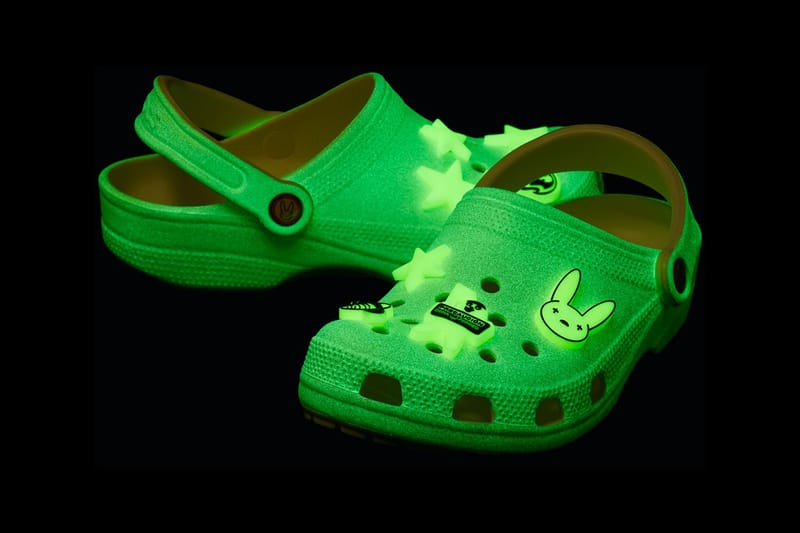 Crocs
Bad Bunny x Crocs Classic Clog
Is a Croc a sneaker? Well, technically, no. But in a year when FaceTime hangouts, birthdays on Zoom and work-from-home became the new norm, it would be remiss not to acknowledge them. As a result of being forced to quarantine indoors, folks put their sneakers, heels, dress shoes and more to rest, instead relying on various sorts of mules to get them through the day. Styles such as Birkenstocks, Reebok Beatniks, Merrell Hydro Mocs and the YEEZY Foam Runner thrived as they provided peak comfort, coziness and easy slip-on-slip-off access. However, if there's one mule brand that generated the most impact, it was Crocs.
The Colorado-based footwear company saw its sales numbers skyrocket in 2020, largely because of its classic and comfy clog model. Moreover, it capitalized on this increased attention by aligning with influential collaborators such as Justin Bieber, Carrots, Nicole McLaughlin, Post Malone and Bad Bunny. Of those mentioned, the project with Puerto Rican artist Bad Bunny was one that conceivably created the most noise. Understated in design, the piece was essentially an all-white clog, but featured custom YHLQMDLG album-themed Jibbitz and glow-in-the-dark capabilities. The collaboration retailed for $60 USD, but sold out instantly and now finds itself listed on the resell market for $200+ USD. -Elliot Santiago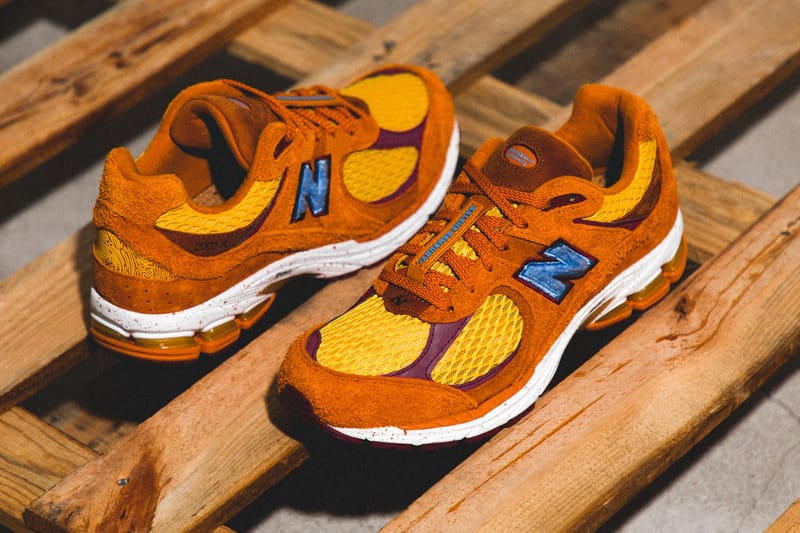 Heison Ho/Hypebeast
Salehe Bembury x New Balance 2002R
What do you get when the year's hottest brand meets the year's fastest-rising designer? In 2020, you get the Salehe Bembury x New Balance 2002R. A crowning achievement for company and creator alike, Bembury's Antelope Canyon-inspired sneaker was bold, boisterous and befitting of a year in which New Balance — and Bembury himself — broke new ground.
Interestingly enough, this 2002R was Bembury's first-ever footwear collaboration, though his name has been well known in footwear circles for years thanks to his current position at Versace and prior role at Kanye West's adidas YEEZY line. Although its bold mix of orange and blue caught the eyes of many a sneaker lover, what hooked them further was the attention to detail, premium materials and rich backstory that drew from Bembury's daily hikes — plus a relentless, meticulously-planned campaign across social media ahead of its rollout. The shoe also lead to Bembury being named "Footwear Designer of the Year," and opened the gate for other compelling 2002R collabs from FDMTL, INVINCIBLE x N.HOOLYWOOD and more.
In short Bembury did his best impersonation of a young Nas on the collaborative front in 2020, and this 2002R was his Illmatic. -Ross Dwyer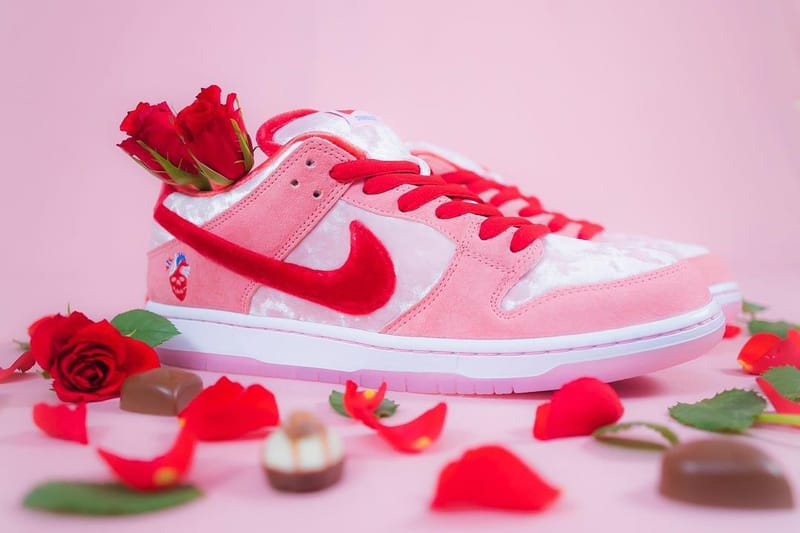 Zupport Store
StrangeLove x Nike SB Dunk Low
Let's get down to brass tacks: 2020 was the year of the Nike Dunk. No matter if you prefer Nike Sportswear or Nike SB, no matter if you head towards the Dunk High or lean towards the Dunk Low, nothing was topping the Swoosh's classic model from January to December. A huge part of this push was what could be considered a second "golden age" for the SB Dunk Low — a shoe that itself is largely responsible for modern sneaker culture as we know it. And one of the earliest pieces of this second coming was StrangeLove Skateboards' January collaboration.
Though it may have been out-hyped by later releases like Ben and Jerrys' lovingly-crafted "Chunky Dunky" or Travis Scott's maniacal collaboration, the StrangeLove Dunk set the table for the year ahead with its striking Valentine's-themed color palette, sultry velvet construction and special graphics from StrangeLove's leader: the great Sean Cliver, long a maven of SB collaborations. As far as we see it, the first co-created Dunk Low to release in 2020 is still the best.-Ross Dwyer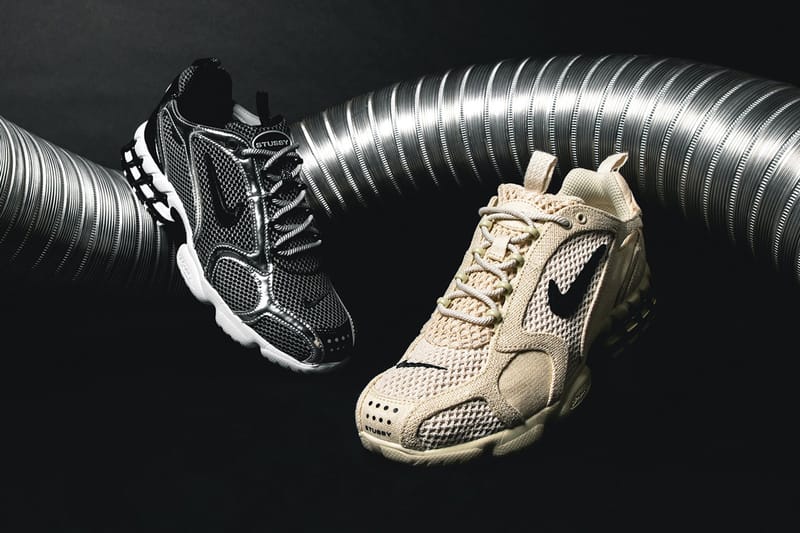 Heison Ho/Hypebeast
Stüssy x Nike Air Zoom Spiridon Cage 2
It's a tried-and-true tactic for Nike Sportswear: introduce an archival model via an appealing collaboration, then let that residual hype carry over to in-line styles of that model later in the year. However, rarely if ever has this tactic been used more effectively than it was with Stüssy and the Air Zoom Spiridon Cage 2, a shoe personally selected for inclusion on this list by four of the five contributing editors.
Debuting in shimmering "Pure Platinum" and earthy "Fossil" options via Stüssy channels in March, rolling out to more retailers in April and keeping momentum with the May arrival of a "Black/Cool Grey" colorway, each was a perfect example of early '00s tech and style, brought into the modern day to serve as an appealing lifestyle sneaker and gassed up by an A-list collaborative partner. The Spiridon was the pinnacle of a wildly successful year for Stüssy on the footwear front: while celebrating its 40th anniversary, the brand also put forth hemp Air Force 1s, conceptual Air Zoom Spiridon KKs and corduroy-covered takes on the resurgent Birkenstock Boston. -Ross Dwyer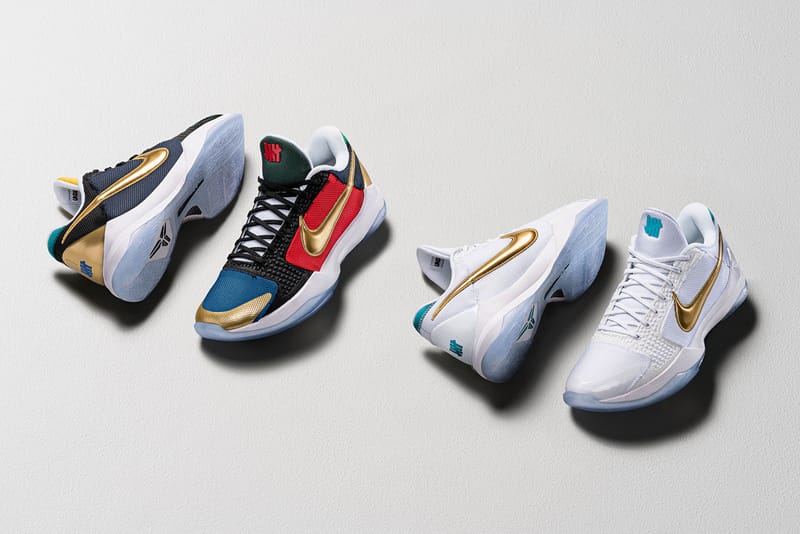 Nike
UNDEFEATED x Nike Kobe 5 "What If" Pack
In early 2020, Los Angeles Lakers legend Kobe Bryant was taken from us far too soon, so it's only right that in his honor, one of his signatures receives a spot in this year's top sneaker list. Earlier this fall, Nike Basketball announced its "Mamba Week" initiative — a celebratory period devoted to honoring the late NBA Hall of Famer's career that also entailed a handful of Kobe 5 Protro releases and a special jersey launch. Of the kicks that dropped during that time, UNDEFEATED and Nike's "What If" Pack — a footwear capsule crafted to honor the Black Mamba's draft day in 1996 — certainly garnered some well-deserved attention.
The story here was split between two different colorways. First up is the Nike Kobe 5 Protro "Unlucky 13" which sees a blend of angelic uppers coalesced with teal accents and golden Swooshes. This nods to the Charlotte Hornets — the franchise that initially drafted Bryant at #13 overall but eventually decided to trade him to the Lakers where he would go on to win five championships. Alongside this installment is the Kobe 5 Protro "Dirty Dozen", an offering that features a multi-colored ensemble designed to playfully salute the 12 NBA ball clubs that passed on picking the then 17-year old recruit out of Lower Merion High School. Later on, the Swoosh family also followed this release up with more Kobe 5 Protro PE colorways for DeMar DeRozan and PJ Tucker, and even brought back the ever-classic "Bruce Lee" variation. -Elliot Santiago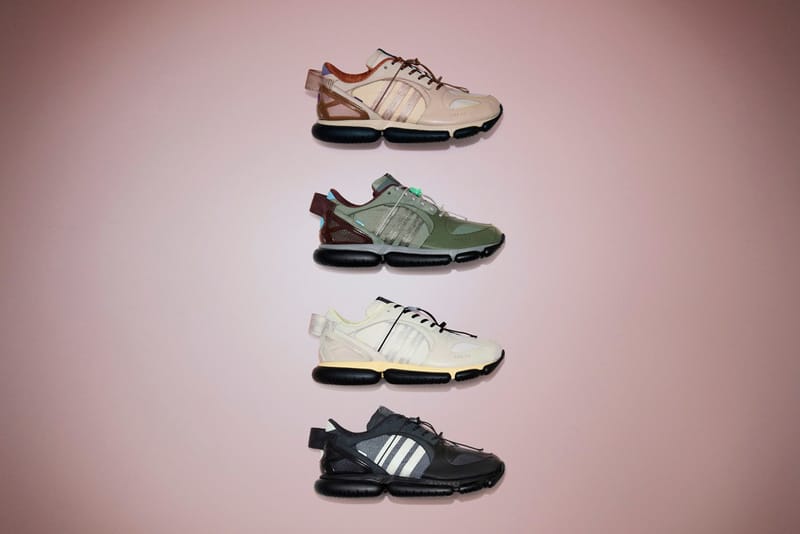 Adidas
Honorable Mention: OAMC x adidas Type-O6
adidas' A-ZX series meant that almost everyone had a go at reworking silhouettes from the ZX line this year. Arguably the stand-out take on the ZX, though, comes from Luke Meier's OAMC label, which, outside of the A-ZX project, reimagined the familiar line's style into the Type-O6. The new sneaker mixed technical elements with more classic construction, including premium leather alongside mesh panels and a webbing Three Stripes.
Finishing touches on the sneaker continued its technical aesthetic, with a digital print graphic on the lateral side and a rope-toggle lacing system. This upper sat atop a futuristic sole unit, consisting of four rounded pods. OAMC and adidas Originals released the sneaker in four colorways including "Olive Drab" and "Sand," but the real stand-outs were the classic "Black" and "Dust White," which gave the technical construction space to shine. -Jack Stanley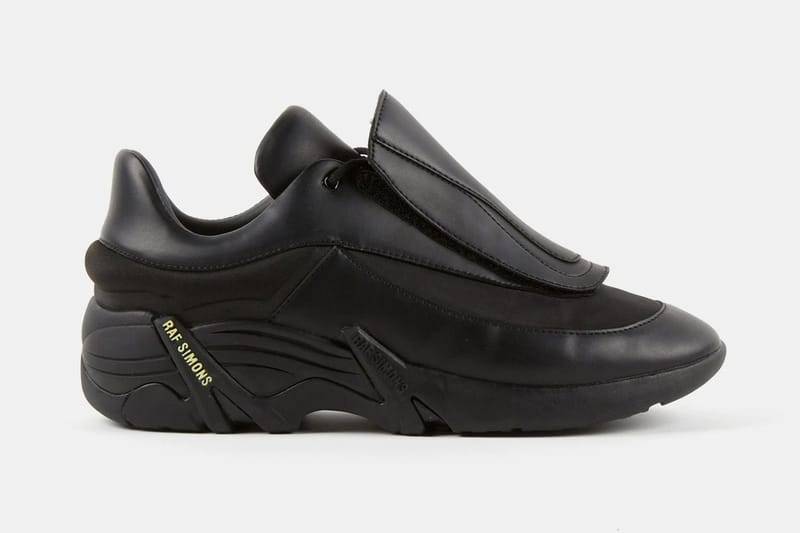 Machine-A
Honorable Mention: Raf Simons (RUNNER)
News surrounding Raf Simons' inaugural main-line footwear release was rather exciting — the designer did deliver the hugely popular Ozweego, after all. However, when the world finally got a better look at the (RUNNER) everything went quiet. Although the (RUNNER) may not be what everyone expected from the seminal creative, it still goes without saying that it was a daring shift in footwear trends and one that was, to some, unexpected but welcome — hence our honorable mention. Silhouettes were minimal and classic, but featured technical components typical of Simons that caught the eye of the avant-garde footwear lover. Standouts such as the almond-toed Cylon, complete with its stacked sole unit, as well as the slip-on Solaris-1 Low, are sure to go down well in Raf's archives. -Eric Brain
Source: Read Full Article