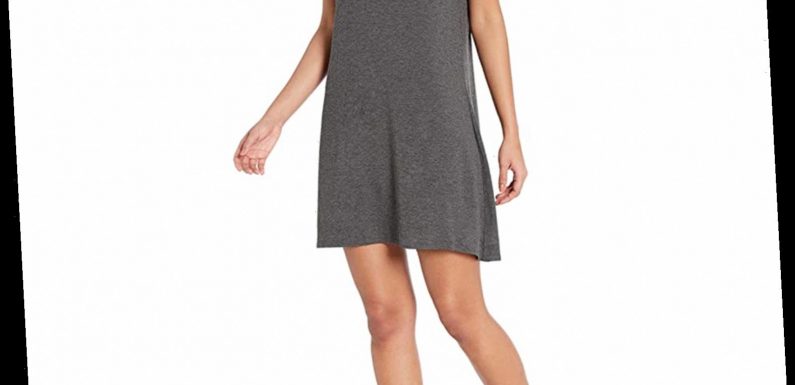 If you don't own a T-shirt dress yet, prepare to have your world rocked. These simple, lightweight dresses feel like nightgowns, but unlike nightgowns, you can wear them to the grocery store or the park without getting side-eyed. Amazon shoppers are "absolutely in love" with one $20 T-shirt dress in particular, which they describe as the ideal outfit for days where they don't want to change out of their pajamas.
The Amazon Essentials Swing Dress has short sleeves, a scoop neckline, and a relaxed, breezy fit. The dress is made with a stretchy viscose-elastane blend which makes it super comfy, and one reviewer even raves that it's the softest material they've ever felt in their life. It's available in sizes XS to XXL, and you can choose from 16 designs, including solid colors, stripes, and florals.
During the spring, you can pile on the accessories — style the dress with a scarf, a cardigan, or a cropped jean jacket, depending on how cold it is where you live. Since the dress billows out, you could cinch in its waistline by adding a belt, like this $16 one. And on warm summer days, throw on the dress with white sneakers and cute sunglasses for socially-distanced hangouts.
Buy It! Amazon Essentials Swing Dress, $19.52–$20.60; amazon.com
The dress has racked up over 2,700 positive ratings on Amazon, with people praising how versatile, flattering, and lounge-worthy it is. Even those who hate wearing clothes admit that "everything about this dress is perfect," from its breathable feel to its high-quality fabric that washes nicely and resists wrinkles.
"The quarantine and the school closures have forced me to become a homeschool teacher to my children," a reviewer explained. "Because of the Zoom meetings, I have to wear clothes like a normal person, apparently. This dress is comfy, easy to throw on, and even more importantly, easy to take off once all the Zoom meetings are done. If I'm forced to be out of my pajamas, I'm glad it's in this dress."
Buy It! Amazon Essentials Swing Dress, $19.52–$20.60; amazon.com
Others have turned the dress into a wardrobe staple that they're wearing on repeat for many kinds of occasions. "This dress is perfect for running errands, having lunch with friends, and even date night," another reviewer said. "It feels like a long t-shirt, so it's super easy to wear while still looking good and flattering the figure … I'm back to buy more in other colors!" Shop the Amazon Essentials Swing Dress today to experience next-level comfort and cuteness. Prices start at $20 on the springtime staple that may just become your new favorite outfit.
Buy It! Amazon Essentials Swing Dress, $19.52–$20.60; amazon.com
Do you love a good deal?  Sign up for PEOPLE's Shopping newsletter to stay up-to-date on the latest sales, plus celebrity fashion, home décor and more. And check out PEOPLE's Coupons page for even more discounts.

Source: Read Full Article