As a devout lover of a full glam look, complete with cake-face foundation, I'm not often one to opt for products in the light coverage department. Tinted moisturizers have just never never been my thing, and the wrong shades of concealer have resulted in blotchy, unsuccessful attempts to spot-conceal and go foundation free too many times to count. Fast forward to now, and I've finally found a lightweight, light coverage complexion product that gave me flawless results, and I'm making it my mission to share my NUDESTIX Nudies Tinted Blur Stick review with all the other natural makeup non-believers I can find.
For a long time, covering my acne scars was somewhat of an obsession of mine — I didn't care how heavy or cakey my foundation looked, as long as my skin tone was completely evened out. I fooled myself into thinking this was the best possible option for me, so when the dewy, lit-from-within skin trend made its way onto my Instagram Explore page, I was positive I could never pull it off myself. What if someone saw the speckling of scars on my cheek? The thought was too embarrassing to even consider.
I didn't get over this fear of covering up until someone pointed out to me that the way I was treating myself wasn't the way I treated others. I would never, ever judge someone for struggling with acne or based purely on their appearance — so why was I OK with judging myself for exactly that? In an effort to change my mindset, I sought out a product that could give me the perfect combination of coverage and acceptance. Enter: the NUDESTIX Nudies Tinted Blur Stick ($30, nudestix.com) aka the answer to my search.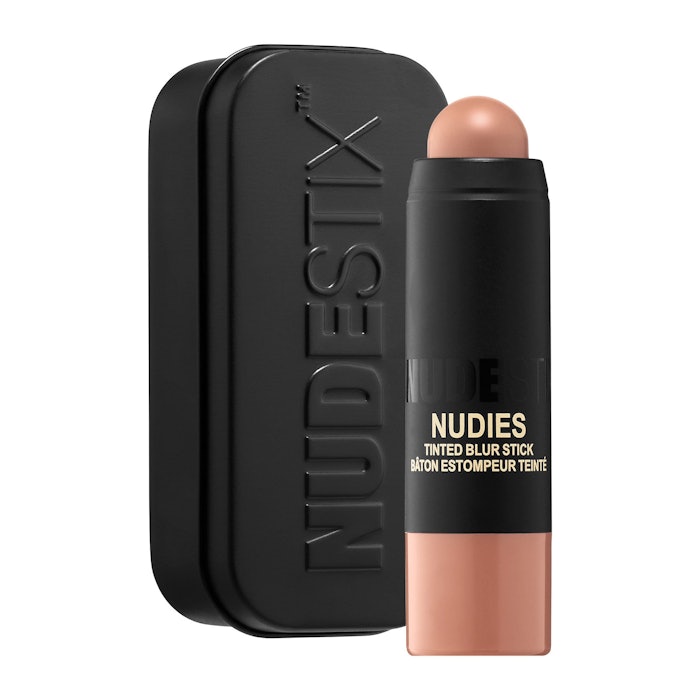 Nudies Tinted Blur Stick
$30
NUDESTIX
Prior to the Tinted Blur Stick, I admit I wasn't all that familiar with NUDESTIX as a brand. I had always opted for a combo of liquid and powder formulas to create a heavy-duty base, so their signature crayon-shaped cream products never appealed much to me. But when beauty YouTuber Samantha Ravndahl, who has worked with NUDESTIX in the past, tried out the product in a video on her channel, featuring a natural, beachy glam, I was intrigued. She used a deep shade as a contour color, not an all-over tint, and I was beyond impressed with the product's blendability and natural finish. Ravndahl is one of the few YouTubers I rely on for natural makeup advice, so for me, her approval of a product is a weighty endorsement.
At first, I intended to only use the product as a wash of color on otherwise no-makeup days, when I went to run errands or hit the beach with friends. It made big claims when it comes to smoothing and blurring, but the actual coverage factor wasn't hyped up at all, so I was expecting it to wear more like a primer than a foundation. However, I used the crayon to draw all over my face and blended the product in with my hands so that the creamy formula would warm up, and to my surprise, it sank in so effortlessly that it felt as if I had applied nothing at all.
And what's more, it looked pretty damn good. Peep my before-and -after shots, with nothing else on my face: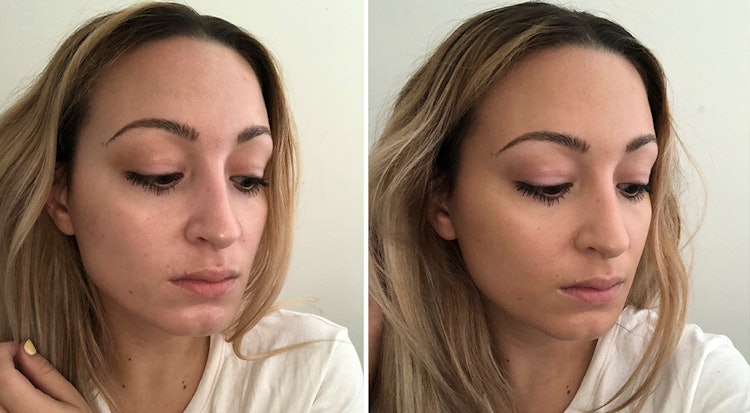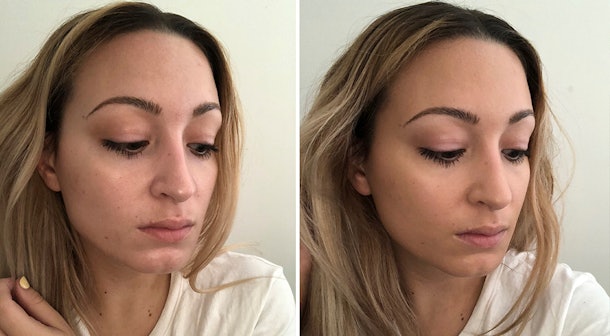 See how much more even-toned and glowy my skin looks, even though my imperfections aren't completely covered up? This is the no-makeup makeup, subtle-yet-suitable coverage of my dreams, people!!!
Prior to this first use, I had referred to medium coverage foundations as "skin-like," but I can honestly say that, before using the Tinted Blur Stick, I had no idea just how skin-like a product could truly look and feel. It goes on a tiny bit sticky to the touch and then dries down with a weightless finish that looks and feels like nothing at all — in a good way! I never thought makeup that looked super natural could thrill me, but it's 2018 and here I am: NUDESTIX has converted me to embracing a natural glow.
Me, prior to trying out this product, obsessed with heavy foundations and full coverage…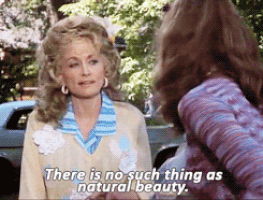 …and me, feeling myself now that I've found something that helps me feel comfortable with a less-is-more vibe: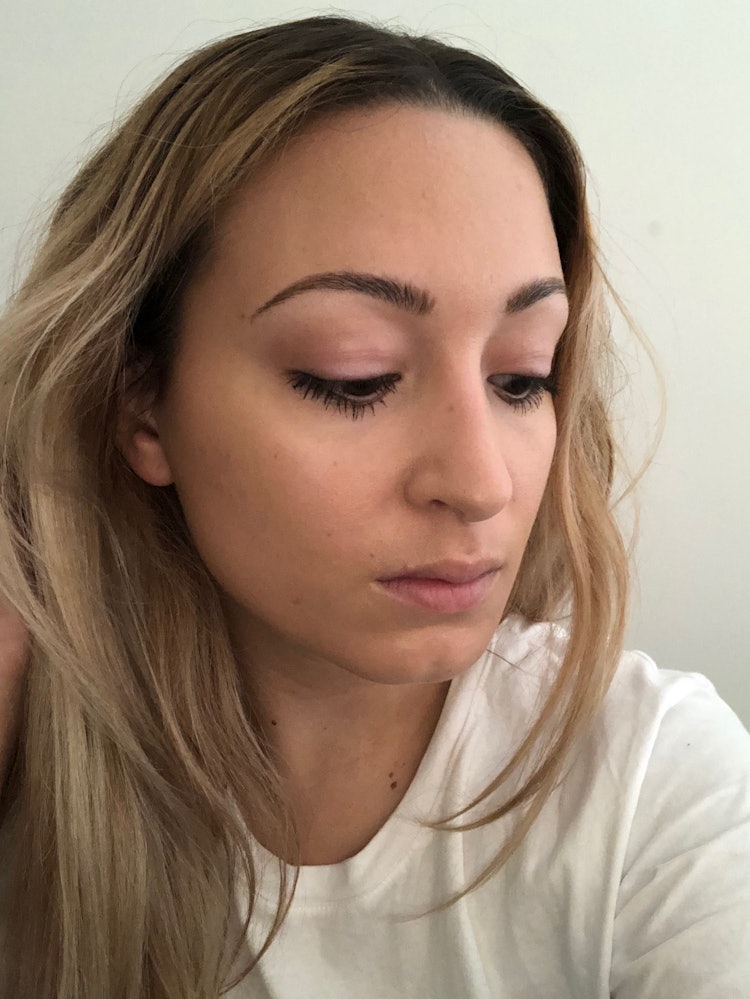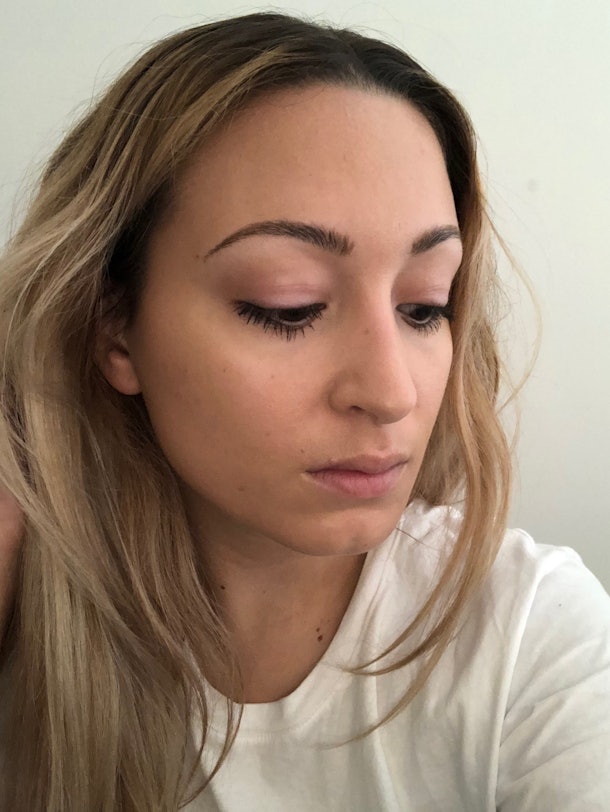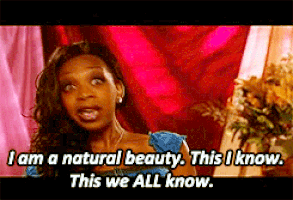 I know I really like a product when I go as far as wearing it to events held within the beauty industry. At these events, I only want to look my absolute best, as the other attendees really know their stuff. Normally complimented for statement eyeliner or a good pair of falsies, I've been blown away by how many people have complimented my radiant complexion while wearing this product as of late. Who would've thought a cream stick could give me the glow of my dreams?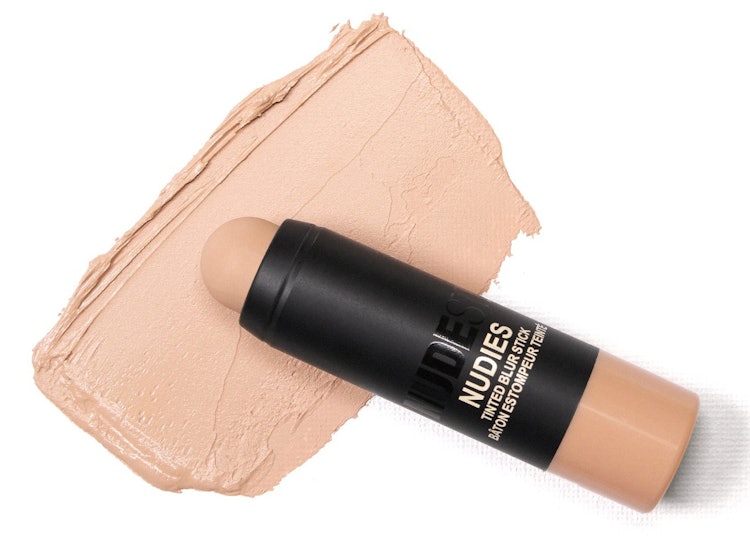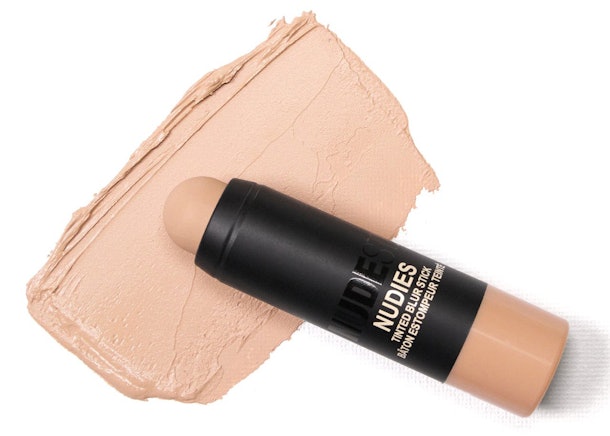 An important note is that, at the moment, the Tinted Blur Stick shade range only consists of 10 shades, although they claim that shade-adjusting pigments within the formula allow them to suit well beyond 10 complexions. Personally, I'd like to see more shades from the brand, as I want as many people as possible to experience this stick's awesome powers. For my skin tone, I'm able to find darker shades to contour and bronze with, as well as lighter shades to highlight with, should I feel the need.
For reference, before using this product, my base routine looked something like this: primer, foundation, concealer, contour, bronzer, and a powder to set. Now, I find I really enjoy the way my skin looks with only this for a subtle tint and glow. It's also allowed me to take the extra time not spent doing the extra steps and devote it to focusing more on my skincare regime instead, which is improving my skin even more. Depending on my plans for the day, I will sometimes add concealer under my eyes and on top of active breakouts, but other than that, I'm learning to embrace my slightly visible acne scarring and enjoy skin that looks radiant and real, not flawless.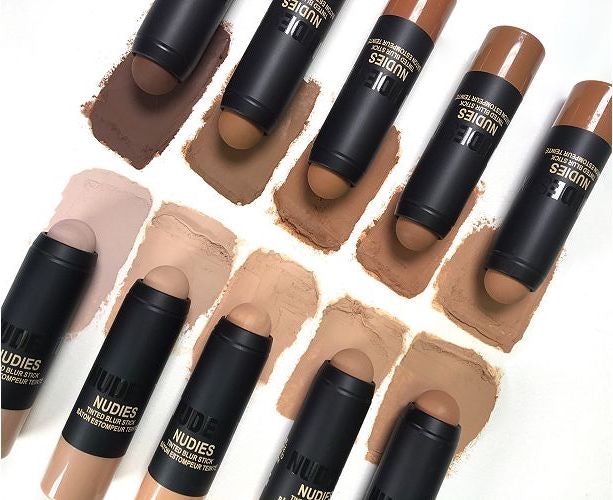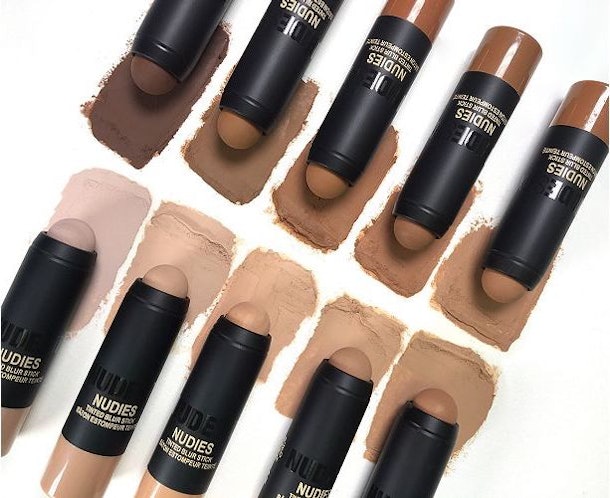 As New York City reaches temperatures in the 90s and a humidity level high enough to ruin any chance of me having a good hair day, I find myself reaching for this product more and more often, in hopes that, if nothing else, at least my skin will look amazing.
Source: Read Full Article